September 21, 2021 11:50:55 am
Takaichi, 60, is considered a long shot. If she beats the odds, it will be a significant milestone for Japan, where women make up less than 15% of parliament and only two of the current Cabinet's 21 ministers are female.
February 13, 2020 10:36:17 am
Although there have been no deaths in Japan attributed to the virus, Tokyo and IOC officials are clearly jittery. Sitting among the officials this time was Dr Richard Budgett, the IOC's medical and scientific director.
February 6, 2020 12:00:14 pm
Mobile Mosque, a fully-equipped 48-square-metre prayer room that opens up on the back of a parked truck, reaches Tokyo Games venue. The back of the modified truck can be widened in seconds and the vehicle also includes Arabic signage and outdoor water taps for pre-worship cleaning.
January 10, 2020 8:48:02 am
For the shooters competing at this year's Olympics, dealing with Japan's gun laws, considered to be among the strictest in the world, is likely to be as tricky as competing at the Games itself.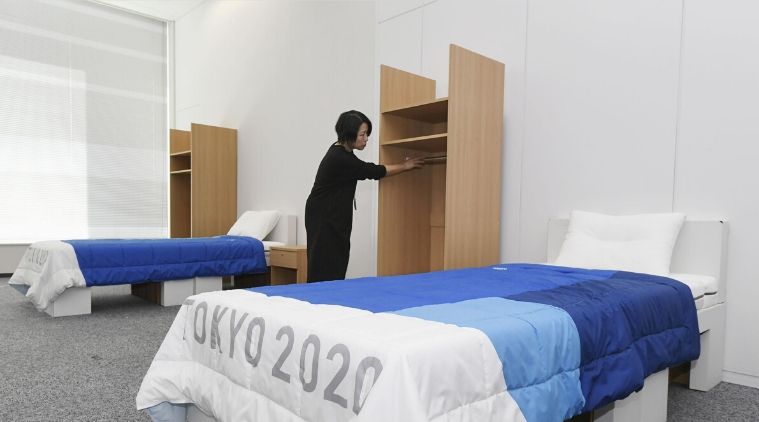 January 9, 2020 2:31:54 pm
The environmentally conscious sleeping arrangements were put on display for the media for the first time on Thursday at a mock apartment in the Tokyo 2020 headquarters, though construction of residential sections of the Olympic and Paralympic village were completed in December.
December 24, 2019 12:42:38 pm
At the forefront of the incredible showing was an extremely talented youth brigade that knew no fear. Some of them studied hard, did their homework, appeared for exams, practised harder and then shot, to win. While some dominated the range first and wrote their papers later.
December 13, 2019 11:18:55 am
Former swimmer Penny Heyns said she had no regrets about the punishment, which bans Russia and its officials from major international sports but is likely to allow hundreds of Russian athletes to continue competing if they can prove they are clean.