December 1, 2015 5:02:01 pm
According to researchers, stirring in table sugar from the baking cupboard into a water bottle before a big physical event could be the difference between success and failure.
November 28, 2015 5:52:28 pm
The process of developing new brain cells in the adult brain is called adult neurogenesis and researchers found that running can help develop new neurons.
December 3, 2015 10:20:01 pm
Runners make the biggest mistake of clocking most miles, but the quality of running is poor. Which is why they don't see results.
November 26, 2015 1:41:09 am
Whether you're a serial marathon runner, you've just taken up running or are thinking about it, there are some basic warm-up exercises and check-list you should keep in mind to stay injury-free.
January 15, 2018 11:35:12 am
Your posture is how the world sees you, and strengthening your posture is an intelligent habit to make you look and feel better.
November 1, 2015 4:01:24 pm
Green tea, no alcohol and regular sleep seem to be the mantra for a model-body.
October 24, 2015 12:35:56 pm
This guide shows you how to alleviate back pain with 3 simple exercises.
October 11, 2015 4:51:20 pm
Water aerobics is just gaining traction in India, and is said to be great for people suffering from arthritis, diabetes and even heart patients.
October 8, 2015 2:06:21 pm
Web and social media can be used to encourage people to exercise more and also promote vaccinations and medication compliance, scientists say.
October 7, 2015 8:47:59 pm
Exergames -- video games that are also a form of exercise -- has the potential to serve as a valuable addition to therapies for children with autism spectrum disorders .
October 1, 2015 2:50:09 pm
Swapping just one hour of sitting with some physical activity such as walking each day, decreases your chance of an early death by 12 to 14 percent, said a new study that involved over 200,000 volunteers.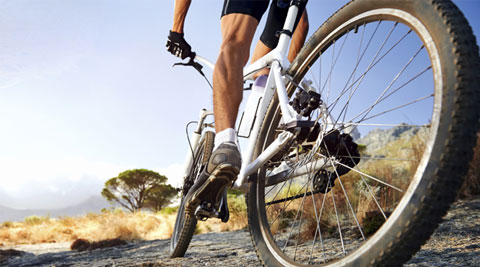 September 25, 2015 3:44:23 pm
Professional cyclists pedal at a very high cadence, often above 100 revolutions per minute, for improved efficiency, and they can sustain very high exercise intensity for a long period of time.
September 25, 2015 3:47:40 pm
In his book, Bollywood By Design, one of the world's most celebrated fitness trainer Kris Gethin, explains that "Motivation is an evocative word - something that we try to see in ourselves and may disparage others for lacking."