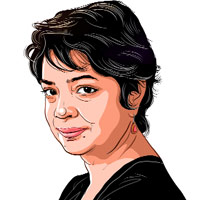 Shubhra Gupta is film critic and senior columnist with the Indian Express.
She watches world cinema for delectation, Hollywood for fun, and Bollywood for work. She has a huge capacity to sit through terrible Bollywood movies, but no patience at all with bad Hollywood. And world cinema has to be really cutting edge to grab her attention, and keep it. When she began reviewing, over 20 years ago, people would commiserate and say, "oh, you poor thing, you have to watch Hindi cinema". But soon, Bollywood became cool, cool, cool. So now she hears this more often "oh my god, you watch Bollyood films, can you introduce me to Shah Rukh Khan"?
No, she can't, sorry, though she can vouch for the fact that he is really sharp and good fun in conversation. But what she can do, and has done week after week, month after month, year after year, without a break, is to lead you into the magical world of movies, and share her experiences of watching all those hundreds of films over the years. In her reviews and columns, she lets you into what she likes, and doesn't, and invites you to be bewitched. And to know how to choose between the good ones and the turkeys, and how you can take away something from even the really ghastly ones. Because life is a movie, isn't it? Bahut picture baaki hain, mere dost.
Articles By Shubhra Gupta