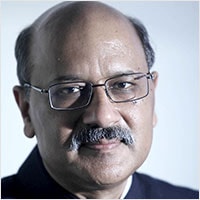 Shekhar Gupta was the Editor-in-Chief of The Indian Express.
He has to his credit some of the most significant newsbreaks in Indian journalism. He had joined the Indian Express as a cub reporter at its Chandigarh edition in 1977. Three years later, at just 23, The Indian Express sent him to India's troubled north-east where he covered the then raging insurgencies and civil unrest. As a reporter, and then an editor, with India Today, Shekhar has always brought to readers in India a ringside view of contemporary history from Operation Bluestar to the Olympic Games in Los Angeles, the student uprising in Tiananmen Square in Beijing to the fall of the Berlin Wall and the first Gulf War from Baghdad, Jerusalem and Kuwait, the first "jihad" in Afghanistan and the many twists & turns in the troubled 1983-1993 decade in Sri Lanka's Tamil North.
Shekhar uncovered LTTE training camps in India, the truth behind the falsely implicated scientists of the Indian Space Research Organisation in a spy scandal. And seven years before the terrorist attacks in the United States on September 11, 2001, he travelled across Afghanistan, Pakistan, Germany, the US and the UK, to report extensively on the threat from pan-national fundamentalism, including its links with Osama bin Laden.
Shekhar's weekly column called National Interest is one of the most credible and independent voices in the media. It is a touchstone for new ideas in politics, governance, society, business and sports. He also hosts an interview-based programme Walk the Talk on NDTV 24×7.
A regular guest speaker at prestigious forums including the Asia Society, New York, National Defense College and Defense Services Staff College and the World Economic Forum in Davos and its India summits, Shekhar has authored Assam: A Valley Divided and India Redefines Its Role, published by the Oxford University Press and by the International Institute of Strategic Studies, London, where he is a member of the Council. Over the years he has engaged as one of the pre-eminent voices from India on issues ranging from domestic politics and society to security and international affairs.
Shekhar is the recipient of several awards and honours, including the 1985 Inlaks award for young journalist of the year, G K Reddy Award for Journalism, the Fakhruddin Ali Ahmed Memorial Award for National Integration. He was awarded Padma Bhushan in 2009.
Articles By Shekhar Gupta