Fate of several leaders will be at stake on Saturday as 49 constituencies in seven districts of eastern Uttar Pradesh go to polls in the sixth phase. Big leaders such as Mukhtar Ansari and firebrand BJP leader Yogi Adityanath are in the fray. The voting will take place amid tight security in all the seven districts. Around 1.72 crore voters, including 94.60 lakh men and 77.84 lakh women, are eligible to cast their votes in this round to decide the fate of 635 candidates.
Here are the highlights from today's polling:
06. 15 pm: 57.03% voting recorded in sixth phase of Uttar Pradesh elections till 5 pm. Counting process is still on: Election Commission
05. 50 pm: Polling ended for sixth phase of elections of UP elections. Visuals from a polling booth in Gorakhpur, UP.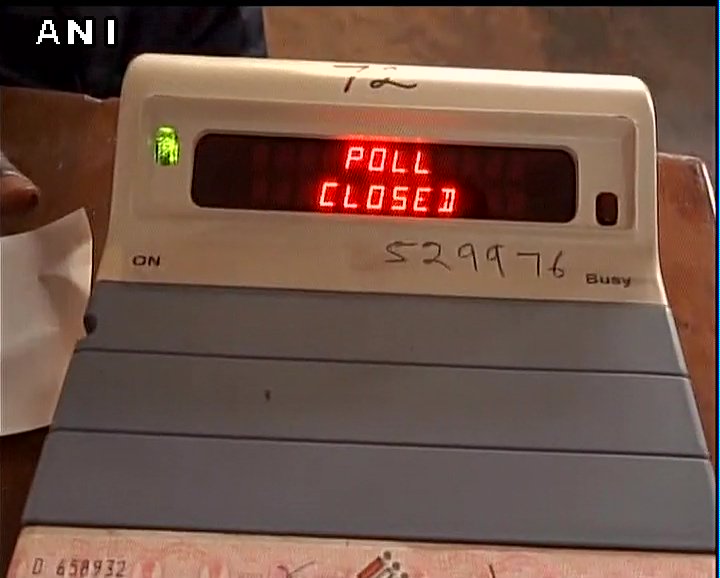 03. 40 pm: 48.73% voting recorded till 3 pm in the sixth phase of UP elections 2017.
1:52 pm: According to a report by India.com, there have been minor clashes in Deoria over bogus voting.
1:50 pm:

Gorakhpur (UP): Voting underway at a polling booth in the sixth phase of UP elections. #uppolls2017 pic.twitter.com/fHtWU1kr8m

— ANI UP (@ANINewsUP) March 4, 2017
1:38 pm: 37.85% voting recorded till 1 pm in the sixth phase of UP elections 2017.
1:00 pm: Meanwhile, there is a massive roadshow by prime minister Narendra Modi in neighbouring Varanasi. He will later address a rally in the city as well. Click here to know more
12:40 pm: Union Home Minister Rajnath Singh said there is a BJP storm going on in entire eastern Uttar Pradesh. Claiming BJP will form majority government in Uttar Pradesh, Singh said, "Now even the political experts believe that BJP will form the government by majority in Uttar Pradesh."
Ab toh rajnetik visheshagya bhi maante hain ki UP mein BJP ki puran bahut ki sarkaar banne ja rahi hai: Union Home Minister Rajnath Singh pic.twitter.com/IUFeXt1M13

— ANI UP (@ANINewsUP) March 4, 2017
11:40 am: 23.28% voting recorded till 11 am in the sixth phase of UP elections 2017.
11:15 am: Samajwadi Party-Congress should have at least said in public that it was mistake to give ticket to Gayatri Prajapat and that we would not support him: Venkaiah Naidu
11:00 am: According to reports, 13 per cent of voter turnout was seen in the state till 10 am during phase 6 of UP elections. "The polling was about 13 percent till 10 am. It's going on peacefully," office of UP Chief Electoral Officer was quoted by Zee News.
10:30 am: They way PM Modi works for entire nation, every youth of UP sees that and wants that sort of commitment for them as well: Rajyavardhan Rathore
10:00 am: Other parties have been in Uttar Pradesh for far to long but have not been able to bring change. Last two phases are going to take us to 2/3rd majority: Rajyavardhan Rathore, BJP MP
9.45 am: 11% voting recorded till 9 am in the sixth phase of UP elections 2017.
9:15 am: Voters started queuing up in Gorakhpur district to cast their votes.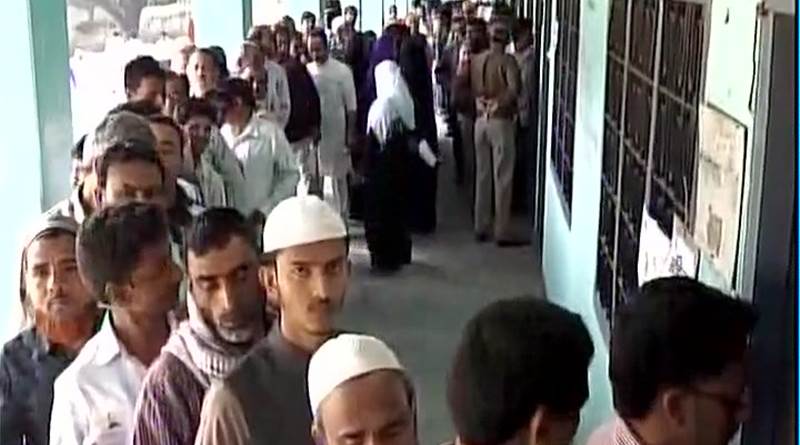 9:08 am: Mau: Voting affected due to problem in EVM machine at booth no. 273 at Nasirpur village.
8:55 am: BJP will get a two-third majority in the state: Yogi Adityanath, BJP MP
8:50 am: Addressing a rally in Mirzapur district on Friday, PM Modi said SP, Congress and BSP will get shocks after the result of the elections will be declared on March 11. "SP, BSP, Congress — teeno ko current lagne wala hai (all three will suffer electric shocks)," the PM said. Read More
8:20 am: After casting his vote, BJP leader Yogi Adityanath spoke to CNN News 18 in which he said that charges against him of communal polarisation are false and his commitment is towards development. He also said that people are tired of BSP and SP, and are wiling to come out from shades of the two parties. Praising the work done by the Central government, Adityanath said brand Modi is a big factor for BJP in the state.
7:50 am:

Have not been able to cast my vote till now, my name is missing from the voters list: Voter at booth no.3705 in Gorakhpur #UttarPradeshpolls pic.twitter.com/KTWe4HNt8Z

— ANI UP (@ANINewsUP) March 4, 2017
7:45 am: Special efforts being made to help out the disabled citizens who have turned up to cast their votes at Mau district of Uttar Pradesh, officials said. Speaking to ANI, Mau District Magistrate Nikhil Shukla said, "Special efforts made for differently abled voters, they are being assisted by helpers and wheelchairs."
7:20 am: PM Narendra Modi on Saturday appealed to voters in Uttar Pradesh to come to cast their votes in heavy numbers during the sixth phase of polling.
उत्तर प्रदेश में आज चुनाव का छठा चरण है। सभी मतदाताओं से अपील है कि भारी उत्साह के साथ लोकतंत्र के उत्सव में शामिल हों और मतदान अवश्य करें।

— Narendra Modi (@narendramodi) March 4, 2017
7:15 am: Yogi Adityanath came early morning to cast his vote in Gorakhpur district.
#UttarPradeshPolls: Yogi Adityanath casts his vote at booth no. 3705 in Gorakhpur pic.twitter.com/2CWIrxbqAV

— ANI UP (@ANINewsUP) March 4, 2017
7:00 am: Voting began in 49 constituencies of Uttar Pradesh in Phase VI. Visuals from Mau district in Uttar Pradesh.
#UttarPradeshpolls: Voting on 49 seats across 7 districts in sixth phase underway, visuals from Mau booth no. 280 pic.twitter.com/5O2Sb764QB

— ANI UP (@ANINewsUP) March 4, 2017