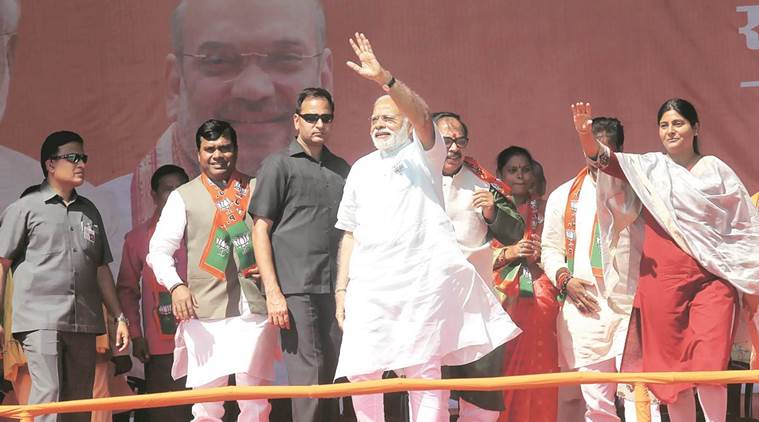 IN THE last dash for votes in the high-voltage assembly elections in Uttar Pradesh, at least 19 Union ministers visited Prime Minister Narendra Modi's Lok Sabha seat Varanasi and nearby areas that will go to the polls in the final phase on Thursday. Home Minister Rajnath Singh, Finance Minister Arun Jaitley, Information and Broadcasting Minister M Venkaiah Naidu, Transport Minister Nitin Gadkari, Health Minister J P Nadda, Water Resources Minister Uma Bharti and Textiles Minister Smriti Irani were among those who were in Varanasi for canvassing over the last few days.
Watch what else is making news
There are 13 ministers in the central government who have won from UP, which sent 71 BJP MPs and two of its allies in the last Lok Sabha polls. However, Defence Minister Manohar Parrikar, who is a Rajya Sabha member from Uttar Pradesh, was not visible in the campaign in the eastern part of the state.
Others like Nadda and Minister of State for Power Piyush Goyal spent most of the last couple of weeks in Varanasi, ahead of Modi's three road shows in the constituency. Besides campaigning, ministers have also met and addressed specific groups on subjects related to their ministries. Jaitley had a meeting with traders and spoke to them about the demonetisation decision of the government. Nadda met a group of doctors while Smriti Irani addressed women's groups.