Congress chief Rahul Gandhi had a busy schedule on Thursday as he targetted the Modi government at Ajmer (Rajasthan) and Valsad (Gujarat) over a number of issues ranging from Rafale to black money, farmers' issues to GST. At Congress' Sewa Dal National Convention in Ajmer, Rahul took a jibe at the Narendra Modi-led Centre and sounded the poll bugle ahead of the Lok Sabha elections.
He headed to Valsad in Gujarat in the afternoon to address a public meeting — his first in the state since 2017. While speaking at the Jan Aakrosh Rally in Gujarat, Gandhi criticised the BJP-led government at the Centre for insulting the tribals, farmers and favouring a few industrialists. Gandhi has been on the offensive, targeting the BJP over what he says is a scam in the Rafale deal and accusing the ruling government of destroying the credibility of institutions.
Gandhi's rallies come a day after leaders from Opposition parties came together in New Delhi in a show of strength against the BJP-led NDA. Rahul Gandhi (Congress), Mamata Banerjee (TMC), N Chandrababu Naidu (TDP), Sharad Pawar (NCP), Arvind Kejriwal (AAP) and Farooq Abdullah (National Conference) met last night and discussed the idea of a national pre-poll alliance for the 2019 Lok Sabha elections with a common minimum programme.
Live Blog
Rahul Gandhi in Rajasthan and Gujarat LIVE UPDATES: The Congress president is holding two rallies today. Follow the latest news below.
Rahul to meet foreign envoys in Delhi over lunch tomorrow
Rahul accuses Modi govt of favoring industrialists, misleading on Rafale issue
While speaking at the Congress's Jan Aakrosh rally in Gujarat's Valsad, party chief Rahul Gandhi said Modi government refused to waive farmers' loans but wrote off Rs 3.5 lakh crore debt of 15 top industrialists. He also said that the Modi government was misleading the country on rafale issue as according to the defence ministry and air force, PM Modi conducted parallel negotiations with Dassault Aviation.
Income guarantee for every poor if Congress elected to power
Congress government says there will be historical change like green revolution, white revolution, computer revolution in the country if Congress comes back to power. Further elaborating, Rahul said the Congress government will bring the concept of income guarantee in the country and it will put money in every poor person's account like Modi government put crores of rupees in Ambani's account.
Cong govt will remove Gabbar Singh (GST) tax on small businessmen
Rahul Gandhi says if Congress government comes to power in 2019, then it will bring the real 'GST'. He said the BJP government has exploited the small businessmen of Gujarat and all over the country through 'Gabbar Singh' tax (GST).
Rahul accuses the BJP govt in Gujarat for ignoring farmers, tribals
Rahul mocks the BJP-led government's projects in Gujarat, saying the farmers and tribals have been neglected in the state. He said the Congress govt brought Adivasi bill. "But in Gujarat, they tell you it is Bharatmala project and will not compensate you," he said.
WACTH | At Valsad rally, a woman kisses Rahul Gandhi
Rahul targets Modi government in Valsad over Rafale
Starting his speech at Valsad, the Congress chief targets the Modi government over Rafale, while referring to the prime minister as 'Chowkidar'. Continuing his tirade against the Central government, Rahul says even the French president says that PM is 'chor' (thief).
Rahul starts speaking at Valsad rally? WATCH
Rahul has reached at Valsad rally in Gujarat, to address shortly
The Congress chief has reached Vanraj Arts and Commerce College ground in Valsad, Gujarat. He will address the rally shortly.
We need to start a new beginning: Rahul Gandhi to Seva Dal workers in Ajmer
Modi waived off loans for Ambani, Nirav Modi, Mehul Choksi while we waived farmer loans off: Rahul Gandhi
We believe in justice for all. It does not make a difference to BJP if farmers commit suicide or people have to stand in queues during Demonetisation. Their sole intention is to benefit India's richest. We waived off farm loans in Rajasthan, MP, Chhattisgarh, Karnataka and Punjab, whereas Modi waived off loans worth ₹3,50,000Cr of people like Anil Ambani, Nirav Modi, Mehul Choksi: Rahul Gandhi
Rahul Gandhi addresses Seva Dal rally in Ajmer, calls them party's backbone
Modi says India was a sleeping giant before 2014. He means that Pt. Nehru, Dr. Ambedkar, our farmers, small businesses did not do anything before him. He is not only insulting Congress by saying this but also insulting the people of this country. Congress party's backbone and protector of the party's ideology is Seva Dal: Congress President Rahul Gandhi
Photos: Rahul Gandhi's Gujarat rally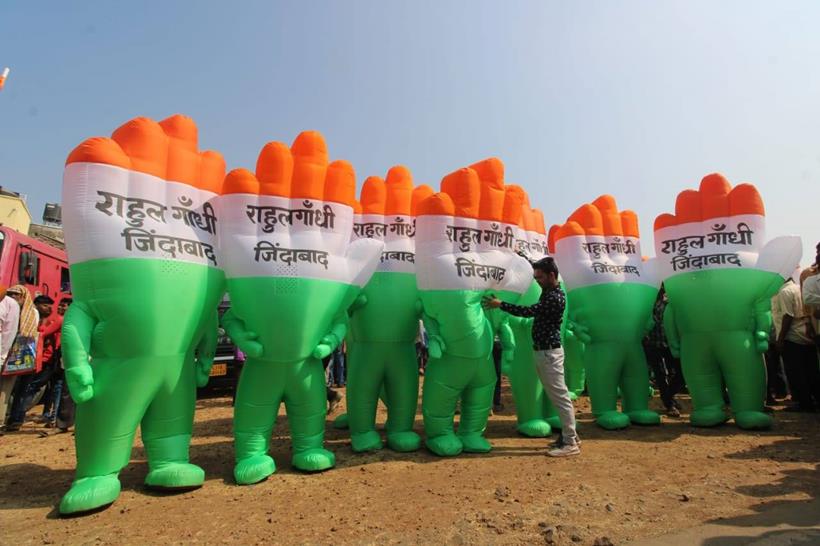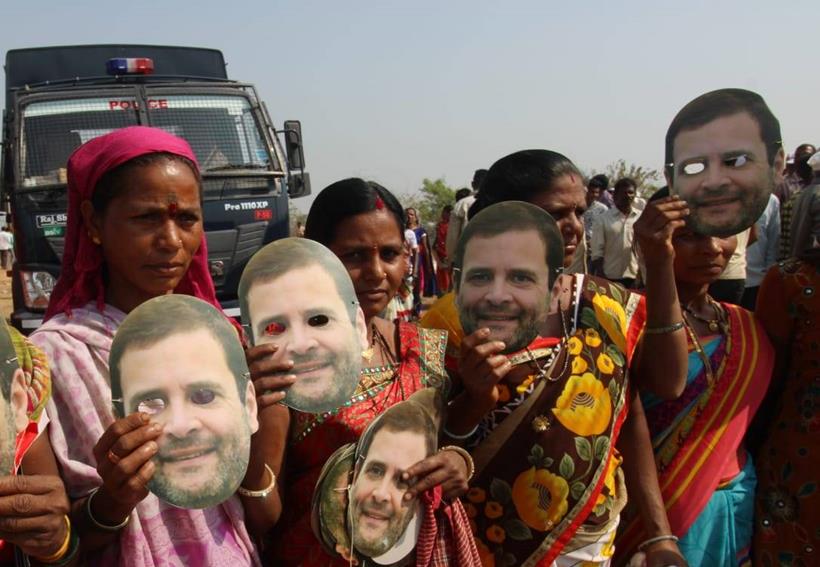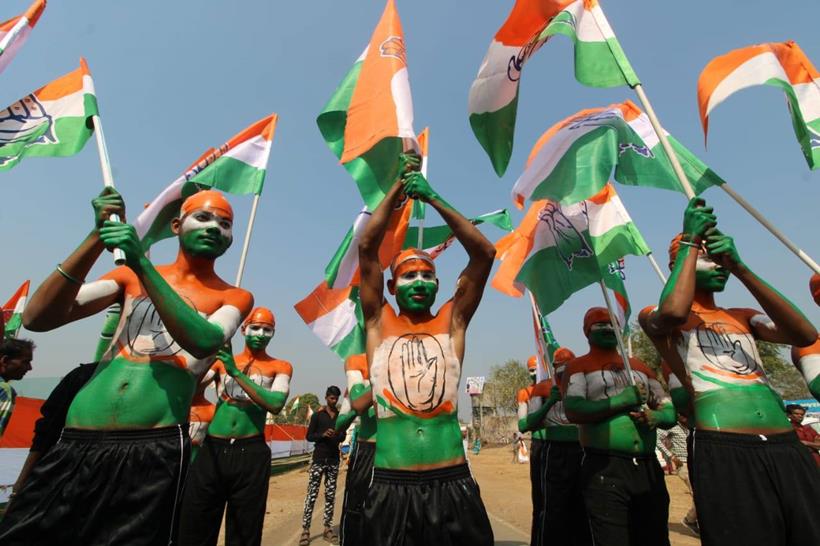 Congress supporters wear Rahul Gandhi mask, put party symbol getup to show their support at Laldungri rally in Dharampur, Gujarat on Thursday. (Express photo: Javed Raja)
Rahul Gandhi says, "We will win in the upcoming Lok Sabha elections'
We will beat them, we will beat BJP in the upcoming Lok Sabha elections. We will defeat them, we won't remove them, like their slogan of Congress-mukt Bharat, but we will win. I want to see the volunteers of Seva Dal spreading the party's message and ensuring our victory: Rahul Gandhi
Rahul Gandhi at Seva Dal rally in Ajmer
The difference between me and PM Modi is that I am not scared, he can't show that he is scared, that's why he projects hatred. I want to tell everyone do not be scared: Rahul Gandhi
Rahul Gandhi attacks PM Modi on GST and demonetisation
Our government waived off farm loans as soon as we came to power in the three states, but the government at the Centre does not work for the poor and the farmers but for a select few friends. They introduced the Gabbar Singh Tax and made the common suffer by making them stand in queues outside the ATM's: Rahul Gandhi in Ajmer
Congress fought for Independence such is this party's history: Ashok Gehlot
We are being asked that 'what did Congress do in the past 60 years' by people who did even cut their finger during the fight for Independence. We have preserved the secular, democratic fibre of the nation: Ashok Gehlot in Ajmer
Rahul Gandhi in Rajasthan's Ajmer
Rajasthan CM AShok Gehlot addresses the rally
The constitution is being challenged and there is an atmosphere of hatred being spread. We reiterate that there is an ideological battle with PM Modi-led Centre government. Seva Dal has been with us before too, now we need you more than ever: Rajasthan CM Ashok Gehlot
Rahul Gandhi arrives at venue, to address Rajasthan rally shortly
Congress president Rahul Gandhi has arrived at the venue to address a gathering at the National Convention of Sewa Dal. He will address the rally shortly. Stay tuned!
Rahul Gandhi in Rajasthan and Gujarat today
Congress president Rahul Gandhi is in Rajasthan's Ajmer to address a meeting at 10.40 am. Later in the afternoon he will address a public rally in Valsad, in Gujarat. Follow our live blog for the latest news.