Mizoram Assembly Election Results 2018 HIGHLIGHTS: Returning to power after a decade, regional party Mizo National Front (MNF) on Monday secured an absolute majority by winning 26 seats, thereby ousting the Congress from its last fort in the northeast region. According to the Election Commission, Congress has won five seats while BJP has won only one seat. According to a statement released later, MNF unanimously elected their chief Zoramthanga as leader of the MNF legislature party and will meet Governor K Rajasekharan at 6 pm to stake claim to form the government.
Two-time Chief Minister and Congress leader Lal Thanhwala lost both Champai South and Serchhip seats. While he lost to MNF's TJ Lalnuntulanga in Champhai South, his loss in Serchhip to Zoram People's Movement (ZPM)'s CM candidate Lalduhoma will probably hurt him more. This was the seat from where he won for a record seven times since 1984 barring 1998.
Live Blog
Highlights from the Mizoram Assembly elections results. Read news in Hindi, Tamil, Malayalam, Bangla
Counting ends in Mizoram, MNF bags 26 seats
As per the latest information on Election Commission website, MNF got 26 seats, while Congress got 5 and Independents got 8 out of 40 seats. BJP was able to get only one seat.
Tawnluia elected deputy leader of MNF legislature party
Tawnluia was elected deputy leader of the MNF legislature party and Lalruatkima its secretary. The MNF bagged 26 seats in the 40-member state assembly. Meanwhile, Chief Minister Lal Thanhawla submitted his resignation to the governor. He lost from both Serchip and Champai South seats from where he contested.
MNF chief to meet Guv at 6 pm today
MNF chief Zoramthanga has been unanimously elected leader of MNF legislature party in the state, the party said in a statement. He will meet Mizoram Governor K Rajasekharan at 6 pm to stake claim to form the government.
Counting over, MNF set to form government
Counting has ended in Mizoram and latest figures show that the MNF performed a clean sweep by securing 26 seats and thereby, marking the end of Congress in the north east. The Congress has managed to secure only five seats while the BJP has won only one seat.
Will form govt on own, no alliance: MNF chief
Ruling out the possibility of a coalition government, MNF chief Zoramthanga told news agency ANI, "We will not have any coalition government either with the BJP or any other ways because my party can form the government on its own as we have got 26 out of 40 seats. We are a part of NEDA (North East Democratic Alliance) and NDA but we wouldn't like to join the Congress or UPA."
Zoramthanga,MNF(President): We will not have any coalition govt either with BJP or any other ways because my party can form the govt on its own as we have got 26 seats out of 40. We're a part of NEDA(North-East Democratic Alliance)&NDA but we wouldn't like to join Congress or UPA pic.twitter.com/6oNlOMfnBm

— ANI (@ANI) December 11, 2018
Mizoram Assembly Election Results: IndianExpress.com LIVE election map
MNF members, workers celebrate at party headquarters in Aizawl
MNF gets majority in 40-member Mizoram Assembly: Election Commission
Mizo National Front got a majority in the 40-member Mizoram Assembly as results for the 40-member Assembly elections were announced by the Election Commission on Tuesday.
Jubilant atmosphere in MNF Party offices
The MNF workers are already celebrating the party's expected victory in the elections
MNF leading on 24 seats, Congress on 6

Mizo National Front (MNF) now ahead on 24 seats. Earlier it was leading on 29 seats. The Congress is leading on 6 seats and others are leading on nine seats.
Knew would lose Chhattisgarh: BJP leader
BJP leader and Rajya Sabha MP Sanjay Kakade told ANI, "I knew we would lose in Rajasthan & Chhattisgarh but MP trends have come as a surprise. I think we forgot the issue of development that Modi took up in 2014. Ram Mandir, statues & name changing became the focus."
After sweets, cheers and dance at Mizo National Front office in Aizwal
Mizoram upsets Congress' gains in other states
Double defeat for Lal Thanhwala, loses Sercchip too
In a huge setback to current CM Lal Thanhwala, the Congress leader was ousted from Sercchip constituency. This is the seat from where he won seven times since 1984 barring 1998.Zoram People's Movement (ZPM)'s CM candidate Lalduhoma emerged as winner in Sercchip. Earlier this morning, Thanhwala lost Champhai South seat to MNF's s TJ Lalnuntulanga
Congress workers start celebrations in Raipur
Celebrations begin at Congress party headquarters in Raipur. If the Congress manages to win today, this will be the party's comeback to Chhattisgarh after 15 years
Celebrations are beginning for the Congress in Chhattisgarh @IndianExpress pic.twitter.com/zIAXUJUH9a

— Dipankar Ghose (@dipankarghose31) December 11, 2018
Will CM Lal Thanhwala be eighth-time lucky in Serchhip?
Chief Minister Lal Thanhwala lost the Champhai South seat to Mizo National Front's TJ Lalnuntulanga.He is also trailing behind in Serchhip — signifying the strong anti-incumbency that the veteran Congress leader faced. If he loses Serchhip, it will be historic because he has won from this seat seven times now since 1984, losing only in 1998, when his government had faced a strong wave of anti-incumbency.
BJP's BD Chakma has won Tuichawng
BJP's BD Chamka leads in Tuichawng constituency
Our correspondent Abhishek Saha explains the importance of BD Chakma's win
BD Chakma, the BJP candidate in Chakma-dominated Tuichawng constituency, is significant because the BJP has been depending on the ethnic minority community to open its electoral account in the state. A Congress legislator till October, Chakma left the party to join the BJP and contest elections.
Apart from Mizos, other ethnic communities of Mizoram include the Chakmas, the Lais and the Maras, together comprising over 10% of Mizoram's population. The Chakmas follow Buddhism and has a population of almost 1 Lakh while the Lais and the Maras are Christians by faith and are considered to be a part of the Mizo society. Large sections of Mizos do not consider Chakmas a part of Mizoram, blame the community for illegal migration from Bangladesh and there have been a spate of protests by Mizo groups demanding that the Chakma Autonomous District Council (CADC) be dissolved.
MNF celebrates early lead in Mizoram
Other trends coming from Mizoram
The lone woman minister of Congress cabinet, Vanlalawmpuii Chawngthu, is also trailing behind former Assembly Speaker Lalchamliana in Hrangturzo seat. Former Chief Minister and MNF president Zoramthanga is leading in Aizawl East-I seat against ZPM's K Sapdanga.
In Serchhip, ZPM's chief minister face trumps Lal Thanhwala
In Serchhip, Lalduhoma, who is leading over CM Lal Thanhawla is a former IPS officer and MP. He is also the CM candidate of the Zoram People's Movement (ZPM).
ZPM is an alliance formed in October last year of seven non-Congress, non-MNF parties. The party is contesting this election eyeing the "neutral votes" — analysts say the party could be a kingmaker in case of hung results.
Why is Serchhip important for Lal Thanhawala?
Chief Minister Lal Thanhawala is contesting from Serchhip and Champhai South this time. As of now he is trailing in both seats. Thanhwala has won from Serchhip seven times since 1984, losing only in 1998 when his government faced a strong wave of anti-incumbency.

Also in the race in Serchhip are the chiefs of Zoram People's Movement (ZPM) Lalduhoma (also contesting from Aizawl West-I), People's Representation for Identity and Status of Mizoram (PRISM), Vanlalruata (also contesting from Aizawl North-I), and Zoram Thar, an evangelist-political group, Zaichhawna Hlawndo (also contesting from Aizawl West-I).
CM Thanhwala trailing in Mizoram
Two-time chief minister Lal Thanhawla is trailing in both seats he contested -- Serchhip and Champai South --- after first round of counting. In Serchhip ZPM's CM candidate Lalduhoma is leading, while MNF candidate is racing ahead in Champai South
Prohibition - Major poll issue in Mizoram
In Mizoram, prohibition was a major issue during the poll campaign. The Congress government had lifted total prohibition in the state and introduced a permit system to regulate alcohol consumption. The Congress argues that lifting total prohibition has boosted revenues and cut crime.
The opposition Mizo National Front (MNF) has, meanwhile, opposed the decision to relax the ban. Underlining problems that easy access to alcohol causes, the MNF has promised to bring back total ban if voted to power
Melody, not rhetoric, the major crowd-puller at Mizoram rallies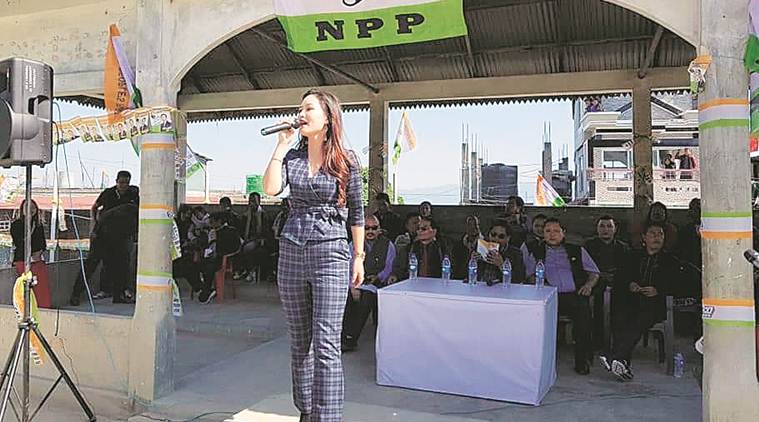 In the Christian-dominated Mizo society, music plays an important role in any function, be it a religious ceremony, a political rally, a condolence meet, or a protest march. "Election favourite" artistes like Feli, Jerry Lalrinawma (who won reality singing contest Mizo Idol 2018), and Vanlalsailova are paid between Rs 10,000 to Rs 15,000 per performance.
However, the BJP, the new entrant in Mizoram, has had some trouble in sourcing singers. "Many singers feel the BJP is pro-Hindu. I am not pro-Hindu but I still sing for the BJP —for me, it's a means of livelihood," said Melody G Fanai. Since the BJP contacted her in October, she has been travelling with the party and has sung at rallies, including those attended by BJP chief Amit Shah and Union Home Minister Rajnath Singh.
Both the Congress and the MNF have special "theme songs", sung at rallies over the years. This year, the BJP has come up with their own, too. "The theme songs are popular, patriotic and catchy. Everyone knows the lyrics," said Hminsanga Pa Saw, an MNF supporter. Rochungnunga, general secretary of Kristian Thalai Pawl — the biggest Christian youth organisation in the state — added, "Sometimes it is much easier to deliver words through music and let people feel the emotions. A song can help you deliver a 45-minute-speech in just five minutes!"
Counting of votes begins in Mizoram
The counting of votes has begun in Mizoram. The counting is being held in 13 centres in eight district headquarters. The Congress and the MNF fielded 40 candidates each while the BJP contested in 39 seats. The Zoram Peoples Movement (ZPM), an alliance formed by two political parties and four groups, also contested in 35 seats. The MNF is an ally of BJP at Centre but has decided to fight the Mizoram polls separately.
Mizoram elections: Exit polls predict an edge for MNF
In Mizoram, the Republic-C-Voters exit polls predicted 14-18 seats for Congress in the north-eastern state, while for MNF the projection was around 16-20 seats. The majority mark is 16. One of the exit polls also predict that while MNF has an edge over the other parties, it will trump the ruling Congress by few seats, but fall short of the majority
Mizoram election results: Church-backed outfit plays poll watchdog, implements EC norms
Elections in the Christian-majority Mizoram are usually quiet affairs, due to certain guidelines issued by the Mizoram People's Forum, a church-sponsored election watchdog. During the 2003 Assembly elections, Mizoram witnessed a spate of violence, including blasts. There were allegations that insurgent groups based in Manipur were attempting to sabotage the elections by threatening people to vote for candidates of their choice. It was then that the Church, which occupies a powerful socio-religious position in Mizoram, decided to step in and help rectify the state of elections.

Such is the clout of the MPF that a month back the family of a candidate in Aizawl south-III constituency offered to make a donation to the local Church during campaigns. The church, according to sources, denied it, saying they do not want to get into trouble with the MPF. "The MPF works on the basis of an agreement signed by it with presidents of seven political parties, including the Congress, the Mizo National Front (MNF), the BJP, and the Zoram People's Movement. It ensures that the Election Commission regulations are followed on the ground," Rev Dr R Lalbikamawia, a retired pastor of Presbyterian Church and MPF general secretary told The Indian Express.
Mizoram Election Results 2018: BJP sets eye on last northeast citadel of Congress
The Congress and the main Opposition, the MNF, have fielded 40 candidates each, while the BJP is contesting in 39 seats for the 40-member Assembly.
The Congress and the MNF have ruled Mizoram since 1987. The BJP also has set its eyes on the state this time as all other northeastern states are now ruled either by the saffron party or others supported by it. Sikkim's ruling SDF is also friendly with the BJP.
Welcome to the live blog. No party in the state has so far been able to form governments thrice in a row since 1987 when Mizoram became a full-fledged state. Will the Congress be able to change this? Follow the latest news