Haryana, Maharashtra Election Exit Poll Results 2019 Highlights: With voting for the single-phase assembly elections in Haryana and Maharashtra ending on Monday, a series of exit polls have predicted a sweeping majority for the ruling BJP in both the states.
Four separate exit polls estimated that the BJP-Shiv Sena alliance would return to power in the 288-member Maharashtra assembly, with two of them giving more than 200 seats to the ruling combine. On the other hand, pollsters have predicted an emphatic victory for the incumbent BJP government in Haryana, with three exit polls predicting that the saffron party will win over 70 seats.
The run-up to the vote witnessed a campaign which was dominated by the BJP's aggressive narrative on the nullification of Article 370 and marked by the Opposition's lacklustre canvassing. The results for Maharashtra's 288 seats and Haryana's 90 seats will be announced on October 24.
While Maharashtra will witness a battle of two alliances—the BJP and Shiv Sena on one hand, and the Congress-NCP on the other, Haryana will see a multi-cornered contest.
Live Blog
Exit poll results for Maharashtra and Haryana assembly elections are out. Watch this space for LIVE UPDATES.
Here are the exit polls for Maharashtra and Haryana according to the Neta App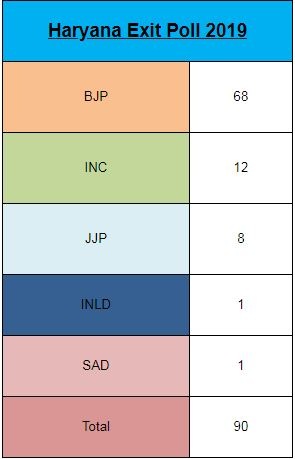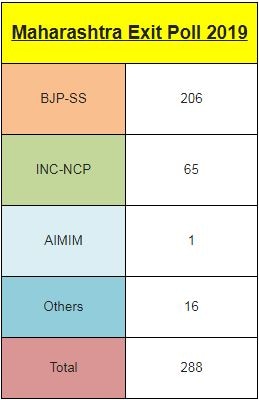 VIDEO | Maharashtra, Haryana exit polls predict BJP's win
Exit polls for Maharashtra
Times Now
BJP Shiv Sena--230
Cong NCP--48
Others--10
TV9 Marathi-Cicero
BJP-Shiv Sena---197
Cong-NCP--75
Others--10
CNN News 18-IPSOS
BJP Shiv Sena--243
Cong NCP--41
Others--4
India Today-Axis My India
BJP-Shiv Sena--166-194
Cong-NCP--72-90
Others--22-34
Exit polls for Haryana
Times Now
BJP-71
Cong-11
INLD Akali-0
Others-8
India News-Polstrat
BJP-75-80
Cong-9-12
INLD Akali-0-1
Others-1-3
News X-Polstrat
BJP-75-80
Cong-9-12
INLD-Akali-0-1
Others-1-3
Maharashtra: India Today-Axis My India exit polls
According to India Today-Axis My India exit polls, BJP will win around 109-124 seats out of 288 seats in Maharashtra while Shiv Sena will end up winning 57-70 seats. While NCP is projected to win 40-50 seats, its alliance partner Congress is expected to win 32-40 seats.
BJP- 109-124
Sena - 57-70
Cong 32-40
Other 22-32
NCP- 40-50
VBA 0-2
What are exit polls and how are they conducted?
An election exit poll is a poll of voters taken soon after a voter walks out after casting his or her vote. It is considered as an indicator to which party forms the government. Unlike an opinion poll, which asks for whom the voter plans to vote, an exit poll asks for whom the voter actually voted. Exit polls are conducted by a number of organisations.