Election 2019 Phase 3 Voting HIGHLIGHTS: An overall 64.66 per cent polling was recorded across 15 states and union territories as the third and largest phase of Lok Sabha elections came to an end. Prime Minister Narendra Modi urged voters to turn up in large numbers and exercise their franchise. He paid a visit to his mother in Gandhinagar in Gujarat before casting his vote from Ranip, Ahmedabad. This part of Ahmedabad city falls under Gandhinagar constituency, of which Shah is the BJP's candidate.
Gujarat Lok Sabha elections 2019 LIVE updates
Complaints of EVMs malfunctioning were also reported from various seats in Kerala, Karnataka and Bihar. Samajwadi Party president Akhilesh Yadav Tuesday alleged that EVMs were "malfunctioning or voting for the BJP" across the country, terming it criminal negligence.
Kerala Lok Sabha elections 2019 LIVE Updates
The BJP faces a strong challenge in Uttar Pradesh, as the third phase of Lok Sabha elections will be fought in the "Yadav belt", and Chhattisgarh, where the Congress swept to victory in the assembly elections just four months ago, winning 68 of 90 seats, reducing BJP to just 15.
Lok Sabha elections 2019: Here is how you can cast your vote India
In Kerala, the contest is primarily between the CPM-led Left Democratic Front, Congress-led United Democratic Front and the BJP-led National Democratic Alliance.
Live Blog
Lok Sabha Elections 2019 Phase 3: An overall voter turnout of 64.66 per cent was recorded in 117 constituencies across 15 states. Read HIGHLIGHTS. Read in Malayalam 
Modi will file nomination from Varanasi on April 26: Amit Shah
Narendra Modi will file his nomination from Kashi (Varanasi) on April 26 and will participate in a roadshow a day earlier to his nomination, Amit Shah confirmed.
Shah further said Sukhbir Singh Badal, Nitish Kumar, Uddhav Thackeray and other NDA leaders will be present during Modi's nomination filing.
Further speaking on a case registered against him, Shah said, "A fake case was registered against me in which court has delivered its judgement. The gist of the judgement is it was a politically motivated case & there is no evidence in this case. I don't want to comment much on Rahul Gandhi's legal knowledge."
On Priyanka Gandhi's possibility to contest from Varanasi, Shah said Congress is confused. "There is democracy in the country, anyone can contest. Congress is in confusion, not us. Our candidate has been declared, Narendra Modi will contest election from here."
Kashmiri Pandits in Jammu protest at Anantnag polling station
Kashmiri Pandits protested outside a special polling station in Jammu as some found their names missing on the voter list in Anantnag Lok Sabha seat.
However, Assistant Returning Officer Pankaj Anand said the election office has ensured that no voter, who has filled the M-form, is left out of the voter list. Over 4,000 electorates including 1,826 women have cast their vote in Jammu.
Chhattisgarh records 68% turnout till 7 pm
Around 68.25 per cent voting in Chhattisgarh was recorded at 7 pm
Karnataka: Partially paralysed, elderly couple cast vote
J-K: Zero votes cast in 40 polling booths at Bijbehara in Anantnag
Out of 65 polling booths in Anantnag, 40 booths located in Bijbehara assembly recorded zero votes were cast, PTI reported. It is the home turf of former Jammu and Kashmir chief minister Mehbooba Mufti.
People cast their votes in 714 polling stations in Anantnag. Bijbehara, the home constituency of PDP president Mufti, had 120 polling booths set up for a population of 93,289 people, however, a total of 1,893 electorates or 2 per cent exercised their franchise when the polling ended at 4 pm.
Gujarat records around 62% turnout
Gujarat recorded an estimated 62.36 per cent voting across the 26 Lok Sabha seats in the state, PTI quoted the Chief Electoral Officer.
BJP releases another list for seats in Chandigarh, Punjab
BJP releases 26th list of candidates for three Lok Sabha Elections 2019 seats in Chandigarh and Punjab. Sunny Deol to contest from Gurdaspur, Som Prakash from Hoshiarpur, and Kirron Kher from Chandigarh.
Third phase polling conducted peacefully: UP CEO
The third phase of polling held peacefully in Uttar Pradesh. UP records 60.52 per cent turnout in the third phase of polling for 10 seats: Chief Electoral Officer Venkateshwar
Overall turnout recorded over 64%
As the third phase of polling came to an end, the overall voter turnout was recorded as 64.66 per cent across 15 states and union territories.
Assam - 78.29% , Bihar - 59.97% , Goa - 71.09% , Gujarat - 60.21%, Jammu & Kashmir - 12.86%, Karnataka - 64.14%, Kerala - 70.21%, Maharashtra - 56.57%, Odisha - 58.18%, Tripura - 78.52%, Utar Pradesh - 57.74%, West Bengal - 79.36, Chhattisgarh - 65.91%, Dadra & Nagar Haveli - 71.43% and Daman & Diu - 65.34%.
Priyanka Gandhi Vadra visiting a local shop in Deeh during election campaign
PM Modi holds roadshow in Ranchi
'Murder accused' Amit Shah made Rs 50,000 into Rs 80 crore in three months: Rahul Gandhi in Madhya Pradesh
"Murder accused BJP President Amit Shah....waah! kya shaan hai....Have you heard Jay Shah's name? He is a magician, he made Rs 50,000 into Rs 80 crore in 3 months," Rahul Gandhi said at Jabalpur in Madhya Pradesh.
Himachal Pradesh: Four candidates file nominations in Kangra
Four candidates filed their nomination for the Kangra, Himachal Pradesh seat, PTI quoted an electoral official as saying. Subhash Sharma of Himachal Jan Kranti Party, Prem Chand Vishwakarma of the Nav Bharat Ekta Dal, Bahujan Samaj Party's Kehar Singh and Swabhiman Party's Sawroop Singh Rana filed their nominations before the District Election Officer cum Deputy Commissioner Kangra Sandeep Kumar.
J-K: Cong Thukjey Dolma joins BJP in Ladakh
A fortnight ahead of elections in Ladakh region of Jammu and Kashmir, Congress leader Thukjey Dolma joined BJP, PTI quoted a party spokesperson said.
Dolma, a prominent social worker and active member of the Congress, hails from Kardong area of Nobra valley. He joined the BJP in presence of state party president Ravinder Raina who is camping in Ladakh for election campaigning, he said.
Welcoming Dolma in the party, Raina said the Congress did "severe injustice" with the people of Ladakh over the years.
Cong leader Hooda, JJP leader Digvijay Chautala file nominations from Sonipat
Congress leader Bhupinder Singh Hooda and leader of newly floated Jannayak Janata Party Digvijay Chautala filed their nominations from Sonipat seat, PTI reported. As per the affidavit filed before the returning officer by Hooda, the total value of his moveable assets that includes cash in hand, bank deposits, investments in gold jewellery is over Rs two crore.
Hans Raj files nomination from North West Delhi, calls Modi 'hero'
Musician Hans Raj filed his nomination from North West Delhi constituency as a BJP candidate and said, "I have been a warrior since my childhood, I have to win. I am a son of a farm labourer, it is in my genes to work hard. I consider PM Modi as my hero."
Kerala records turnout of 73%
Kerala recorded a voter turnout of 73 per cent till 6 pm, whereas Chhattisgarh recorded an overall turnout of 64.68 per cent and Kutch Parliamentary constituency recorded a turnout of 51.08 per cent till 5 pm
Voting concludes in Assam
Goa records voter turnout of 70%
Goa recorded an overall turnout of 70 per cent with North Goa witnessing 72.97 per cent and South Goa saw 68.90 per cent.
The Assembly bypolls including Mandrem, Mapusa and Shiroda recorded 75.99 per cent, 75.17 per cent and 75.72 per cent respectively.
Overall voter turnout is 61% so far
Estimated voter turnout till now for the third phase is 61.31 per cent. Voting for 116 parliamentary constituencies across 13 states and 2 union territories is being held today.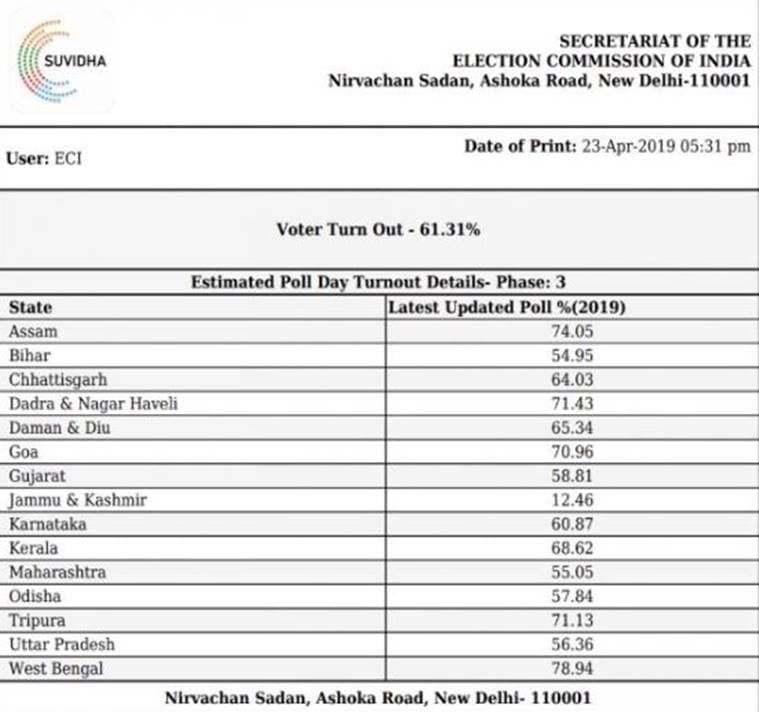 Karnataka Guv Vajubhai Vala casts vote in Rajkot
Karnataka governor Vajubhai Vala casts his vote at a polling station in Rajkot city. Vala is a native of Rajkot & was elected MLA from the city for 7 times before the Narendra Modi govt appointed him Karnataka governor in 2014. Photo by Ashwin Sadhu #Decision2019 @IndianExpress pic.twitter.com/lvFq1Hmpdf

— Gopal Kateshiya (@gopalreports) April 23, 2019
BJP's Gautam Gambhir files nomination for East Delhi
Gujarat: 54% tunrout in Jamnagar, 57% in Rajkot till 5 pm
Around 54.14 per cent voter turnout was recorded at Jamnagar Parliamentary constituency in Gujarat till 5 pm, while Rajkot has recorded a turnout of 57 per cent. Another hour of polling to go.
Closing time to extend, voting expected till 7.30 pm in Thiruvananthapuram, Attingal
Polling centres along the coastal belt of Thiruvananthapuram and Attingal constituencies flooded with voters, as polling enters last 30 minutes for Lok Sabha elections 2019. Closing time to be extended, voting expected to continue till 7.30 pm at these booths.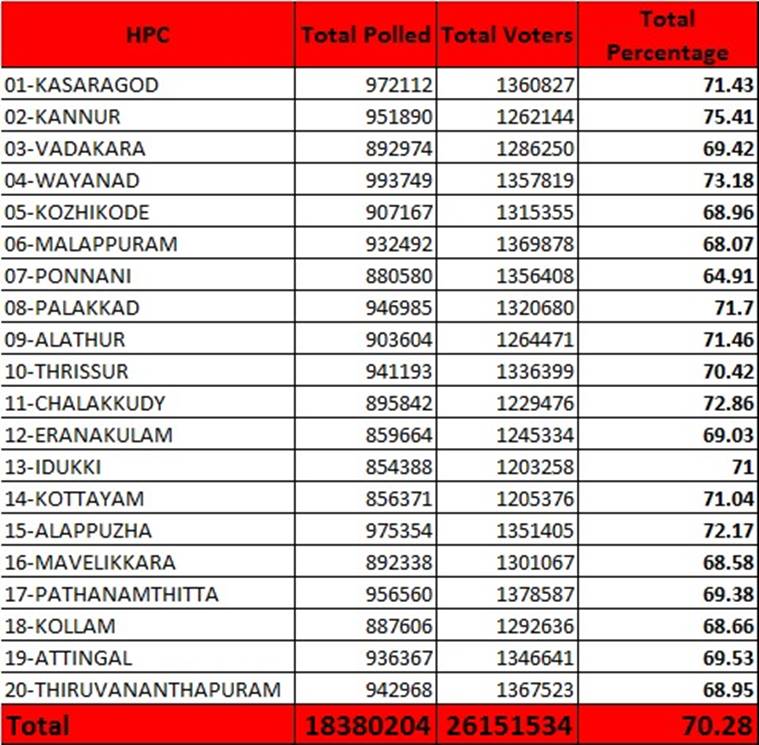 Thiruvananthapuram DEO guarantees people chance to vote at 6 pm
Thiruvananthapuram DEO K Vasuki guarantees a chance to vote for all voters standing in queues at polling centres at 6 pm. Tokens will be distributed, proceedings will end only after voting is complete.
Shashi Tharoor continues inspecting polling booths in Kerala
UDF candidate Shashi Tharoor continues to inspect polling booths in and around the city. (Source: Govt. HS, Balaramapuram)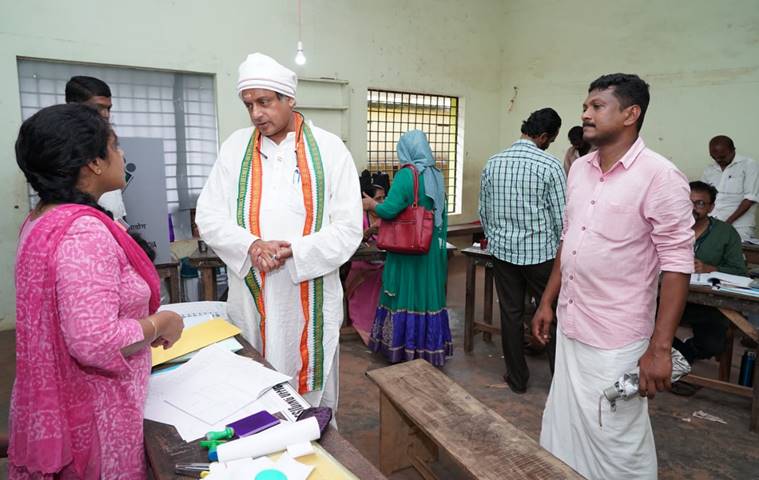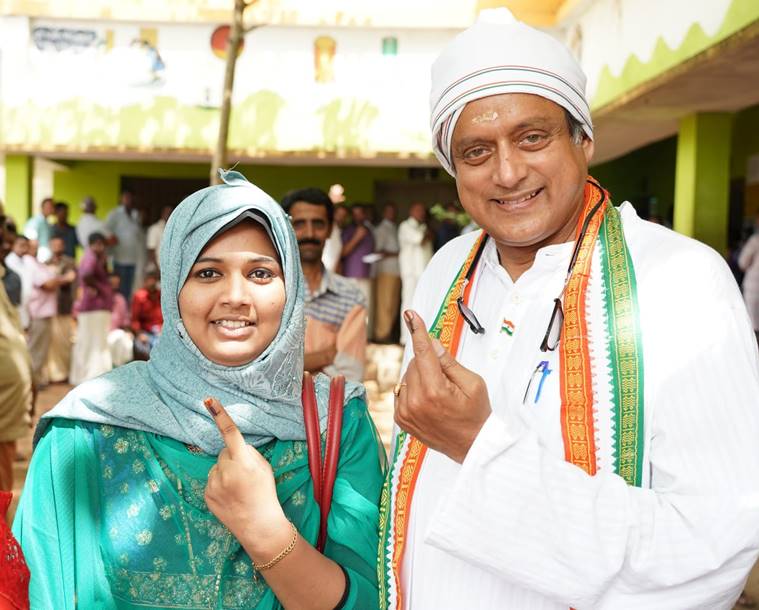 Odisha BJP candidate casts vote
Gujarat: Polling booth set up at Gir Forest for one voter
A polling booth in Gir Forest, Gujarat has been set up for one voter in Junagadh.
Voter Bharatdas Bapu says, "Govt spends money for this polling booth for 1 vote. I've voted and it's 100 per cent voter turnout here. For 100 per cent voter turnout everywhere, I request all to goa and vote."
PM Modi attacks Mamata and Congress at Asansol rally
Addressing a rally in Asansol, PM Modi mounted a double-barreled attack on TMC and Congress. "Had the post of prime minister been up for auction both Didi (Mamata Banerjee) and the Congress would have come up with the money looted by them to buy it," PM Modi said. Meanwhile, a showcause notice has been issued by the District Election Officer to Congress candidate from Raigarh constituency Laljeet Singh Rathiya for allegedly making objectionable statement against Prime Minister Narendra Modi.
Thiruvananthapuram records voter turnout over 67%
Chhattisgarh records turnout of 55% till 3 pm
Chhattisgarh recorded a turnout of 55.29 per cent till 3 pm.
Varun Gandhi visits polling booth in Pilibhit
BJP candidate from Pilibhit parliamentary constituency, Varun Gandhi visits a polling booth in Pilibhit and clicks selfies with supporters. pic.twitter.com/EpIuCrZqZn

— ANI UP (@ANINewsUP) April 23, 2019
People not attending TMC rallies, I feel pity for you Didi: Modi in Asansol, Bengal
"Today TMC's condition has become such that people are not turning up for their rallies, they are forced to call actors from abroad. I feel pity for you didi, look what the brave people of Bengal have done to you," Modi said in Asansol.
EC seeks report on Bengal violence which claimed a life
Kerala records 61% polling till 4 pm
Mamata Banerjee: Central forces at polling booths asking people to vote for BJP
Corruption, crime are non-stop in Bengal under TMC rule: Modi in Asansol, Bengal
"Corruption and crime are non stop in Bengal under TMC regime. When the CM of a state stands in favour of those who are involved scams, it's the people which suffers," Modi said.
Mamata Banerjee abusing Modi is a reflection of her frustration in the face of immeinent defeat: Modi in Asansol, Bengal
On his election campaign trail in West Bengal, Modi took a dig at Chief Minister Mamata Banerjee and said the CM abusing Modi is a reflection of her frustration in the face of imminent defeat. "Didi (Mamata Banerjee) abusing Modi and getting angry with EC is a reflection of her frustration in the face of imminent defeat," Modi said while addressing a rally in Asansol, Bengal.
"Before 2014, Congress govt had made a record of corruption. Today TMC government is giving tough competition to the Congress. Corruption & crime are non-stop in TMC rule. And 'Speed-breaker Didi' is also there," Modi said.
Cong announces Ranvir Sharma as candidate for Agra North constituency bypoll
Congress announces Ranvir Sharma as the candidate for the Agra North constituency by-election.
'Priyanaka Gandhi will defintely contest if Cong asks her: Ahmed Patel
Senior Congress leader Ahmed Patel said Priyanka Gandhi will "definitely" contest election from Varanasi if the party asks her. "Party will soon take a decision on it. Congress President will decide after consulting others," Patel said.