Karnataka Election Results 2018: Just when the Bharatiya Janata Party (BJP) looked set to wrest power in Karnataka with a simple majority in the 224-seat Assembly and celebrations at its party offices had begun, there came a twist in the tale. Amid the fluid political situation in the state, the Congress, which had flown its senior leaders Ashok Gehlot and Ghulam Nabi Azad for hectic parleys with the Janata Dal (Secular), announced its decision to unconditionally support former prime minister Deve Gowda's regional party in its desperate bid to keep the BJP out of power. Gowda's son and JD(S) president HD Kumaraswamy, accepting the Congress' offer, met with Karnataka Governor Vajubhai Vala this evening. BJP, too, met the Governor to stake claim to form the government.
The Governor has, however, reiterated that until the Election Commission of India sends it final tally, a decision on government formation could not be taken.
According to the latest figures declared by the Election Commission, Congress has won 74 seats and is leading in four, while JD(S) has won 37. If Congress wins the remaining four, the combine will have 115 seats, enough for a majority. BJP has won 97 and is leading in seven, for a total of 104. Mayawati's BSP, a JD(S) ally, and KPJP have won one seat each. BJP's chief ministerial candidate Yeddyurappa has won in Shikaripura while Congress' candidate and incumbent CM Siddaramaiah won Badami but lost in Chamundeshwari. Siddaramaiah has resigned and sent his resignation letter to the Governor.
Here is a 10-point guide for you to understand the Karnataka Assembly election results. We bring you fastest and real-time updates in Malayalam, Bengali and Tamil
Congress offers support to JD(S), Gowda-Kumaraswamy reciprocates
With trends showing the BJP leading in over 100 seats, senior Congress leaders Ashok Gehlot and Ghulam Nabi Azad were involved in frenetic negotiations and finally managed to seal a deal with the JD(S). After Azad announced Congress's support to JDS(S), and the latter reciprocated. "Both Deve Gowda and his son H D Kumaraswamy have agreed to this arrangement. Hopefully, we will be together," Azad had told the media in Bengaluru. While Azad said the party has spoken to the JD(S) leadership, TV channels reported that the call was made by UPA chairperson Sonia Gandhi.
Action shifts to Raj Bhavan
JD(S) president H D Kumaraswamy has written to the Governor informing him that the party has accepted Congress' offer and would stake claim to form a coalition government. He has sought an appointment this evening. The BJP, on the other hand, is still weighing its options. Interestingly, Rudabhai being a BJP man could create a hurdle in the way of formation of a JDS-Congress government. As per the constitutional provision, the Governor invites single largest party, in this case the BJP.
BJP to stake claim too
BJP will also stake claim to form the government in Karnataka, PTI quoted state party chief B S Yeddyurappa as saying. Yeddyurappa said he along with Union minister Ananth Kumar will meet Karnataka Governor this evening. On Congress-JD(S) tie-up. Yeddyurappa said: "Congress is trying to subvert popular mandate and come back to power through the back door".
Modi and Rahul on JD(S)
Prime Minister Narendra Modi had been making complimentary references to Deve Gowda during the campaign. Congress president Rahul Gandhi, on the other hand, has described the JD (S) as the BJP's "B-team".
Siddaramaiah wins one of two seats
Chief Minister Siddaramaiah has lost in Chamundeshwari constituency in Old Mysuru, conceding the seat to JD (S) rival GT Deve Gowda. He, however, won Badami in north Karnataka defeating BJP's B Sreeramulu, a Lok Sabha MP and close aide of the controversial Reddy brothers.
Yeddyurappa wins Shikaripura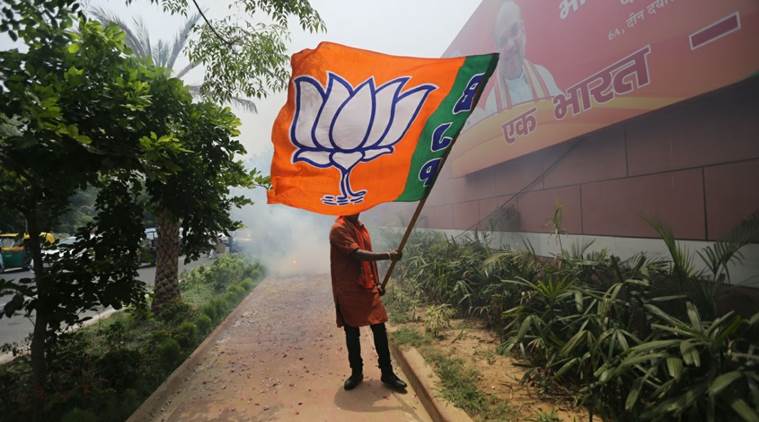 BJP CM candidate B S Yeddyurappa wins Shikaripura seat by a margin of over 35,000 votes. Yeddyurappa was confident that he will return as CM and had even announced a date for his swearing-in: May 17. He twice travelled the length and breadth of Karnataka in the months preceding the elections to drum up support for the BJP — including a 75-day Parivartan Yatra from November 2017 to January 2018. He was, however, pushed to the sidelined when Modi launched his campaign blitzkrieg on May 1.
Celebrations halted at BJP offices
Hundreds of BJP activists celebrated on Tuesday across Karnataka as the BJP appeared set to dethrone the Congress in the state. The celebrations have, however, been halted as Congress announced support to the JD(S) and the latter reciprocated.
ALSO READ | Karnataka Election Results 2018 LIVE: Siddaramaiah, Yeddyurappa fate hangs in balance as counting begins
BJP rules out alliance with JD(S) 
BJP leader and Union Minister Sadanand Gowda said that there was no question of any alliance with the JD(S) as his party was headed towards a clear majority. Union minister Prakash Javadekar, who is in charge of Karnataka, met BJP president Amit Shah in New Delhi. Analysts said the BJP was leading in Lingayat dominated seats, in an assertion that Siddaramaiah's recommendation to grant the community religious minority tag may not have benefited the Congress.
PM Modi was BJP's star campaigner  
Prime Minister Narendra Modi held 21 mega rallies for the BJP – six more than the 15 originally planned. After the PM's arrival in the state as the star attraction on May 1, the party's CM candidate BS Yeddyurappa played second fiddle.
ALSO READ | Karnataka Assembly election results 2018: How to check results live
Siddaramaiah was Congress's key campaigner, Rahul second fiddle
The Congress campaign was spearheaded by Siddaramaiah, with party president, Rahul Gandhi, also carrying out a slick and hard-hitting campaign. UPA chairperson Sonia Gandhi, too, addressed a public rally in the state, her first after almost two years.
Previous years 
In 2013, the Congress had won 122 seats. The BJP and the JD(S) got 40 seats each, while Yeddyurappa's then Karnataka Jantha Paksha got six seats and B Sriramulu's Badavara Shramikara Raitara Congress Party bagged four.  The trend of no government winning a second term in Karnataka since 1985 seems to be intact. In 1985, the Janata Dal under Ramakrishna Hegde had retained power.
📣 The Indian Express is now on Telegram. Click here to join our channel (@indianexpress) and stay updated with the latest headlines
For all the latest Elections News, download Indian Express App.