As part of its continuing coverage of the Karnataka Assembly elections, today IndianExpress.com travels to the urban constituency of Mangalore South in Dakshina Kannada district to speak to potential voters, candidates and gauge the mood on the ground.
The Mangalore South constituency is represented by Congress MLA JR Lobo, who secured over 50 per cent of the votes in the 2013 Assembly elections over BJP candidate N Yogish Bhat. It was a huge win for the Congress party considering the fact that the seat had been held, even pre-delimitation, by the BJP since 1994. In fact, the last time Congress won prior to 2013 was in 1989. In the 2014 Lok Sabha elections, however, BJP was able to reverse the loss of votes, tossing Mangaluru into the party's kitty.
Live Blog
Here are the highlights of Karnataka elections for today
Internal dissension caused defeat last time: BJP's former MLA from Mangalore South
N Yogish Bhat is a four-time MLA of the BJP from Mangalore South consecutively winning the seat from 1994 to 2013. He has also served as Deputy Speaker in the Karnataka Assembly. In 2013, he lost to Congress's JR Lobo by 12000 votes.
At the BJP's election office in Mangalore, he spoke to IndianExpress.com on the reasons for the defeat in 2013.
While the party's run in the constituency was smooth for almost two decades, in 2013, divisions within the state-level organisation began to grow, says Bhat. "There were disturbances within the cadre and there was a lack of unity within the party. This led to the defeat," he said.
Remember, 2008-2013 saw a wildly unpopular BJP government in the state that saw three chief ministers. The first CM, BS Yeddyurappa, even spent a few days in jail on corruption charges. He later walked out of the party to form the Karnataka Janata Paksha (KJP). However, shortly before the Lok Sabha elections, he came back to the party.
Bhat says there were a lot of expectations from the Congress MLA JR Lobo who won in Mangalore South. "But as a legislator, he is an utter failure. There are no new schemes. His contributions are very, very poor," he added.
While Bhat is no longer the BJP candidate in Mangalore South, JR Lobo has been pitched as the candidate again by the Congress. He is up against Vedavyasa Kamath of the BJP. May 15 will reveal who has the last laugh in this constituency.
BJP casts hopes on Sangh Parivar's organisational strength for good result in Dakshina Kannada
Karnataka's coastal belt, that comprises parts of Dakshina Kannada, Udupi and Uttara Kannada, is known to have a strong organisational network of the Sangh Parivar and its allied organisations. It is this manpower on which BJP's local leadership casts its hopes on for a good result in the region.
Kishore Rai, the BJP's Dakshina Kannada general secretary, spoke to IndianExpress.com at the party's election office in Mangaluru.
"Campaigning is going on in all the eight seats. The first round is over and the second will start soon. In 2013, there was an anti-government wave which was why we lost 7 out of 8 seats in the district. But this time, we are looking to win all 8 seats. Sangh Parivar is very strong here. Since last year, vistaraks have been sent to every booth. The 19-point programme of Amit Shah by involving booth pramukhs and panna pramukhs is being followed. We have been preparing for this election for the last one year," Rai said.
On why some tickets were announced at the last moment, he replied, "BJP is the favourite party this time. There is a lot of excitement and anticipation. Everybody wants to fight on BJP ticket. So we have to look at caste calculations carefully."
He said central leaders of the party including Uttar Pradesh Chief Minister Yogi Adityanath will come in the following days. Prime Minister Narendra Modi is also scheduled to address a rally in Mangaluru city on May 5.
BJP grew in Karnataka in the 80s and 90s only because of the Janata Dal, says Vishnunath
"The only reason BJP was able to grow here in Karnataka in the 80s and 90s is because of the Janata Dal. That's why we are always opposed to the Janata Dal. JD(s) is secular only in name."
PC Vishnunath says the Congress is confident of winning 120-125 seats
"We are confident of winning 120-125 seats. There is no doubt. Siddaramaiah is very popular in the state compared to Yeddyurappa and Kumaraswamy. In fact, BJP has brought in Yeddyurappa only for the Lingayat votes. Other than that, he is useless. We are effectively encashing on the popularity of Siddaramaiah as a leader."
Modi wave in 2014 has today turned into a disaster, says Vishnunath
Vishnunath says: "In 2014, there may have been a Modi wave, but today that 'tharangam' (wave) has turned into a 'durantham' (disaster). Demonetization and GST has had terrible effects on the people."
PC Vishnunath tells the Indianexpress.com: "We (Congress) oppose Janata Dal because they allowed BJP to grow"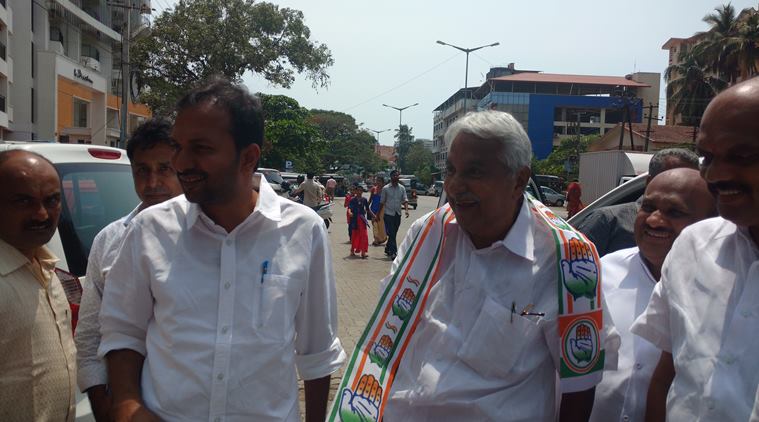 A former MLA from Chengannur in Kerala, PC Vishnunath is in charge of eight districts in poll-bound Karnataka, namely Dakshina Kannada, Udupi, Chikmagalur, Mandya, Hassan, Mysore, Chamarajanagar and Coorg. He spoke exclusively to Indianexpress.com in Mangalore earlier today.
"We have been working for more than a year now to build the organisation. We have formed booth committees and gave training to presidents of individual booths. Today, I am confident that we have a good organisation. Especially in Dakshina Kannada and Mangalore, the Congress has always been strong. People here want peace. They want to have the freedom to choose their partner or a choice of food. Last time in 2013, we swept the region winning 7 out of 8 seats," said Vishnunath.
(Express photo by Vishnu Varma)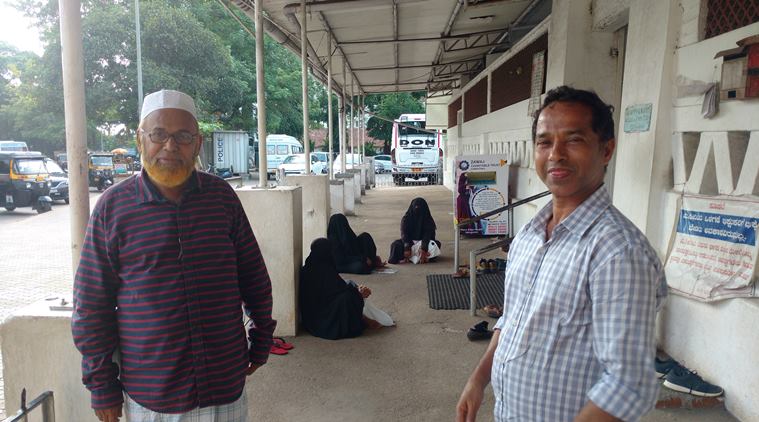 Standing outside the Eidgah jumma mosque in Mangalore, two locals - Abdul and Nazeer - express their thoughts about the upcoming elections.
Abdul Khayyum (left) says, "Sab pareshaan hai'. Nobody knows whether it will be Congress or BJP which comes to power, only God knows. What I like about Modi is that he speaks very well. He is an effective communicator. He also dresses very well. Mangalore is a very peaceful city to live. I am retired now so I have no work. All we want is peace and no violence."Nazeer, who is an NRI and has his own business in Dubai, says: "There has been progress in Mangalore under Siddaramaiah. Roads are better and transport facilities to Bangalore have improved. But Centre's biggest mistake was demonetisation. They said black money would be unearthed, but it never came out. BJP's strategy at the Centre is different from Congress. They want to make a Hindu nation. People are very scared of that. We want peace and equality. Nobody wants communal incidents." (Express photo by Vishnu Varma)
Karnataka elections: Visiting an Indira Canteen in Mangalore
Former Kerala CM Oommen Chandy: "People have realised the absence of the Congress"
'If I vote for BJP, it will be for the party, not for Yeddyurappa', says 53-year-old Damodar, a chat seller in Mangalore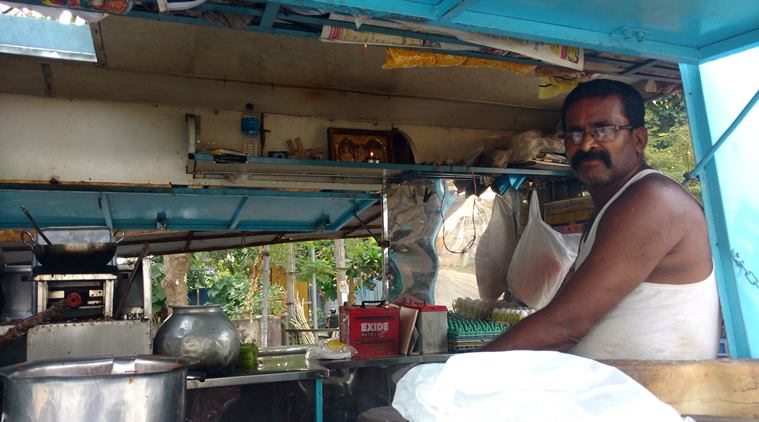 53-year-old Damodar, a chat seller and a resident of Mangalore, says that his family has always voted for the Congress but it's time for a change.
"Centre mein accha chal raha hai, Modi sabko saath leke chal raha hai, my family has always voted for the Congress. I have also voted for Congress but this time there could be a change. If I vote for Bjp, it will be for the party, not for Yeddyurappa. Voh accha aadmi nahin hai. My estimate is no party will get more than 100 seats, it will be fractured. Kumaraswamy could become CM, that can happen. Indira canteen scheme of the Congress is a big scam, you will see."
When asked how Modi is as a leader, Damodar showed a thumbs up.
(Express photo by Vishnu Varma)
No govt ever does anything, says chat seller in Mangalore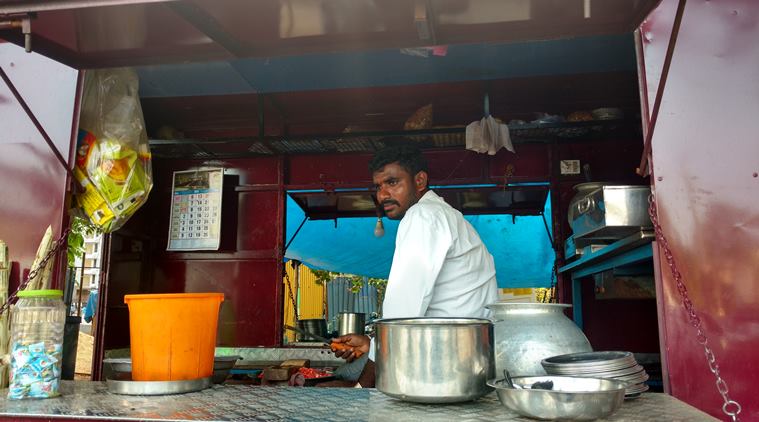 Manju, a chat seller from Mangalore said: 'I am from Mandya district where Congress is the biggest party so I have always voted for Congress, no government ever does anything, if we have to earn, we have to work hard. I don't care about politicians because it doesn't make a difference.'
Manju, who stays in Mangalore but hails from Mandya, says he makes chats and sugarcane juice from a mobile van at White House hill in Mangalore.
(Express photo by Vishnu Varma)
Former Kerala CM Oommen Chandy to address rally in Mangalore constituency
Former Kerala Chief Minister and senior Congress leader Oommen Chandy is also campaigning for the party for the upcoming Karnataka elections. Chandy is scheduled to address a rally in Mangalore constituency (erstwhile Ullal) today bordering Kerala.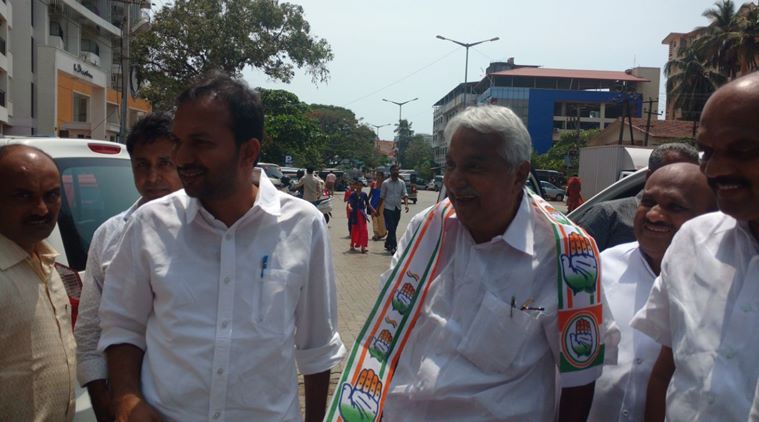 (Express photo by Vishnu Varma)
What differentiates elections in Mangalore to that of Kerala
Unlike its neighbouring state Kerala, which goes into an overdrive during polls, Mangalore city does not even elicit the feeling that campaigning for a raging election is on. Unlike Kerala, there are no posters or placards on roads or writings on walls. In that way, there is very little defacement of public property. According to the reporter's driver, a Malayali, it could be because people don't have any hope in elections anymore. 'They have resigned to the fact that nothing changes ever on the ground inspite of whichever party comes to power,' he says. He says there are never any hartal or bandhs in Mangalore unlike the notoriety that goes on in Kerala. Our reporter, Vishnu Varma, says the only posters that could be found in the city were outside the respective party offices.
BJP office in Mangalore South turns into election war room
The BJP's election office in Bunts Hostel area in Mangalore South constituency was buzzing on Wednesday afternoon. The office has turned into a virtual election war room as a couple of leaders sat inside monitoring updates from the ground, talking to karyakartas and reconfiguring the campaign accordingly. Huge posters of the party's tallest state leader and chief ministerial candidate BS Yeddyurappa, national president Amit Shah and Prime Minister Narendra Modi adorned the walls of the party office.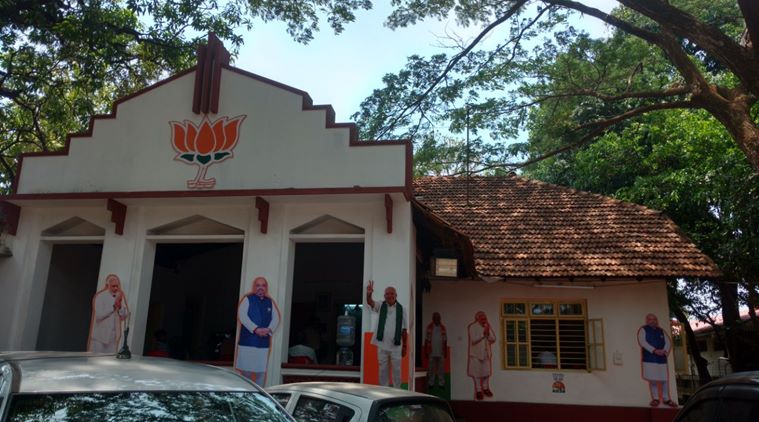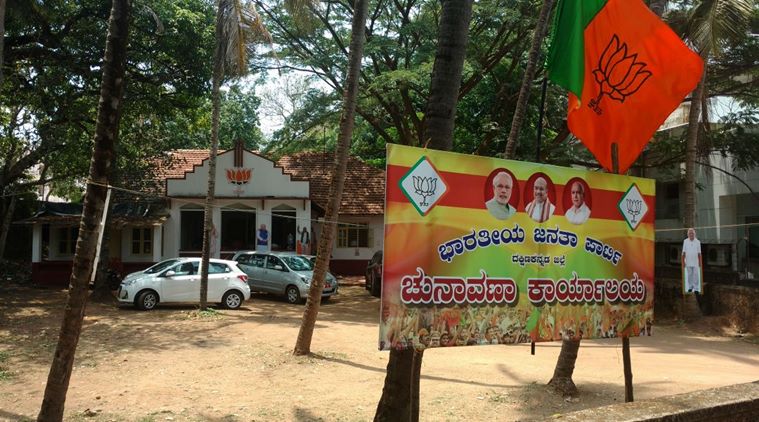 (Express photo by Vishnu Varma)
Minority votes hold the key in Mangalore South
Considering the importance of Mangalore South, this time there was hectic lobbying for the BJP ticket and eventually the candidature of Vedavyasa Kamath was announced at the last moment. The local journalist says the Congress incumbent MLA JR Lobo has already completed two rounds of campaigning and he has made extensive preparations on the ground. "This is a departure from the norm as Congress leaders generally don't put too much effort on the ground level in Karnataka," the journalist says. During the 2013 elections, the Church gave a lot of backing and catholics turned out in large numbers to vote. This time, however, he says both the Congress and BJP have fair chances of winning the seat though it may all come down to the minority votes. The journalist says even though Congress does not cut much ice with the voters of the constituency, Chief Minister Siddaramaiah is a favourite in Mangalore South. Indira canteen and rice distribution programmes have worked well here.
Mangalore South: A BJP bastion since 1994, knocked off the perch by Congress in 2013
The Mangalore South seat had been a BJP stronghold since 1994, but was wrested by Congress in the 2013 elections. The CPM also has some influence in the area. In the 2013 assembly elections, a substantial section of the hardcore worker base of BJP went against the party because of corruption allegations and change of chief ministers. Anti-incumbency crept in Mangalore South just like other areas of the state, the local journalist, who requested anonymity, said.
Demographics of Mangalore South constituency
Explaining the demographics of Mangalore South constituency, a local journalist, who has covered Mangalore extensively, said out of 2.26 lakh voters, Christians, mainly Catholics, comprise 48,900 voters, Muslims number up to 57,400 and the rest are Hindu voters. An influential Hindu section is the Gaud Saraswat Brahmin community. Mangalore South is an urban seat and forms the maximum part of Mangalore city. Traders, bank employees, businessman and daily wagers form the main voters of the constituency.
In 2013, Congress won Mangalore South seat by 12,275 votes
Here is a roundup of what happened in the 2013 assembly elections. Congress' JR Lobo won the Mangalore South constituency by 12, 275 votes. Lobo got 67,829 votes, while his nearest rival, BJP's Yogish Bhat, received 55,554 votes. In terms of vote share, the Congress candidate received 51.26 per cent of votes, while Bhat got 41.99 per cent. CPM, which has some influence in the are, came a distant third, with its candidate Vasanth Achari getting only 3,016 votes. However, the Mangalore South constituency saw 66.72 per cent turnout while the whole state saw 71.29 per cent voters exercising their franchise.
Mangalore South is part of Dakshina Kannada Lok Sabha constituency
Mangalore South is one of the three constituencies that represent Mangalore - others being Mangalore and Mangalore City North. Mangalore South is part of Dakshina Kannada Lok Sabha constituency.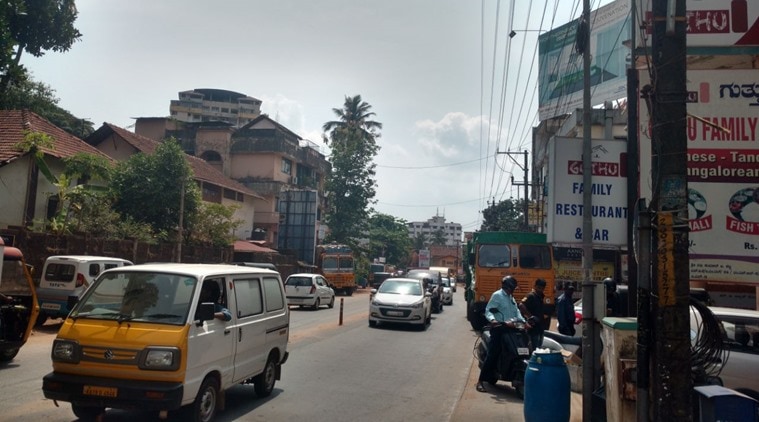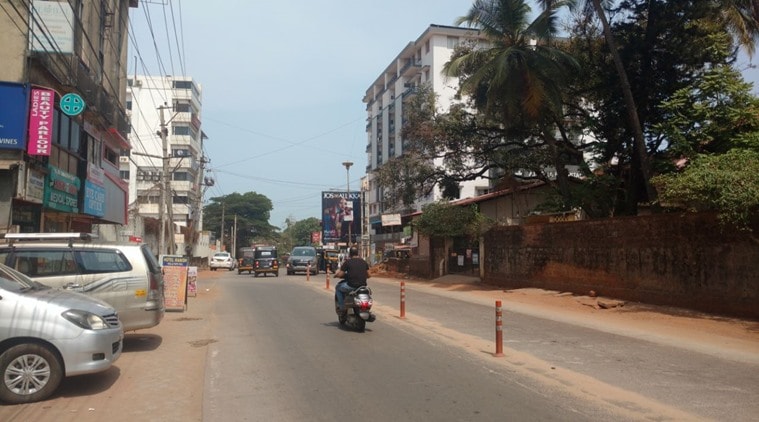 (Express photo by Vishnu Varma)
About Mangalore South constituency
A largely urban seat, Mangalore South has a vast Christian population and sizeable Hindu as well as Muslim voters, giving it a diverse demographic look. JR Lobo is once again the Congress candidate while the BJP has given the ticket to D Vedavyasa Kamath. Once a BJP leader and now expelled from the party, Sreekar Prabhu is contesting as an Independent. The CPI(M), which has some influence in the area, is also in the fray.