On Tuesday evening, a group of young workers of various textile factories and trading shops were seated outside Dilawar Tea Centre in Limbayat constituency of Surat. Some of them were wearing skull-caps, most were in pullovers and all were sipping warm tea on the chilly evening when another group approached them. The members of this one had saffron scarves over their shoulders, with the BJP's lotus symbol on the scarves. They were members of the BJP's Minority Morcha, with most of them from Maharashtra.
In a constituency known to be communally sensitive, the BJP has sent its minority leaders to woo a large Muslim population, who make up about 30% of the electorate. Limbayat had seen arson and rioting last January, after the severed head of a calf was found on the road.
The move to send minority leaders from Maharashtra, led by a national leader, was strategic. Out of Limbayat's 2.55 lakh voters, around one-third are Maharashtra-origin Hindus. Of the 30% Muslims, many trace their roots to Maharashtra, with the rest originally from Uttar Pradesh and Bihar. Gujaratis are estimated to number less than 20%, followed by smaller populations of other communities.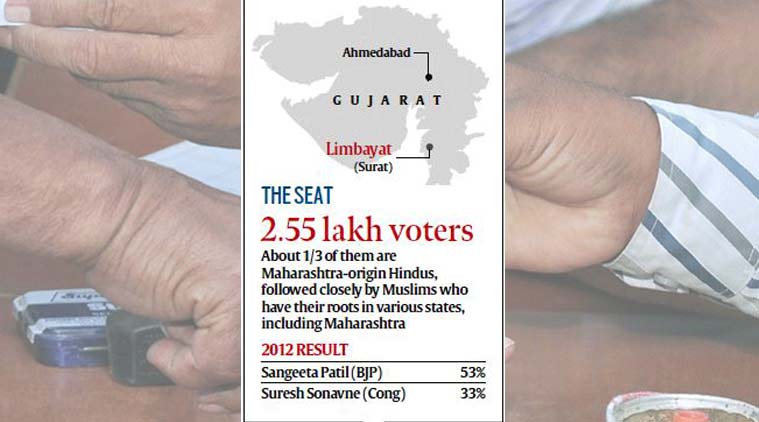 In 2012, over half the votes went to BJP candidate Sangeeta Patil, and a third to Congress candidate Suresh Sonavne — also with Maharashtra roots. On Tuesday, many vehicles were parked on the side of a street that was already congested with food stalls and pan shops, besides the tea stall where the young group was chatting. The stall is close to a mosque. From among the BJP minority leaders who approached the young group, Dr Azam Raza opened the conversation.
"We have not come here to get your support or to tell you to vote for the BJP and not the Congress," Raza told them. "We have come here to find out: What do you think of the Congress and the BJP? What have you gained from supporting the Congress since 1947? Our community remains at the bottom of the ladder in terms of development," he said, highlighting his Muslim identity. He also cited from the Sachar Committee report to underline underdevelopment.
"So far, you have not voted for the BJP in spite of all the development in your areas and state," he said. "We can tell the state government that there is a Muslim vote share in your victory, and they need help. Now, it is your choice," he added, advising them to "go home, think, analyse".
"It is our great privilege that we have come here to campaign for Muslims in the home state of our Prime Minister," said BJP Minority Morcha national president Irfan Ahmed, going on to describe Narendra Modi as the first PM to have said that he wants to "see the Quran and a computer in the hands of Muslims".
Ahmed had more praise for the Prime Minister: "He does not discriminate on religion or caste. He does not say he is the Prime Minister of only Hindus; he says that he is the PM of 125 crore Indians.
Ahmed too highlighted development in Gujarat: "You have seen the development of Gujarat and your city and your area in the last 22 years, in 24-hour water and electricity supply. Women and girls are safe can move safely during night." He then made the same pitch as Raza: "Put aside your feelings for the Congress and think before you caste your vote for the party which is ready to support you and work for your uplift…. When other communities are progressing in all sectors, why are Muslims left behind?"
The visiting BJP Minority Morcha group led by Irfan Ahmed included Maharashtra unit vice president Haji Haider Azam and Mumbai unit vice president Dr Ahmed Rana. After the leaders left the tea stall to address other groups, the conversation in the young group dwelt on what the leaders had told them.
"We have got good support from Muslim youths with whom we have shared tea. They welcomed and heard us out, no one doubted us," Irfan Ahmed told The Indian Express. "We have seen that not one Congress flag or poster was in the area. A day will come that when they will come forward and support the BJP."