Rajasthan, MP, Mizoram, Telangana, Chhattisgarh Election 2018 highlights: Bringing an end to its prolonged electoral losses since 2014, the Congress ousted the BJP to win Rajasthan, Chhattisgarh and Madhya Pradesh. In Madhya Pradesh, the nail-biting contest reached its finale this morning after the Congress emerged as the single largest party with 114 seats and has approached the Governor to stake a claim to the government. Both Mayawati-led BSP and Akhilesh Yadav's Samajwadi Party have offered support to the Congress. Three-time CM Shivraj Singh Chouhan conceded defeat and has tendered his resignation.
In Chhattisgarh, the Congress is back after 15 years with an absolute majority, while in Rajasthan the party fell two seats short of crossing the 101-majority mark. The reverses for the BJP in the Hindi heartland threw wide open the 2019 Lok Sabha elections which until a few months ago appeared to be in its grip. Follow Assembly Elections 2018 Results LIVE updates
Live Blog
In the Assembly Elections 2018, Congress has won Chhattisgarh, Rajasthan and Madhya Pradesh. The question now remains: Who will be the CM? Read highlights
Chhattisgarh election results: Mallikarjun Kharge attends party meet in Raipur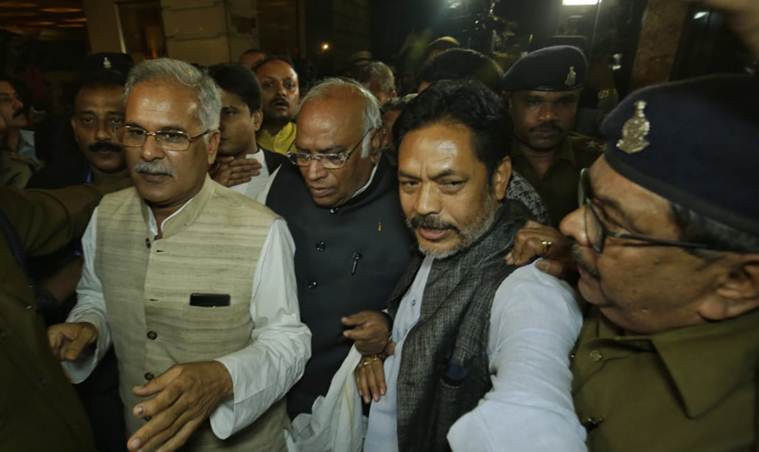 Congress leader Mallikarjun Kharge and CM candidate Bhupesh Baghel (left) during party meeting in Raipur, Chattisgarh. (Express photo by Praveen Khanna)
BJP in MP, Rajasthan put up a good fight under PM Modi's leadership: Yogi Adityanath
UP CM Yogi Adityanath said that BJP put up a good fight in the just concluded elections in MP and Rajsathan under PM Modi's leadership.

Uttar Pradesh Chief Minister Yogi Adityanath in Patna: In Madhya Pradesh & Rajasthan people tried to spread lies but despite that, we put up a good fight under Prime Minister Narendra Modi's leadership. The support that people gave us makes the fight ahead easier. pic.twitter.com/DwC9wRNfvb

— ANI (@ANI) December 12, 2018
Zoramthanga to be sworn in as Mizoram CM on Saturday
Mizo National Front (MNF) president Zoramthanga's oath-taking ceremony will be held on Saturday, say protocol department officials. The MNF returned to power in Mizoram by bagging 26 seats of the 40-member state legislature.
Rahul Gandhi will decide CM face in Rajasthan: Congress
'Rahul Gandhi will take a decision tomorrow on who will be Rajasthan CM,' said Congress MLA Parsadi Lal Meena. The Congress had emerged as the single largest party in the state on Tuesday's vote count, winning 99 seats.
Madhya Pradesh MLAs ask Rahul Gandhi to pick Congress legislature party leader
At a meeting in Bhopal, newly-elected Congress MLAs unanimously passed a resolution authorising Congress president Rahul Gandhi to name the new legislature party leader. "The resolution was moved by senior MLA Arif Aqueel and seconded by other MLAs. They passed it unanimously, authorising the Congress president to nominate the legislature party leader," state Congress media cell chairperson, Shobha Oza told reporters. Gandhi will be conveyed the decision of the newly-elected MLAs, after which he will name the CLP leader.
Jyotiraditya Scindia tweets on decision taken by MLAs to let Rahul Gandhi chose the next CM
.@INCIndia के नवनिर्वाचित विधायकों के साथ आज हुई बैठक के पश्चात, सर्व सहमति से यह फ़ैसला लिया गया है कि मध्यप्रदेश में सरकार के नेतृत्व का निर्णय पार्टी की आलाकमान तय करेगी। हम उनके निर्णय को सर माथे रख कर उसका पालन करेंगे!

— Jyotiraditya Scindia (@JM_Scindia) December 12, 2018
Rahul Gandhi to decide who will be chief minister in MP
Congress leader Shobha Ozha announced that MLAs made a unanimous decision that party president Rahul Gandhi will decide who will be the Chief Minister in Madhya Pradesh. Kamal Nath and Jyotiraditya Scindia are the likely contenders for the CM's post.
Congress high command to decide on CM face for Madhya Pradesh
A one-line proposal has been passed at the Congress Legislature Party (CLP) meeting in Bhopal. The High Command will take a decision on the Chief Minister face. https://t.co/Md3l3WMzz2

— ANI (@ANI) December 12, 2018
Navjot Singh Sidhu on Congress' latest electoral victory
NS Sidhu: Ye ek sachai ki jung thi jisne na sirf pasa palta balki aisa dhadhkta hua Inquilab laake khada kar diya ki har gali-mohalle mein Congress ka worker utsahit hai aur ek aisi neev di hai ki Rahul bhai aane waale samay mein lal kile pe jhanda fehraenge. #AssemblyResults2018 pic.twitter.com/O3dgjS1kNj

— ANI (@ANI) December 12, 2018
Shivraj Singh Chouhan concedes defeat, reminds Rahul to sack CM if loan waiver not implemented
In a press conference today after conceding defeat to the Congress, Shivraj Singh Chouhan said he congratulated Kamal Nath on his party's performance in the state elections, after deciding not to stake claim to form the government. "It's true we didn't get the majority (in the elections), and if anyone is responsible for the defeat, it is Shivraj Singh Chouhan," the BJP stalwart said.
Recounting his party's accomplishments in the 15 years, Chouhan thanked the people for allowing him and the party to serve them and said he is indebted to the state. Now in the opposition with 109 MLAs, Chouhan said the BJP is strong and responsible.
Read more here
Victory over BJP's negative politics: Congress leader Sonia Gandhi
Senior Congress leader Sonia Gandhi has described her party's return to power in the states of Rajasthan, Madhya Pradesh and Chhattisgarh, as a "Congress victory over the BJP's negative politics". Meanwhile, in a sign of burgeoning opposition unity, Bahujan Samaj Party leader Mayawati extended support to the Congress in Rajasthan and Madhya Pradesh, while the Samajwadi Party indicated that the party could join a grand alliance of opposition parties to take on the BJP in the 2019 polls.
Read more here
We got more votes than Congress but won less number of seats: Shivraj Singh Chouhan
After handing over his resignation letter to the Governor, Shivraj Singh Chouhan told reporters that despite getting more number of votes than Congress the ruling party got less number of seats. In 2008, the BJP's vote share was 38 per cent yet it got 143 seats. "It's true that we did not get a majority," he said adding that the party did not stake claim to form the government because it lacked the numbers.
Insulating the Central leadership, he said the Central government supported the state government and both governments implemented several pro-people schemes. "If despite that we lost it means the blame goes to me. Maybe I lacked something," he said.
State poll results destroy 'untenable theory of the Modi magic': Yashwant Sinha
Former BJP leader Yashwant Sinha said the election results of three key states - Madhya Pradesh Chhattisgarh and Rajasthan - have destroyed the "untenable theory of the Modi magic" and expressed hope that the saffron party's debacle would propel the opposition parties to bond better for the upcoming 2019 Lok Sabha polls, reports PTI.
Ram Madhav tweets in support of Chouhan despite electoral loss
BJP National General Secretary Ram Madhav stands by Shivraj Singh Chouhan even in party's loss at the state elections.
Proud of Shivraj Singh Chauhan. Spirited fight. More votes; short of majority in a hung house; but no temptation for harakiri; graceful exit by submitting resignation. He won d hearts even in party's sad electoral loss.

— Ram Madhav (@rammadhavbjp) December 12, 2018
Shivraj Singh Chouhan takes responsibility for BJPs loss in MP
Three-time CM Shivraj Singh Chouhan tendered his resignation to Governor Anandiben Patel earlier today and took complete responsibility of the party's defeat in the state. "I have submitted my resignation. The complete responsibility of (BJP's) defeat (in MP) is only mine," Chouhan told reporters outside Raj Bhavan. "Party workers worked hard, people also gave their love to us but we are short of numbers despite getting more
votes. I have congratulated Kamal Nath ji (state Congress president)," he was quoted as saying by PTI.
K Chandrasekhar Rao elected as Telangana Rashtra Samithi party chief
Telangana Rashtra Samithi today elected K Chandrasekhar Rao as its party chief paving the way for his return as the Chief Minister of Telangana for the second time. The newly-elected MLAs met at the TRS headquarters and the decision was taken unanimously, the party sources said. In the assembly elections, the TRS won 88 seats in the 119-member House. Rao was re-elected from Gajwel in Siddipet district by a margin of 58,290 votes.
Akhilesh Yadav extends support to Congress in MP
Samajwadi Party chief and former UP CM Akhilesh Yadav has extended his support to Congress. "We welcome the mandate. We didn't perform well but we would like to thank the public of Madhya Pradesh for supporting us. We have decided to support Congress in MP. BJP has spread hatred and deceived the public, they will be given an answer in Lok Sabha elections," Yadav was quoted as saying by ANI. The Samajwadi Party won one seat in the recently concluded state polls.
BSP chief Mayawati offers support to Congress in Madhya Pradesh
BSP chief Mayawati said that her party will extend support to the Congress to form the government in Madhya Pradesh to 'keep BJP out of power'. "We fought elections to keep the BJP out of power ... We do not agree with the philosophy of the Congress. But to keep the BJP out of power, we will extend it our support," she said in a statement. The former Uttar Pradesh chief minister also said that if the need arises, the BSP will support the Congress in Rajasthan to form the government, reported PTI.
Rahul Gandhi to decide next Rajasthan CM: Sachin Pilot, Ashok Gehlot front-runners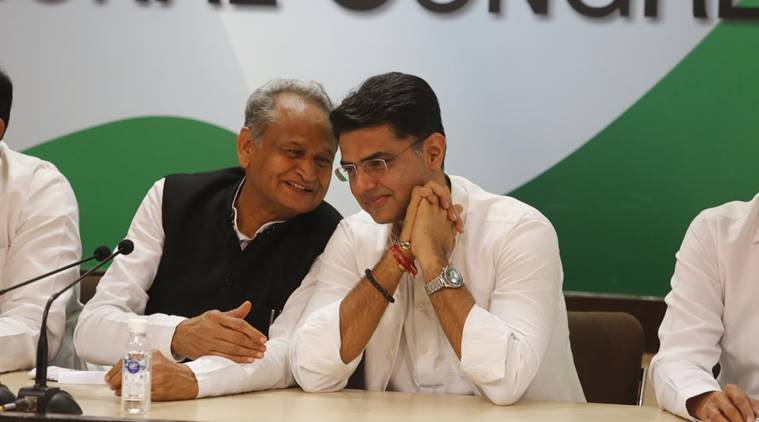 Congress legislature party (CLP) in Rajasthan Wednesday passed a resolution authorising party president Rahul Gandhi to decide the name of the chief minister. AICC General Secretary Avinash Pande and party's observer K C Venugopal sought the individual opinion of party MLAs in the meeting, which is still underway at the state Congress office in Jaipur.
State Congress chief Sachin Pilot and former Chief Minister Ashok Gehlot, both front-runners for the post, are present in the meeting.
Omar Abdullah pins BJP's losses on Prime Minister Modi
National Conference leader Omar Abdullah congratulated Rahul Gandhi for Congress' gains in the elections and also pinned the blame of BJP's losses on PM Modi. "Congratulations to the Congress & especially to its leader @RahulGandhi for the great success in these elections. He took the blame & the brickbats for all the set backs & now deserves the credit for these victories. It was nice to have something to celebrate on counting day. And for my friends in the BJP - you can't blame @RahulGandhi for losing elections & not apply the same yardstick to Modi ji. If those were Rahul's losses then these 3 heartland state losses belong to the Prime Minister & his policies," he tweeted
Rumbling in BJP: Just as they take credit, top should share blame too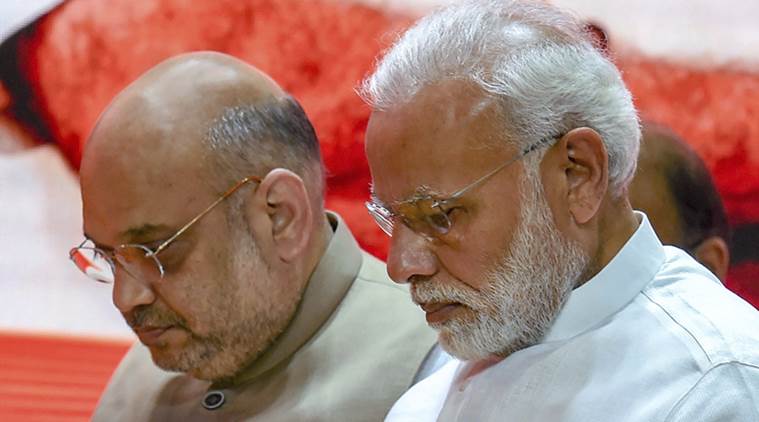 Even as BJP lost three states, party leaders scrambled to distance PM Modi, Shah from the failure. From office-bearers to MPs and MLAs, they insisted that these elections were fought on local issues and that the outcome cannot be seen as a referendum on the NDA government. Both Raman Singh and Shivraj Singh Chouhan took the blame for the debacle in Chhattisgarh and Madhya Pradesh respectively.
Beneath the surface, however, the rumbling was clear. Speaking to The Indian Express, at least two senior BJP leaders admitted that the Modi-Shah combine should "at least share the blame". "Just as they take the entire credit for the wins, they should share the blame, too. If the BJP leadership thinks the PM's popularity is intact, it is making a huge mistake. That was clear from the crowd that his rallies drew in Chhattisgarh, MP and Rajasthan," said one leader, who is a national office-bearer.
While the party's official line has been that the defeats have strengthened the BJP for the next battle, this setback in the Hindi heartland, in states that gave it a significant number of seats in 2014, is "not a good sign", the other leader said. "While we have been shouting Congress-mukt Bharat, the Congress has become more relevant with these elections, making 2019 a tough battle," he said.
Central leaders attributed the defeats to "local anti-incumbency factors", but sources close to Rajasthan Chief Minister Vasundhara Raje and Madhya Pradesh Chief Minister Shivraj Singh Chouhan argued that their "performance and popularity" helped the BJP put up a close fight. The other key reason for the slide, they said, was that the party failed to match the Congress narrative, especially on the farm crisis. Read more
Decks clear for Cong govt in Madhya Pradesh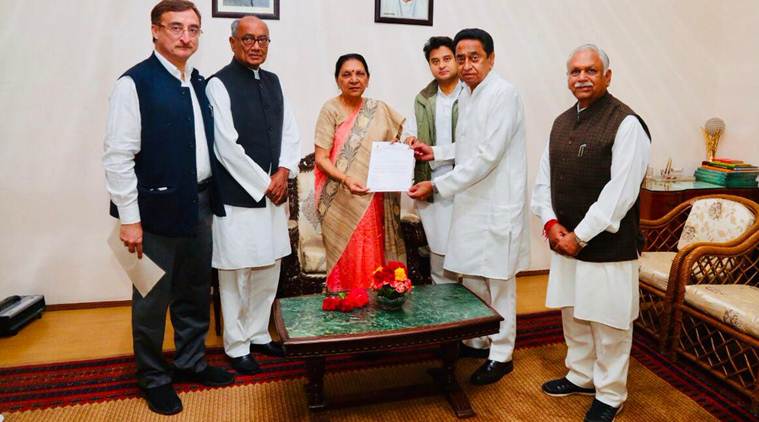 The decks are clear for Congress to form the next government in Madhya Pradesh. Congress leaders Kamal Nath, Jyotiraditya Scindia, Digvijay Singh met Governor Anandiben Patel in Bhopal today.
Nath is now meeting the former CM Shivraj Singh Chouhan. (ANI)
BJP leader Shatrughan Sinha congratulates 'dynamic, dashing' Rahul Gandhi; slams PM Modi for 'widow' remark
BJP leader and actor Shatrughan Sinha congratulated the "dashing, dynamic" Rahul Gandhi for Congress' performance in the elections. He also took a jibe against the prime minister for his "vidhwa" remark during a rally in Rajasthan. "Don't you think Rahul Gandhi and his mother, whom you allegedly & tastelessly called by a name which is unconstitutional, immoral & illegal - a most derogatory term - Vidhwa (widow), have proved a big point? This utterance has been condemned by everyone and certainly not appreciated by anyone," he wrote on Twitter. "This tweet must be taken in the right spirit of sportsmanship. After all, our opponents are not our enemies but belong to the same society/nation. Long live democracy!" he added.
Sir ji !
Now please tell us who's 'Pappu' and who's turned out to be the real 'Feku'!
Our own dashing, dynamic & of course charming @RahulGandhi once again and once for all has shown his charisma.
Sirji 'Taali Captain ko to Gaali bhi captain ko'!
Don't you think Rahul Gandhi

— Shatrughan Sinha (@ShatruganSinha) December 12, 2018
TRS sweeps Telangana: KCR to meet Guv today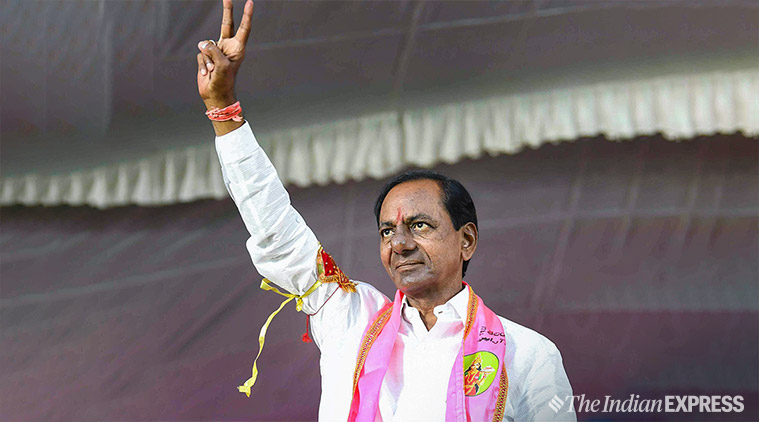 Meanwhile, in Telangana, where both the BJP and Congress have been decimated, the TRS won 87 of the 119 seats. Riding high on Chief Minister KCR's popular schemes, the vote share of TRS saw a 13 per cent surge. The Congress-TDP-CPI alliance won 22 seats, while BJP was limited to a singh sleat.
K Chandrasekhar Rao is scheduled to meet the Governor later today. "It is a great victory but it is a heavy responsibility that people have put on us. We have to immediately start working to fulfill the aspirations of people,'' KCR said, after dedicating the win to the people of Telangana.
Congress claims support of 121 MLAs in Madhya Pradesh
Poll results mark 'beginning of change, says Sharad Pawar
The Assembly poll results in Madhya Pradesh, Rajasthan and Chhattisgarh mark the "beginning of a change", NCP chief Sharad Pawar said, dubbing the outcome as "rejection" of the BJP-led government's policies. He also suggested that Samajwadi Party and Bahujan Samaj Party should support Congress.
"People have expressed disappointment against the Modi government... the Assembly poll results mark the beginning of a change... people rejected the anti-farmers, anti-traders policies of Modi," Pawar told reporters. Pawar also alleged that the Narendra Modi government took the decision of demonetisation without consulting the Reserve Bank of India. People did not like the Modi government's attack on such institutions, he claimed. (PTI)
Shivraj Singh Chouhan did not turn out to be fourth-time lucky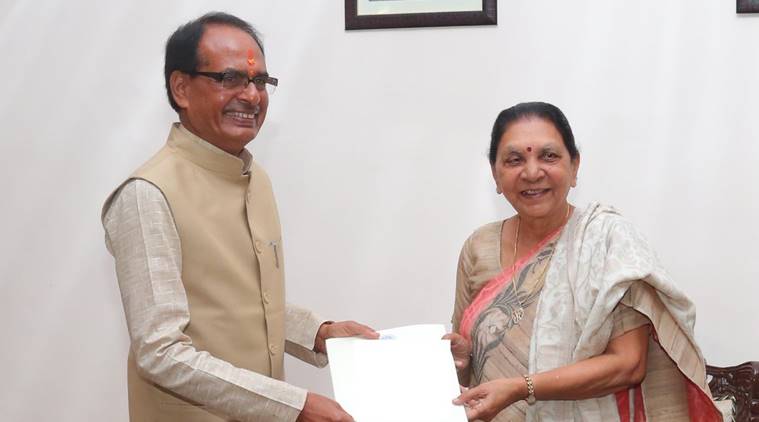 Shivraj Singh Chouhan has resigned as chief minister of Madhya Pradesh. Fourth time unlucky, voter fatigue dethrones Shivraj Singh Chouhan
After landslide win, Congress focus shifts to CM race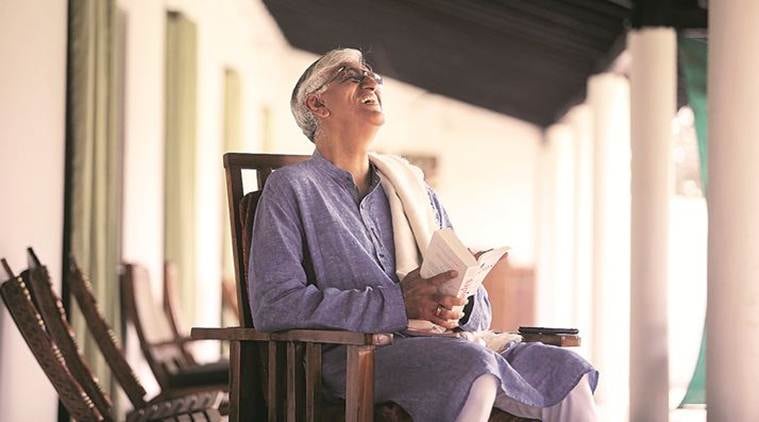 In Chhattisgarh, where the Congress had a landslide victory against the BJP, the focus is now on who will be the next chief minister. Prominent names among them include Leader of Opposition in the Assembly T S Singhdeo (in the picture above), PCC chief Bhupesh Baghel and AICC OBC cell chief Tamradhwaj Sahu.
Singhdeo anchored the "Janghoshna Patra" campaign, putting together a manifesto after meeting people across the state. Many within the party believe that it is the promises made to farmers in the manifesto that helped the landslide win, with reports also abounding of Singhdeo helping several MLAs financially.
Baghel's supporters argue that he has kept up the pressure against Chief Minister Raman Singh, attacking him on issues of corruption and misgovernance.
However, there is the sense within the Congress that Baghel is prone to controversy, and it is in this context that AICC OBC cell chief Tamradhwaj Sahu is being seen as a dark horse in the running. It was Sahu who won the party's only Lok Sabha seat in 2014. He was given a ticket this time, replacing a candidate who had earlier been announced. While Sahu may not have led the party during this campaign, many believe that he can emerge as the consensus OBC Chief Minister, given the predominance of OBCs in the state, and a Lok Sabha election next year.
Sonia Gandhi expresses happiness on poll outcomes, says results a 'victory over BJP's negative politics'
Expressing happiness over the poll outcomes, UPA chairperson and former Congress chief Sonia Gandhi called it a "victory over BJP's negative politics," reported news agency PTI. The Assembly elections 2018 are the biggest win for Congress against BJP since 2014 elections,
Rajasthan Congress meeting underway: Clarity on CM face soon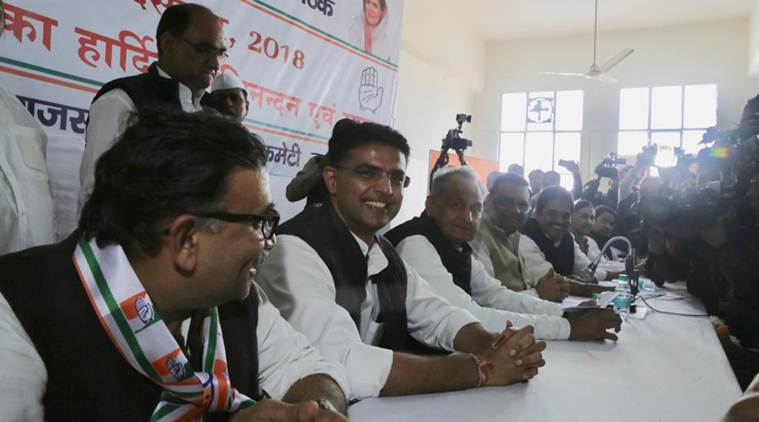 Meanwhile, action is in full swing in Rajasthan as well where the Congress leaders are in a meeting in Jaipur. "We have full majority and will stake claim to form government in the evening. We will take along all non-BJP parties and elected members who are against BJP and are willing to support us," Pilot told reporters at the Pradesh Congress Committee before the Congress Legislative Party meeting.
Asked about the choice of the chief minister, Pilot said the party's newly elected MLAs will debate the question, and the party president will take a decision after that. The chief minister would be declared in the second CLP meeting in the evening and thereafter the party leaders will meet Governor Kalyan Singh to stake claim on the government. (Express photo by Renuka Puri)
Kamal Nath arrives at Raj Bhavan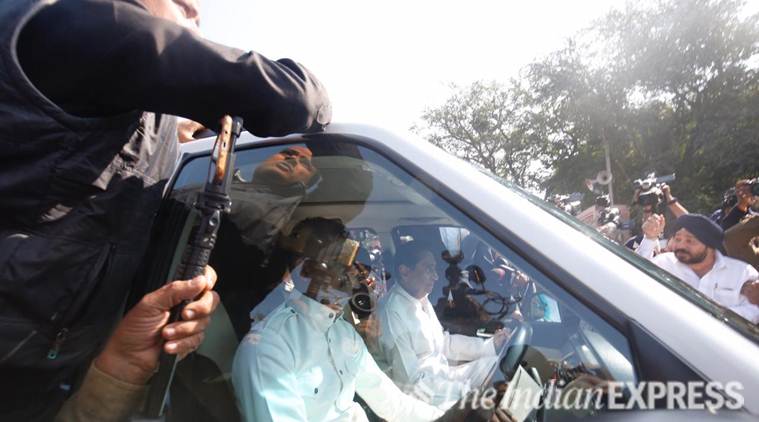 (Express photo by Anil Sharma)
Who are the other candidates in Madhya Pradesh?
*Thakur Surendra Singh Naval Singh contested as Independent from Burhanpur after the Congress denied him a ticket. He defeated Women and Child Development Minister Archna Chitnis by a margin of 5,120 votes. He is likely to go with the Congress.
*Vikram Singh Rana, another Congress rebel, won as an Independent from Susner, defeating the Congress's Mahendra Bhairu Singh Bapu by 27,062 votes. BJP candidate Murlidhar Patidar was pushed to third place.
*Kedar Chidabhai Dawar, a Congress rebel, contested as Independent from Khargone. He defeated Jamnasingh Solanki of the BJP by a margin of 9,716 seats.
*Pradeep Amritlal Jaiswal, another Congress rebel who contested as Independent, was marginally ahead in Waraseoni.
*BSP candidate Sanjeev Singh was ahead of BJP's Chaudhary Rakesh Singh Chaturvedi in Bhind. Chaturvedi, a former Congress leader, switched to the BJP on the floor of the assembly during a no-confidence motion in 2013.
*Rambai Govind Singh of the BSP was ahead of BJP's Lakhan Patel in Pathariya.
*SP's Rajesh Kumar was ahead of his BJP rival Guddan Bhaiya Pushpendra Nath Pathak in Bijawar.
Jyotiraditya Scindia ducks question on Madhya Pradesh CM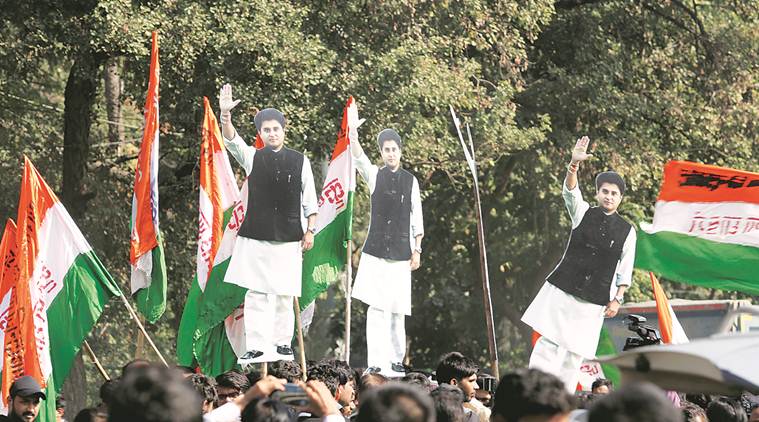 A probable face of CM in Madhya Pradesh, Congress leader Jyotiraditya Scindia thanked the people of Madhya Pradesh for the huge mandate. On the popular question of how will be the chief minister in the state, Scindia ducked the question saying, "Whatever decision the Congress high-command takes, will be respected."
"At 1 PM Kamal Nath will meet former CM Shivraj Singh Chouhan as a courtesy visit. At 4 PM we have a meeting of party MLAs & AK Antony is coming as observer and after it we will put in a word with Rahul Ji," Congress leader Shobha Oza told ANI. (Express photo by Anil Sharma)
Responsible for defeat: Shivraj Sngh Chouhan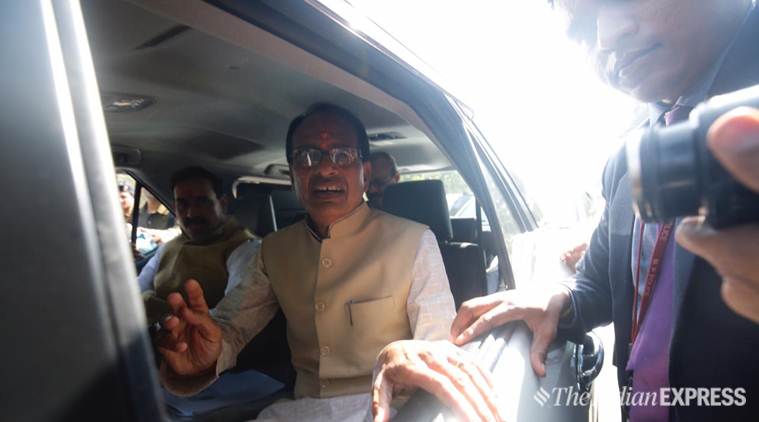 "I am free now. I have tendered my resignation to the honourable Governor. The responsibility of defeat is totally mine. I have congratulated Kamal Nath ji," Chouhan told reporters outside Raj Bhavan. (Express photo by Anil Sharma)
Samajwadi Party offers support to Congress in Madhya Pradesh
Meanwhile, Samajwadi Party has also offered support to the Congress. The Rahul Gandhi-led party is now comfortably past the halfway mark in BJP and will soon stake claim in the state.
Three-time CM Shivraj Singh Chouhan resigns in Madhya Pradesh
Don't have numbers, not going to stake claim to form government: Shivraj Singh Chouhan
Three-time Chief Minister Shivraj Singh Chouhan conceded defeat in Madhya Pradesh. "We did not get majority and will not stake claim to form the government. I am going to tender my resignation to the Governor."
In power for three consecutive terms, the BJP's lead was reduced to 109 seats. In 2013, the BJP had won 165 seats, and the Congress got 58. When the BJP ended the Congress's 10-year-rule in MP in 2003, it had stormed to power with an impressive tally of 173. Though the tally dropped to 143 in 2008, it was way ahead of the Congress's 71. In 2018 elections, Chief Minister Shivraj Singh Chouhan, who led the party to victories in 2008 and 2013, won from Budhni, but could not deliver the state.
Madhya Pradesh Congress to meet Governor at 12 pm today
A Congress delegation to meet Madhya Pradesh Governor at 12 pm today. The party with 114 seats, is banking on the support of its four party rebels who won as Independents. While the BSP with its two seats has offered support to the Congress, Samajwadi Party which has one seat, is yet to take a call.
Late Tuesday night, Congress sought an appointment with Governor Anandiben Patel to stake claim to the government.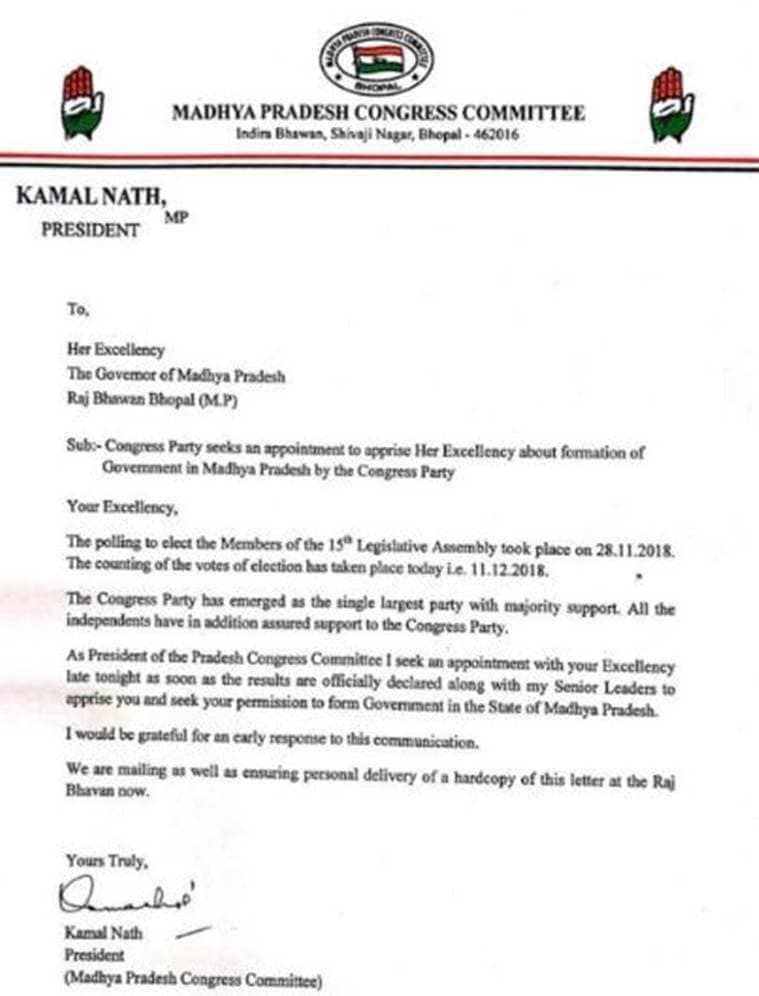 Challenges ahead of Rajasthan Congress: Fulfill poll promises, check infighting
With Lok Sabha polls coming up in the next few months, the first task for the new Congress government in Rajasthan will be to implement big-ticket promises, including the promise to waive farm loans within 10 days of assuming office. Another promise in the manifesto was to give up to Rs 3,500 as unemployment allowance to the educated unemployed. Implementing these decisions itself will be an onerous task, considering the resources involved.
The party will need to address any internal squabble, as was seen during ticket distribution, which left the Congress with a reduced victory margin. While the party is yet to settle on its chief minister face, Ashok Gehlot and Sachin Pilot, who shook hands for a photo-op on Tuesday evening, will need to continue and put up a united front even after one of them fails to get the coveted post. Distribution of portfolios can be another cause of displeasure among Congress leaders.
Besides friction within the party, the Congress may have to face friction with the BJP-led Central government. At a rally in Nagaur last month, Prime Minister Narendra Modi had given an indication: "Consider if they (Congress) form the government, then what will they do?…They'll keep having fights with Delhi, right? Will it bode well for Rajasthan?"
Chhattisgarh Congress MLAs to meet at 8 pm today
Mallikarjun Kharge, appointed observer for Chhattisgarh, will arrive in Raipur at 7 pm and hold the first meeting of all elected Congress MLAs at 8 pm.Views on next CM etc will be taken.Kharge and senior Chhattisgarh leaders will then meet Rahul Gandhi on Thursday @IndianExpress

— Dipankar Ghose (@dipankarghose31) December 12, 2018