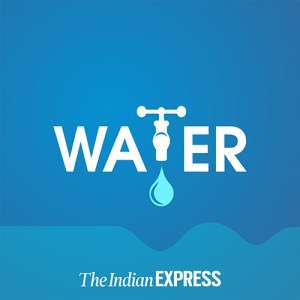 Water is everywhere, in the air we breathe, in our food and drink, in the electronics we use. There is no life without water. Tune in every Tuesday, to follow Ameya Nagarajan as she explores the story of water in India.
Countering the crisis
Water is the news again, because it is summer and we're running short, but also because NITI Aayog published a report that makes very scary predictions: 40% of Indians will not have access to drinking water by 2030. In this episode, we talk to urban planning specialist Mriganka Saxena about the water crisis, water policy in India, what can be done and what stands in our way. We find out just how many agencies are involved with the Yamuna, the good and bad about water policy and what it will take for us to avert disaster. The good news? We can.
---
You can follow us and leave us feedback on Facebook and Twitter @expresspodcasts, or send us an email at podcasts@indianexpress.com. If you like this show, please subscribe and leave us a review on Apple Podcasts so other people can find us. You can also find us on http://www.indianexpress.com/audio.
You can tweet to Ameya @ameyann
More info
Read less
Countering the crisisWater is the news again, because it is summer and we're running short, but also because NITI Aayog published a report that makes very scary predictions: 40% of Indians will not have access to drinking water by 2030. In this episode, we talk to urban planning specialist Mriganka Saxena about the water crisis, water policy in India, what can be done and what stands in our way. We find out just how many agencies are involved with the Yamuna, the good and bad about water policy and what it will take for us to avert disaster. The good news? We can. You can follow us and leave us feedback on Facebook and Twitter @expresspodcasts, or send us an email at podcasts@indianexpress.com. If you like this show, please subscribe and leave us a review on Apple Podcasts so other people can find us. You can also find us on www.indianexpress.com/audio. You can tweet to Ameya @ameyann