Russia showed off new machines of war, including a highly sophisticated tank, on Saturday in the annual Victory Day military parade through Red Square that marks the surrender of Nazi Germany and the Red Army's key role in the defeat.
The Armata tank drew a round of strong applause as it rumbled through the square, part of a long convoy that ranged from the World War II era to the most modern. Also on view for the first time at the parade was a lumbering RS-24 Yars ICBM launcher along with several new, smaller vehicles.
[related-post]
Victory Day is Russia's most important secular holiday, both commemorating the Soviet Union's huge suffering in the war and highlighting Russia's portrayal of itself as a force for peace and security. This year's parade, on the 70th anniversary of the surrender, was the biggest military parade since the Soviet Union's collapse.
In his speech to the assembled troops and veterans, President Vladimir Putin said that the carnage of the war underlined the importance of international cooperation, but "in the past decades we have seen attempts to create a unipolar world." That phrase is often used by Russia to criticize the United States' purported aim to dominate world affairs.
The observances were shadowed by the near-complete absence of European leaders from the ceremony. German Chancellor Angela Merkel is to come to Moscow on Sunday, a visit that will include recognition of the Red Army's sacrifices.
The cold shoulder that European leaders turned toward Victory Day underlines the tensions between Russia and the West over the Ukraine crisis. As Western sanctions on Russia over its actions in Ukraine continue to bite, Russia has increasingly appeared to pivot away from Europe and focus more on developing relations with China.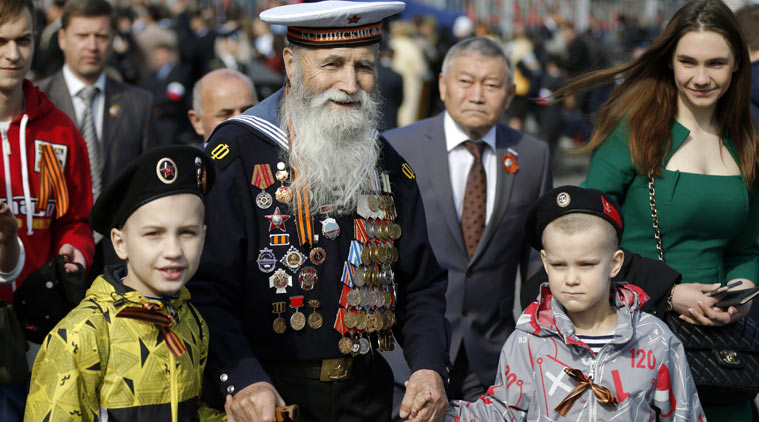 Chinese President Xi Jinping was the most prominent world leader to attend the Victory Day parade and Putin took special note in his speech of China's role in the war, saying that like the Soviet Union "it lost many, many millions of people."
📣 The Indian Express is now on Telegram. Click here to join our channel (@indianexpress) and stay updated with the latest headlines
For all the latest World News, download Indian Express App.