At around 2 am on Sunday, 50 people were gunned down and 53 others wounded, when twenty-nine-year-old Omar Mateen opened fire at Pulse nightclub in Orlando, Florida. The revellers had gathered at the nightclub for a celebratory night of dancing to salsa and merengue music at Pulse's 'Upscale Latin Saturdays' party. The victims intended were homosexuals as Pulse is a gay nightclub in Orlando, Florida. It's been said to be the worst incident of mass killing in US' history.
Here is how the US media covered the Orlando shooting.
New York Times
Praising ISIS, gunman attacks gay nightclub, leaving 50 dead in worst shooting on US soil
A man who called 911 to proclaim allegiance to the Islamic State terrorist group, and who had been investigated in the past for possible terrorist ties, stormed a gay nightclub here Sunday morning, wielding an assault rifle and a pistol, and carried out the worst mass shooting in United States history, leaving 50 people dead and 53 wounded.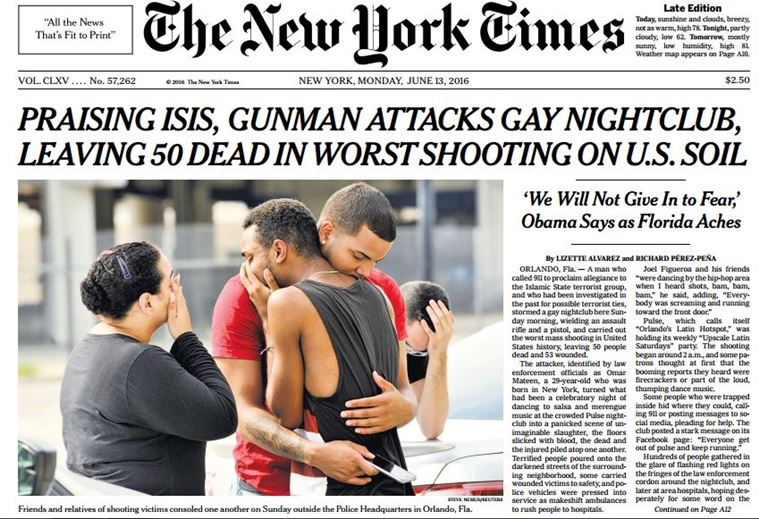 Washington Post
50 killed at gay club in Fla
Sometime after 2 am Sunday, Omar Mateen dialed Orlando's 911 service to alert the dispatcher to the carnage unfolding at one of the city's most popular gay bars. He spelled out his full name and location, and then he offered an explanation: He was a follower of the Islamic State.
Los Angeles Times
Orlando mayor: 'We will not be defined by the act of a cowardly hater'
Latin Night was wrapping up at Pulse around 2 a.m. as about 320 people danced and drank to thumping reggaeton, salsa and merengue.
Minutes later partyers were fleeing into the street. Some clutched gunshot wounds. Others were splattered with the blood of people they didn't know. Some were carried and dragged to safety. Police frantically loaded one injured man into the bed of a pickup truck. Those still trapped in the gay nightclub could only hide.
Before the sun rose in the humid Florida air Sunday, 50 people lay dead, and 53 more were injured – the deadliest shooting in American history.
Huffington Post
Worst in US history
Omar Mateen walked into the Orlando gay nightclub Pulse early Sunday morning and opened fire, killing 50 people and injuring 53 in the worst terror shooting in U.S. history. Authorities had previously interviewed Mateen, who was killed by a SWAT team, twice for his ties to terrorism, and he called 911 mid-attack to pledge allegiance to the Islamic State before continuing the slaughter. Witnesses detailed the horror as club-goers ran for their lives.
USA Today
Massacre: Orlando mass shooting deadliest in US history
The 911 call came early Sunday, before the shooting began. The caller was a 29-year-old man, pledging his allegiance to the Islamic State  terrorist group. He praised Boston Marathon bombers Dzhokhar and Tamerland Tsarnaev, and moments later, armed with an AR-15-style assault rifle, a handgun and what Orlando Police described as "an unidentified device," he engaged police in a gunbattle outside the Pulse, one of the city's most popular gay nightclubs.
Orlando Sentinel
Our comumnity will heal
Words cannot adequately convey the depth of the horror, outrage and grief in Central Florida in the wake of what now ranks as the worst mass shooting in American history. Orlando now tragically sits atop a list of infamy, sharing the sorrow of Virginia Tech; Newtown, Conn.; and Aurora, Colo.
We will not — we must not — let Sunday's heinous act of brutality and cowardice define our community.
#OrlandoUnited
For all the latest World News, download Indian Express App