Written by
P Vaidyanathan Iyer
April 4, 2016 3:00:48 am
"We bet you're warming up to the idea: Offshore means more profits and more freedom!" And that's how it usually begins.
This line from a beginner's guide, mailed by a Mossack Fonseca & Co (MF) executive to a prospective client after lunch at a seafood restaurant in Panama City, is the first hook. In time, the prospect becomes a customer, and registers a company in a tax haven. MF provides nominee directors and shareholders, offers an address and mail boxes, helps open a bank account, prepares minutes of board meetings, and much more. All for a fee.
Headquartered in Panama, a city dotted with skyscrapers, nightclubs and casinos and surrounded by tropical rain forests, MF is a law firm founded in 1977 with Jurgen Mossack and Ramon Fonseca Mora as partners. Fonseca was advisor to Panama President Juan Carlos Varela till March 11 and is acting president of the ruling Panamenista party.
The leaked records from MF — which were reviewed by more than 370 journalists of the International Consortium of Investigative Journalists (ICIJ), including from The Indian Express, from 76 countries — show that it is one of the largest factories of offshore entities in the world, with branches in Hong Kong, Miami, Zurich and more than 35 other places around the globe.
It is one of the world's top creators of shell companies, corporate structures that can be used to hide ownership of assets. The law firm's leaked internal files contain information on 214,488 offshore entities connected to people in more than 200 countries and territories. The leaked data covers nearly 40 years, from 1977 through the end of 2015.
Most of the services the offshore industry provides are legal if used by the law abiding. But the documents show that banks, law firms and other offshore players have often failed to follow legal requirements that make sure their clients are not involved in criminal enterprises, tax dodging or political corruption. In some instances, the files show, offshore middlemen have protected themselves and their clients by concealing suspect transactions or manipulating official records.
Watch | Panama Papers: A Peek Into India Express' 8 Month Long Investigation
The documents make it clear that major banks are big drivers behind the creation of hard-to-trace companies in the British Virgin Islands, Panama and other offshore havens. The files list nearly 15,600 paper companies that banks set up for clients who want to keep their finances under wraps, including hundreds created by international giants UBS and HSBC.
The data includes emails, financial spreadsheets, passports and corporate records revealing the secret owners of bank accounts and companies in 21 offshore jurisdictions, from Nevada to Singapore to the British Virgin Islands.
Corporates use it for tax planning, or even tax avoidance. And individuals flock here to hide or protect their wealth, particularly those from India, which does not allow full capital account convertibility. Indian laws allow individuals to remit up to $2,50,000 every year for any current or capital account transaction or both. This limit was just $25,000 until 2004, when India first experimented with making the rupee convertible in a limited manner.
Watch | Explained: What Do The Panama Papers Reveal
Over the years, the MF's India clientele has swelled to include, for instance, the family of a convicted terrorist, a politician, a businessperson under investigation by intelligence agencies, senior officials tied to the government and power brokers who want to hide their "commissions".
Apart from the veil of secrecy that MF offers, offshore jurisdictions make it difficult for governments across the world to establish a clear link between its clients and their offshore entities. MF is the sole repository of all information about these entities even as it provides assistance in transferring funds, buying property, setting up trusts or signing agreements with other entities. In that sense, MF is more than just a law firm. In offshore parlance, it is a service provider, a wealth manager, a private banker, an accounting firm, all rolled into one.
The Puppet Masters, a report published by the World Bank in June 2010, explains how legal structures are used to hide stolen assets. "Suppose you want to give someone some money, and because it is for an illegal purpose, you do not want anyone else to know about it. What would you do? You could hand it over in cash — but that might be difficult if it were a large sum of money or if the recipient lived a long way away. Alternatively, you could transfer funds from your bank account to the recipient's — but then your respective banks would know about it. And they might tell the police, or at least they might offer information if the police came knocking. So your ideal solution would involve a bank account that you control, but that no one can link to you — or at least only with the greatest difficulty," it states.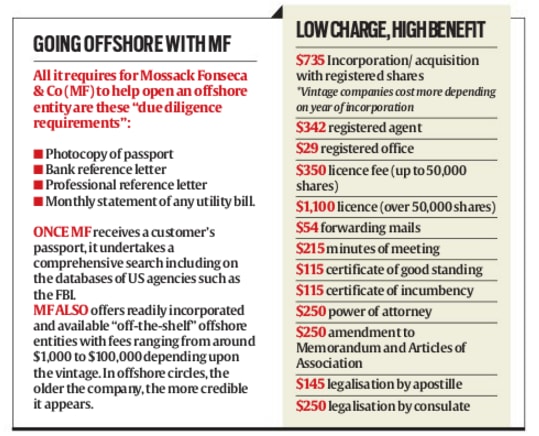 In this context, MF plays a crucial role. An internal mail of the law firm reveals that until August 2013, MF had incorporated 14,658 active companies in Panama, its global headquarters. Of these, 4,646 companies were incorporated without any information being provided about their shareholders.
How MF made it in India
MF does not have an office in India, but its senior executives keep flying over to rope in "clients" — mostly law and chartered accountancy firms across major cities like Delhi, Mumbai, Chennai, Kolkata and Bengaluru. These "clients" use their own networks to help MF reach out to retail individuals. They inform prospective customers about the benefits of "offshore" operations and liaise with MF to incorporate such entities.
Essentially, MF offers Indian investors offshore options to park their income and resources from foreign countries and avoid capital gain tax in India. Ever since economic reforms were initiated in the early 1990s, India has become a big draw for MF, particularly because it meets the basic parameters for conducting offshore transactions such as an English-speaking majority and laws sourced from Common Law — and also because of MF's ties with several lawyers in major cities.
Buzzword is 'beneficial ownership'
The most guarded secret of an offshore entity set up by MF is its 'beneficial ownership' — those who finally benefit from the income or assets of such an entity. What's interesting is the manner in which legal ownership is delinked from beneficial ownership. For instance, when an entity is incorporated, there are two sets of documents created by MF — the Register of Directors and the Register of Shareholders. If required, MF places its own nominees on these two registers to mask the client's identity. A beneficial owner has control over the assets and income of the offshore entity. But MF ensures that the legal ownership is held by another company incorporated by it earlier, which is subsequently made a shareholder.
For instance, in an email dated January 25, 2013, MF's Luxembourg office directs its Compliance Department: "Do not ever put the names of the BO (Beneficial Owners) in emails — he will go ballistic… if you mention companies and include the names of the BOs in writing that is unacceptable and he will jump up and down." "He" possibly refers to either Mossack or Fonseca.
B for bearer shares, too
Besides standard offerings, the jurisdiction of Panama continues to offer a unique proposition to clients in the form of bearer shares. These do not carry the name of the individual or the entity that holds them but to those who possess it. Being anonymous, they leave no trail of ownership.
Until August 2013, records show, MF had incorporated 5,435 companies that issued valid bearer shares, and 4,893 companies that issued bearer shares and were helmed by directors provided by the law firm.
Many tax jurisdictions, including India, view bearer-share entities suspiciously and consider these as a vehicle for routing illegal money. In the mid-2000s, some tax havens, like the Bahamas, banned the issue of bearer shares and that almost killed the incorporation business in those countries. Due to increased global scrutiny and tightening of anti-money laundering laws, Panama finally agreed to place some restrictions on bearer shares, including promising to stop issuing them from 2018.
How they keep media away
"At all times, the tone should be kept warm and quiet. We must not look frightened or negative." This is part of the media protocol that MF circulated to its staff on March 13, 2015. Extremely sensitive to negative coverage, the protocol forbids receptionists from calling any of MF's staff in front of a journalist to prevent the conversation from being recorded. Other threats such as terrorism, drug-trafficking, despot regimes and risk of data being compromised by whistleblowers have forced MF to be more guarded.
An MF mail reveals, for instance, how a Swiss international law firm and its client were worried about off-shore leaks. "How do we ensure that our IT is not hacked, can we guarantee that none of our employees (particular in the IT department) steal customer data…," a MF executive asks his superiors. "We talked about our set-up, our years long loyal work force and that in many cases, we do not know the UBO (Ultimate Beneficial Ownership), as our clients are only professional intermediaries that know their clients and ensure all AML (Anti-Money Laundering) regulation," adds the executive.
What this reveals is that MF itself is not aware of the UBO of the entities it helps set up. Not surprisingly, the Indian government has hit a wall on obtaining credible information about offshore entities and their beneficial ownership despite Tax Information Exchange Agreements with tax havens.
Media apart, MF is also keen to keep its reputation in order. Another internal mail contained a copy of an agreement being negotiated with Mercatrade SA for online reputation management (ORM). Here, Mercatrade commits to removing negative entries that can affect MF's reputation on the main Google search results page. "Negative entries appear for 13 keywords and a corrective strategy is needed," the draft agreement states. Among the keywords, five were in English: money laundering, tax evasion, tax fraud, dirty money and scandal.
In response to a detailed questionnaire sent by ICIJ, Mossack Fonseca said it only incorporated companies and in doing so, followed both the letter and spirit of the law. It did not respond to questions about specific clients and entities.
An Investigation by The Indian Express with International Consortium of Investigative Journalists & Suddeutsche Zeitung, Munich
The Indian Express website has been rated GREEN for its credibility and trustworthiness by Newsguard, a global service that rates news sources for their journalistic standards.