Written by
Praveen Swami
| New Delhi |
Updated: November 15, 2015 3:12:27 am
As its first curfew since 1944 emptied the streets of Paris, European states began bracing for what intelligence services are warning could be the beginning of a long war against the thousands of recruits from the region who have fought with the Islamic State and other jihadist groups in Iraq and Syria.
With forensic teams combing the attack sites, French government sources said their investigation was also seeking to establish how assault rifles, ammunition, explosives used in the attack were brought into the country.
Eight terrorists divided into groups of two, French officials said, used tactics reminiscent of the 26/11 Mumbai attacks which were carried out by five similar units. The men emptied their ammunition on targets — the Bataclan concert hall, the State de France sports stadium, and several restaurants — and then detonated their suicide vests.
Indian intelligence sources familiar with similar Fidayeen-squad operations said each suicide vest would typically have contained 8-10 kilograms of ammunition, while the attackers would have had three to five magazines, each typically loaded with 30 rounds.
"That's a lot of stuff to get into Europe", one official noted. "It's possible it came in from North Africa, perhaps with the assistance of people smugglers, or other criminal syndicates."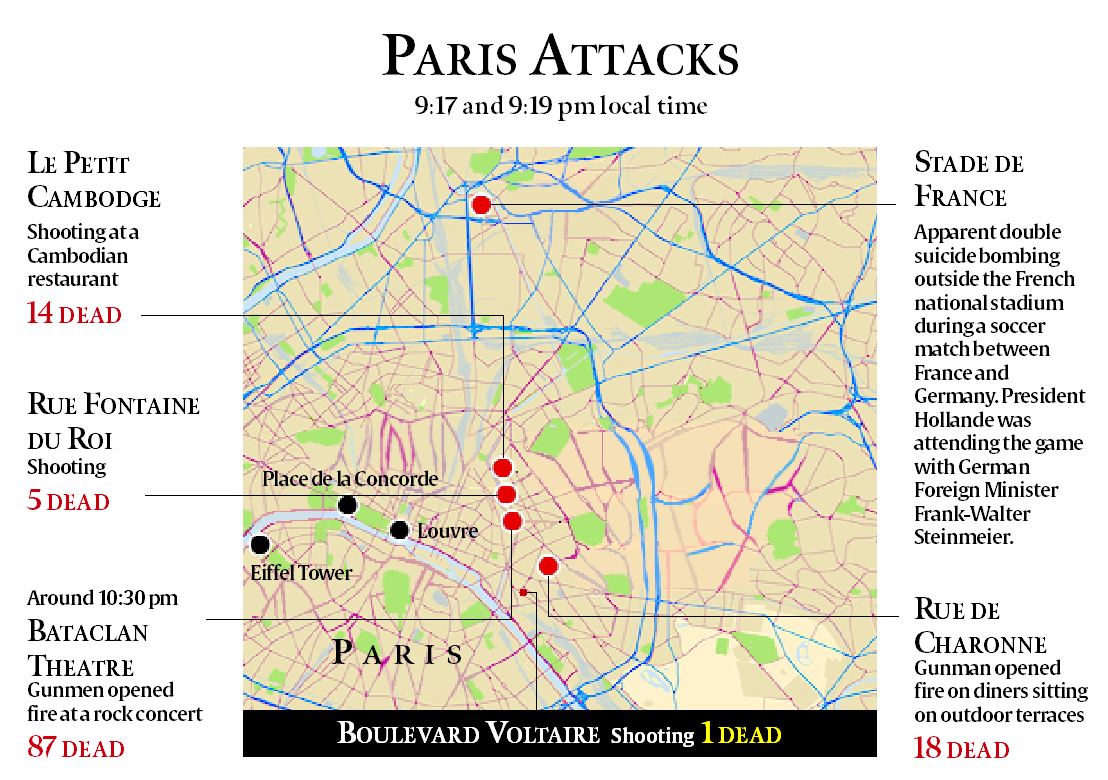 Like in the Mumbai attacks, the attackers took over 100 hostages at the Bataclan concert hall — the tactic had inspired several thwarted copy-cat strikes in Europe, starting from at least 2013.
President François Hollande also declared a state of emergency, giving police sweeping powers to search premises, and restrict public movement.
The emergency measures are intended to prevent potential strikes, but also deter ethnic-religious violence, and prevent attacks on North African who have been pouring into France from across the Mediterranean.
French newspapers, many with black covering their front pages, captured the shock: "War in the middle of Paris", Le Figaro stated, while Liberation's headline spoke of "Carnage in Paris".
In a statement Saturday morning, the French president blamed the Islamic State. "It is an act of war," he said, "prepared, organised, planned from outside, and with internal complicity that the investigation will confirm".
Islamic State-linked Twitter feeds later circulated a claim of responsibility, saying "a group of believers from the soldiers of the Caliphate set out targeting the capital of prostitution and vice, the lead carrier of the Cross in Europe — Paris".
"Let France and all nations following its path", it added, "know that they will continue to be at the top of the target list for the Islamic State, and that the scent of death will not leave their nostrils as long as they partake in the crusader campaign, as long as they dare to curse our Prophet and as long as they boast about their war against Islam".
The claim of responsibility, however, notably differed from earlier Islamic State communications issued after major attacks, in that it offered no details not already public, such as the identities of the attackers.
A Washington DC-based intelligence official told The Indian Express this may indicate that the cell that carried out the strikes had no ongoing communications with the Islamic State's leadership in Syria, a decision that may have been made to ensure secrecy.
"The interesting question", the official noted, "is exactly where the material for this attack came from and how it was brought into France, which the investigation will establish".
The Friday night attacks dwarfed, in their scale, the massacre of cartoonists at the Paris-based satirical magazine Charlie Hebdo last year, carried out by French nations with links to al-Qaeda. Evidence emerged that overwhelmed intelligence services had known the perpetrators were jihadists, but classified them as being relatively low risks for staging an attack.
Figures published by the United States' Congressional research services estimates that some 1,200 jihadists from France are now fighting in the Islamic State, followed by 600 from Germany, another 600 from the United Kingdom, and 440 from Belgium.
Even though France, along with other European countries, has made large investments in projects to deradicalise Islamists amongst young Muslim citizens and migrants, and to reintegrate foreign fighters, relatively little success has has been registered.
Last week, police made arrested thirteen members of an Islamic State-linked recruitment cell in Italy, Norway and the United Kingdom, in what Italian police General Giuseppe Governale called "the most important police operation in Europe in 20 years".
The ring is alleged to have been led by top jihadist ideologue Najmuddin Faraj Ahmad, held in Norway on charges of hate-speech since 2005.
Three Moroccan citizens were also held in Madrid early this month, with authorities saying the arrests were made after police "had detected their full willingness to take action and carry out terrorist attacks".
Eight weeks earlier, Spain arrested another Moroccan national for attempting to stage an attack on a high-speed train to Paris, armed with an assault rifle similar to that used in Paris.
Earlier this year, the Islamic State had vowed to "fill the streets of Paris with dead bodies". That threat, released by the terror group in July, followed the publication of a French-language propaganda magazine where it called Muslims to emulate Yassin Salhi, a van driver who carried out an attack near Lyon.
In March, an Islamic State spokesperson using the alias Abu Mohammad al-Adnan, issued a road-map for war, calling for strikes in "Paris, before Rome and Islamic Iberia, and after we blow up the White House, Big Ben, and the Eiffel Tower".
For all the latest World News, download Indian Express App