The Democrats have secured the needed 218 seats to win control of the House of Representatives in the crucial midterm elections while President Donald Trump's Republican Party retained its majority in the Senate, an outcome likely to intensify the political bitterness and fighting between the two major parties in the run-up to the 2020 presidential poll. By capturing the House of Representatives, the Democrats may exert a major institutional check on Trump and break the Republican monopoly in Washington.
Trump, who campaigned aggressively in the last several weeks, expressed satisfaction over the results and described this as a tremendous success.
Votes were counted after millions cast their ballots to elect members to both houses of Congress—the House of Representatives (lower house) which has 435 seats and the Senate (upper house) with 100 seats. The midterm elections, held every four years, is seen as a referendum on the President. The outcome will determine the next two years of US President Donald Trump's presidency.
In the outgoing House, the Republicans had 235 seats while the Democrats 193. The new House would come into being next January.
Live Blog
Follow United States midterm elections 2018 highlights below.
Tomorrow will be a new day in America: Nancy Pelosi
Likely incoming house speaker, Nancy Pelosi, 78, said, the party would use its newly won majority to pursue a bipartisan agenda for a country. Pelosi said Americans have all "had enough of division".
"Thanks to you, tomorrow will be a new day in America," she said standing alongside other Democratic House leaders.
She said that the election result is about "restoring the system of checks and balances" in Trump administration thus indicating that the new Democratic party would play the role of a strong opponent in for the US President.
At least 90 women won elections with majority being Democrats

At least 90 women won their elections, with the majority being Democrats. At least 28 of them were elected to the House for the first time. The elections also resulted in Rashida Tlaib becoming the first Muslim woman elected to the House of Representatives along with Somali-American Ilhan Omar.
Democrats secure majority to gain control of US House
Democrats have secured the 218 seats needed to gain control of US House, gaining the power to investigate Trump, shape agenda, reports news agency AP. The victory could echo from Moscow to Beijing to Riyadh, with empowered Democrats now able to launch new investigations into President Donald Trump's international business empire and his political dealings with the rest of the world. Overturning control of the House in Tuesday's midterm elections has given the Democrats a powerful weapon to wield against Trump: subpoenas whose reach could extend far beyond the White House and Washington.
Democrats won Republican-held seats in Colorado, Florida, Kansas, Minnesota, New York, Pennsylvania and Virginia.
Democrat Jacky Rosen elected to Senate
Democratic Representative Jacky Rosen of Nevada has been elected to the Senate, ousting Republican incumbent Dean Heller.
Colorado voters elected Jared Polis, making him the first openly gay man elected governor
The high-profile 2018 midterm elections in the US delivered several significant firsts as voters came out in record numbers to elect the first two Muslim women and the youngest woman ever in Congress and the nation's first openly gay governor. Ilhan Omar, who won in Minnesota's 5th Congressional District, and Rashida Tlaib, from Michigan's 13th Congressional District, became the first Muslim women to be elected to Congress. Michigan Democrat Tlaib and the Minnesota Democratic-Farmer-Labor Party's nominee Omar will secure their respective seats in strongly Democratic districts following primary victories earlier this year.
Colorado voters elected Jared Polis on Tuesday, making him the first openly gay man elected governor in the United States. The five-term congressman defeated Republican state Treasurer Walker Stapleton, a second cousin of President George W. Bush.
How Indian-Americans fared in the US midterm elections 2018
There are four Indian-Americans, all Democrats, seeking re-election to the House of Representatives in the US midterms. Of the four, three are projected to retain their seats—Ro Khanna (17th Congressional district of California), Raja Krishnamoorthi (8th Congressional district on Illinois) and Pramila Jayapal (7th Congressional District of Washington State). Democrat Ami Bera (7th Congressional district of California) is in a neck-and-neck fight with Andrew Grant.
There are nine other Indian-Americans, six Democrats, two Republicans and one Independent, who are seeking election to the House. Democrat Preston Kulkarni is projected to lose to Pete Olson, Democrat Hiral Tiperneni (Arizona) projected to lose to Debbie Lesko, Democrat Anita Malik (Arizona) likely to lose to David Schweikert, while Democrat Aftab Pureval (Ohio) is projected to win the seat to the House. Meanwhile, Democrat Sanjay Patel (Florida) has lost to Bill Posey, Republican candidate Harry Arora (Connecticut) lost to Jim Himes, Republican Jitendra Diganvker lost to fellow Indian-American candidate Krishnamoorthi from Illinois and Independent candidate Shiva Ayyadurai (Massachusetts) has lost to Elizabeth Warren. The verdict is still out on Democrat Chintan Desai (Arkansas).
US midterm elections 2018: Historic firsts for women, minorities
The United States midterm elections have sent a record number of women and candidates of colour to Congress. From Alexandria Ocasio Cortez becoming the youngest woman, to Ilhan Omar & Rashida Tlaib, the first two Muslim women to enter Congress, here's a list of firsts.
US midterms: 40% voted against Trump, 25% for. finds survey
According to a survey by AP VoteCast, nearly 40% of the electorate voted against the President, while 25% said they voted in support of him. Further, 6 in 10 voters reportedly said the country was moving towards the wrong direction, while the same number expressed satisfaction with the economy. At least 25% said healthcare and immigration were the most important issues this election.
US midterm elections: How the markets are reacting
Asian markets have been volatile this morning as results of the US midterm elections 2018 trickle in. Asian shares have gained, with Japan's benchmark Nikkei rising 1.2% and Australia's S&P/ASX, Hong Kong's Hang Seng and South Korea's Kospi trading marginally higher. Indian markets are closed today on the occasion of Diwali.
'Tremendous success', tweets Trump
With the Republicans set to retain hold of the Senate, President Trump tweets, "Tremendous success tonight. Thank you to all!"
Tremendous success tonight. Thank you to all!

— Donald J. Trump (@realDonaldTrump) November 7, 2018
Explained: What a split Congress means 
The Republicans are poised to retain control of the Senate, after gaining at least 50 seats in the 100-member House. Meanwhile, Democrats look like they will win back the House of Representatives. What does a split Congress mean? In terms of legislation, this would allow Democrats to block government reforms. However, despite being in control of the House, Democrats will not be able to impeach President Trump as this requires the support from two-thirds of the Senate.
Ted Cruz retains Senate seat
Republican Senator Ted Cruz retains his Senate seat from Texas, defeating Democrat Beto O'Rourke, reports Reuters. O'Rourke, who had the backing of several celebrities including Beyonce, would have been the first Democrat to win the seat since 1994 if elected.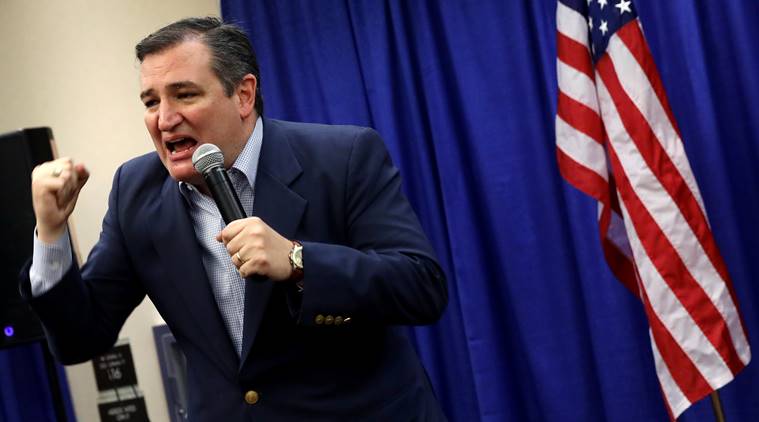 (Reuters Photo)
Republicans keep control of US Senate - CNN projection
CNN has announced that the Republicans will continue to control the US Senate (Upper House). The majority or halfway mark needed for the Republicans is 50 as Vice President Pence has the tiebreak vote. For the Democrats, they would need to secure 51 seats in the House which seems unlikely. Final results are awaited.
In another first, two Muslim women elected to Congress
In another first, the first Muslim women have been elected to Congress. Rashida Tlaib, who was born to Palestinian immigrant parents, won Michigan's 13th congressional district. Ilhan Omar, originally from Somalia, has won from Minnesota's 5th congressional district. She replaces the first Muslim congressman Keith Ellison.
Congratulations to my sister @RashidaTlaib on your victory!

I cannot wait to serve with you, inshallah. ????

— Ilhan Omar (@IlhanMN) November 7, 2018
In Governor race in Kansas, Kelly pips Kobach
In a big upset, Democrat Laura Kelly has defeated Kansas Secretary of State Kris Kobach and independent Greg Orman and has been elected Governor of Kansas.
Jared Polis becomes America's first openly gay Governor
The US now has its first openly gay Governor! Democrat Jared Polis was elected as Governor of Colorado after defeating Republican Walker Stapleton.
Mitt Romney wins House seat from Utah
Mitt Romney has won the election to the Senate from Utah, defeating Democrat Jenny Wilson. According to current trends, in the 100-member House, Republicans have 45 seats and Democrats 38. Romney was presidential nominee for the party in 2016.
Alexandria Ocasio-Cortez becomes youngest woman to enter Congress
Democrat Alexandria Ocasio-Cortez, 29, Cortez has won New York's 14th Congressional district, making her the youngest women to be elected to Congress. Ocasio-Cortez, born to a Puerto Rican mother and Bronxite father, defeated Republican Anthony Pappas.
House of Representatives: Democrats projected to win
Democrats are poised to win control of the 435-member House of Representatives, according to Fox News. Democrats currently have 82 seats against Republicans' 89, reports to The New York Times. A party needs to win 218 seats for control of the House.
Record number of women likely to enter Congress
According to The Washington Post, a historic number of women are likely to elected to Congress. Further, the women who contested these midterms were diverse — black, Latina and Native American. Women have so far held 20% or 107 of the 535 seats in Congress. Can women repair the US? Read this NYT opinion.
House of Representatives: Republican Greg Pence wins
Greg Pence, the brother of Vice-President Mike Pence, has won in Indiana. Greg defeated Democrat Jeannine Lee Lake to win the seat for the Republicans. It's a close race for the House of Representatives, with both parties neck and neck in a fight to overcome the 218 mark for control.
In fight for Senate, Republicans lead 43:36
Here are the trends at 8 am: In the Senate, the Democrats have 36 seats against the Republicans 43 seats. In the 100-member House, 21 seats are being counted. In the latest win, Marsha Blackburn has won the Tennessee seat for the Republics. She has defeated the state's former governor Democrat Phil Bredesen. In a big win for the Republicans, Blackburn is also now the first woman to hold the seat.
Bernie Sanders wins re-election
Independent candidate Bernie Sanders has won re-election to US Senate in Vermont. Sanders has held the post from Vermont since 2007.
QUICK RECAP: The equation as of now
In the House of Representatives, the ruling Republicans hold 240 seats and the Democrats 195. In order to snatch the majority, the Democrats need to gain 23 more seats.
In the Senate, the Republicans hold a slim majority — 51:49. The Democrats, therefore, need to add two seats to their tally. However, this will not be easy. Of the 35 retiring Senators, just 9 are Republicans. In effect, the Democrats would need to hold on to 26 seats and add 2 more — 28 out of 35.
If the Democrats take control of one house, the Republicans will struggle to get legislation passed. If the Republicans hold on to both houses, it would embolden current President Donald Trump in pushing laws such as tax cuts, immigration restrictions, and anti-abortion policies.
What to look for in US midterm polls today
If Democrats take control of one house, the Republicans will struggle to get legislation passed. In the 2010 midterms, during the regime of President Barack Obama, Republicans gained control of the Senate and obstructed legislation moved by Democrats.
Members will be elected to both houses of Congress. The House of Representatives (lower house) has 435 seats. Members serve two-year terms, so all 435 seats are up for voting The Senate (upper house) has 100 seats. Members serve six-year terms, with elections staggered. This time, 35 Senate seats are going to polls. Additionally, there are also governors' elections in 36 states, and several polls at state and local levels. CLICK HERE FOR DETAILED ANALYSIS
Voting begins to close
Voting in midterm elections in the United States has begun to close now. The election results are crucial for the future course of Republicans and President Donald Trump — with control of the Senate and the House of Representatives at stake. The results are expected to follow within an hour after closing of voting in most of the states.
Trends
A Reuters report stated that opinion polls show Democratic gubernatorial candidates are very competitive or leading in Michigan, Pennsylvania and Wisconsin. The present governors cannot run again in Goergia and Florida due to term limits and hence these states are experiencing tight races. Republicans are facing tough competition in conservative states in the north and central Great Plains. But they could possibly gain in Democratic territory and get hold of some governor's seats in Connecticut and Oregon.
GOP hold on Florida governor's seat challenged
The Legislature has been controlled by Republicans since 1998. The last time Democrats won a Florida governor race was in 1994 Lawton Chiles're-election. However, the past two gubernatorial elections have been close.
Cybersecurity protections beefed up
According to an AP report, there has been no sign of any foreign cyber attack against the voting systems of the state. Federal, state and local officials have been working towards making the election process secure. A command centre has been opened to help solve any election-related issues at the local and state election offices.
Jobs, healthcare, immigration dominant issues
Issues dominating the midterm discourse are jobs, healthcare, and immigration. The Democrats are blaming Trump's trade wars with other countries for impacting domestic jobs. They accuse the Republicans of trying to do away with healthcare protections. The Republicans led by Trump, on the other hand, are focusing on immigration, and are blaming the Democrats for being behind the migrant caravan moving from Central America towards the US.
Voters wait in long queues as machines malfunction
Severe weather conditions to affect voter turnout
Voters in several states of US had to contend severe weather conditions as polls began in the country, AP reported.The weather may affect the voter turnout in these regions. A line of storms moved through the Deep South overnight and early Tuesday morning, knocking down trees and power lines from Louisiana to South Carolina. A separate storm front in central Tennessee killed one person, injured two others and left thousands without power.
Why do the midterm polls matter?
There is a likelihood that the two Congress houses are going to be split this year. It has been a tradition that the part of the sitting President loses seats in midterm elections.
Long queues as voting machines malfunction
Early hours of polling marred by malfunctioning machines
The first hours of polling were marred by malfunctioning machines in some precints across the United States, AP reported. Voters in Georgia reported waiting upto three hours to vote. In Gwinnett County precint, voting machines did not work so poll workers offered provisional paper ballots to voters. There was also confusion in Phoenix, Arizona, after a polling site was foreclosed on overnight.
Donald Trump rallies behind Peter King
Congressman Peter King of New York is a hardworking gem. Loves his Country and his State. Get out and VOTE for Peter!

— Donald J. Trump (@realDonaldTrump) November 6, 2018
Hillary Clinton slams Trump administration, urges Americans to cast votes
For the past two years, we've watched this administration attack and undermine our democratic institutions and values. Today, we say enough.

— Hillary Clinton (@HillaryClinton) November 6, 2018