A day after 19 children and two adults were shot down in a Texas elementary school, US President Joe Biden on Wednesday blamed the country's gun laws for an increase in mass shootings. Biden also questioned the idea of an 18-year old walking into a store and buying an assault weapon. "The idea that an 18-year-old can walk into a store and buy assault weapons is just wrong. What in God's name do you need an assault weapon for except to kill someone," he said.
"We know common sense gun laws can't and won't prevent every tragedy. But we know they work and have a positive impact. When we passed the assault weapons ban — mass shootings went down. When the law expired — mass shootings tripled, he further highlighted.
The incident is the latest bout of gun-fueled mass murder in the United States and the nation's worst school shooting in nearly a decade. Several people, including children, were injured. Why do many in the US resist stricter gun laws? Read our explainer here
We know common sense gun laws can't and won't prevent every tragedy. But we know they work and have a positive impact.

When we passed the assault weapons ban — mass shootings went down.

When the law expired — mass shootings tripled.

— President Biden (@POTUS) May 25, 2022
The attack, which came 10 days after an avowed white supremacist shot 13 people at a supermarket in a mostly Black neighbourhood of Buffalo.
Victims all died in single classroom, authorities say
All the 21 dead were in a single fourth-grade classroom where the gunman barricaded himself, authorities said on Wednesday, news agency AP reported. The incident has reignited debate over America's gun laws.
Police circled Robb Elementary School in Uvalde, Texas, breaking windows in an effort to evacuate children and staff, Texas Department of Public Safety spokesperson Chris Olivarez told CNN. Officers eventually breached the classroom and killed the gunman, identified as 18-year-old Salvador Ramos.
State and federal investigators are still working to determine the gunman's motive, Olivarez told MSNBC. Multiple children were also injured, he told Fox News, though he did not have an exact tally.
Multiple children in classroom survived Texas shooting -official
Multiple children survived with injuries after a gunman barricaded himself in a fourth grade classroom where he killed 19 children and two adults, a Texas public safety official said on Wednesday. "We do know that there were multiple children that did survive, that were injured. I do not have the exact number at this time," Lieutenant Chris Olivarez, in an interview with Fox News, said of Tuesday's shooting at a South Texas elementary school.
About the suspect 
Governor Greg Abbott said that the suspect, identified as Salvador Ramos, was apparently killed by police officers, and that two officers were struck by gunfire, though the governor said their injuries were not serious.
FOX 11 has obtained the photo of the suspected Texas school shooter, 18-year-old Salvador Ramos. MORE: https://t.co/D1s6He8QGK pic.twitter.com/fISExs24MX

— FOX 11 Los Angeles (@FOXLA) May 25, 2022
The 18-year-old also had shot his own grandmother before fleeing from the scene, then crashing his getaway car and launching a bloody rampage at Robb Elementary School in the town of Uvalde, Texas, about 130 km west of San Antonio.
The motive was not immediately clear. Authorities said the gunman acted alone. (Read an account of how the attack unfolded.)
Several injured
University Hospital in San Antonio said on Twitter that it had received four patients from the shooting in Uvalde, of which a 66-year-old woman and a 10-year-old girl are listed in critical condition.
Update on the shooting at Robb Elementary in Uvalde: at University Hospital we have received four patients:
66-year-old woman, critical condition
10-year-old girl, critical condition
10-year-old girl, good condition
9-year-old girl, fair condition

— University Health (@UnivHealthSA) May 25, 2022
Uvalde Memorial Hospital said 15 students from Robb Elementary were treated in its emergency room, with two transferred to San Antonio for further care, while a third patient transfer was pending. It was not immediately clear whether all of those students survived.
A 45-year-old victim grazed by a bullet was also hospitalised at Uvalde Memorial, the hospital said.
The South Texas Blood and Tissue Center issued a public appeal for blood donations. They have already sent over 15 units of blood and are running out. There is currently a blood shortage at the local hospitals where the wounded are being treated, reported PTI. Emergency blood donation appointments are being held on Wednesday.
America's gun problem
The rampage was the latest in a series of mass school shootings that have periodically reignited a fierce debate between advocates of tighter gun controls and those who oppose any legislation that could compromise the US Constitutional right of Americans to bear arms.
Tuesday's shooting in Texas was the deadliest at a US school since a gunman killed 26 people, including 20 children, at Sandy Hook Elementary School in Connecticut in December 2012. In 2018, a former student at Marjory Stoneman Douglas High School in Parkland, Florida, killed 17 students and educators. (Here's a look at some of the deadliest school shootings in the US)
Family grieves teacher killed in the massacre
Eva Mireles on Tuesday went to a job she seemed to love, teaching fourth grade in the small Texas town of Uvalde, but she never came home, murdered along with 19 pupils and another adult.
A teacher trained in bilingual and special education, Mireles worked at Robb Elementary School and taught fourth grade children, generally 9 or 10 years old, her cousin Cristina Arizmendi Mireles said on Facebook.
In a short biography posted on the school district's website, Mireles had written she had "a supportive, fun, and loving family" comprised of her husband, her college-graduate daughter, and "three furry friends." "I love running, hiking, and now you just might see me riding a bike!!" Mireles wrote on the website.
Her husband, Ruben Ruiz, is a police officer at the school district's police force, the agency investigating the massacre.
Details of the deceased
The names of the deceased and other details were yet to be released. In addition to the confirmed deaths, a number of people have been injured. No number of the injured has been released.
A disturbing message on the school's website read: "Robb Elementary Parents, please do not pick up students at this time. Students need to be accounted for before they are released to your care. You will be notified to pick up students once all are accounted for." Officials said the city's civic centre was being used as a reunification centre where the kin of victims can procure information from the state and coordinate other functions.
A school of just 600
The Robb Elementary School in Texas, now under the international spotlight, reportedly has an enrollment of just under 600 students, nearly 90% of them Hispanic. Situated in the heavily Latino town of Uvalde, the school serves a close-knit community of students in the second, third and fourth grades — that is, kids of around seven to ten years of age.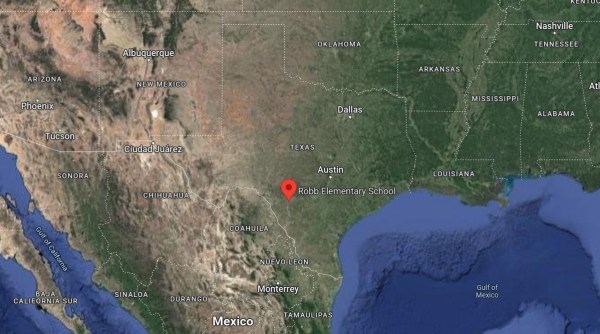 This was the school's last week of classes before the summer break. A Reuters report said that the students had visited the zoo and participated in a gifted-and-talented showcase, recent posts on the school's Facebook page showed. Tuesday was awards day, according to the calendar, and pupils were invited to wear a nice outfit and fun shoes as part of a "footloose and fancy" theme.
The school district said the elementary school, where the student mission statement is "Live. Learn. Love. Lead," would remain closed for the final days of the school year.
In Uvalde, all schools were locked once the gunshots were heard.
School's Facebook page reflects horrors
Hours after the shooting, police had cordoned off the school with yellow tape. Police cruisers and emergency vehicles were scattered around the perimeter of the school grounds. Uniformed personnel stood in small clusters, some in camouflage carrying semi-automatic weapons.
The day's horrors were reflected on the Facebook page of Robb Elementary School.
Earlier this week, its posts showed the usual student activities. But on Tuesday, a note was posted at 11.43 am (around 10 pm IST): "Please know at this time Robb Elementary is under a Lockdown Status due to gunshots in the area. The students and staff are safe in the building."
A second post was more explicit: "There is an active shooter at Robb Elementary. Law enforcement is on site." Administrators asked parents to stay away. And finally, a note was posted advising parents that they could meet their children at the small city's civic centre.
Politicians react
Biden, addressing the nation after the tragedy, pleaded for action to address gun violence after years of failure and blamed firearm manufacturers and their supporters for blocking legislation in Washington.
For every parent, for every citizen, we have to make it clear to every elected official: It's time for action.

We can do more. We must do more. pic.twitter.com/VDe0Wc7YT8

— President Biden (@POTUS) May 25, 2022
Biden's call for gun measures was booed at a campaign event in Georgia hosted by Herschel Walker, who won the Republican nomination for US Senate.
Meanwhile, Vice President Kamala Harris said earlier that people normally declare in moments like this, "our hearts break — but our hearts keep getting broken … and our broken hearts are nothing compared to the broken hearts of those families."
"We have to have the courage to take action … to ensure something like this never happens again," she said.
Echoing Biden's call, former President Barack Obama, who has called the day of the Sandy Hook shooting the darkest of his administration, said, "It's long past time for action, any kind of action."
We're also angry for them. Nearly ten years after Sandy Hook—and ten days after Buffalo—our country is paralyzed, not by fear, but by a gun lobby and a political party that have shown no willingness to act in any way that might help prevent these tragedies.

— Barack Obama (@BarackObama) May 25, 2022
Texas Senator Ted Cruz described the Uvalde shooting as "truly horrific", but said gun reforms were not the way to prevent such crimes.
Speaking to reporters, he said that restricting the rights of "law-abiding citizens… doesn't work. It's not effective. It doesn't prevent crime." He said "going after felons" is what prevents such crimes and he criticised other politicians for trying to "advance their own political agenda" by calling for gun control.
He added that from past experience, armed law enforcement on campus is the most effective way of keeping children safe. "We don't know the details of what happened at Robb Elementary School, but there will be a lot of time to examine what steps could have been taken proactively to enhance the safety and security of the school right now," he said.
(Compiled from Associated Press, Press Trust of India and Reuters reports)
The Indian Express website has been rated GREEN for its credibility and trustworthiness by Newsguard, a global service that rates news sources for their journalistic standards.