Here are the LIVE updates:
11:30 am: Nepal's government is giving out 100,000 rupees ($1,000) to families of each of those killed in Saturday's earthquake, and another 40,000 rupees ($400) for funeral costs, according to the state-run Radio Nepal.
11:00 am: Rescuers from around the world, including India, are scrambling to locate survivors and bring succour to the needy.
10:30 am: Earthquake victims trek through mountains to get needed aid
Also Read: 5 days later, trapped teen rescued
9:15 am: Most of the people who were sleeping outside their homes for fear of aftershocks have moved back indoors.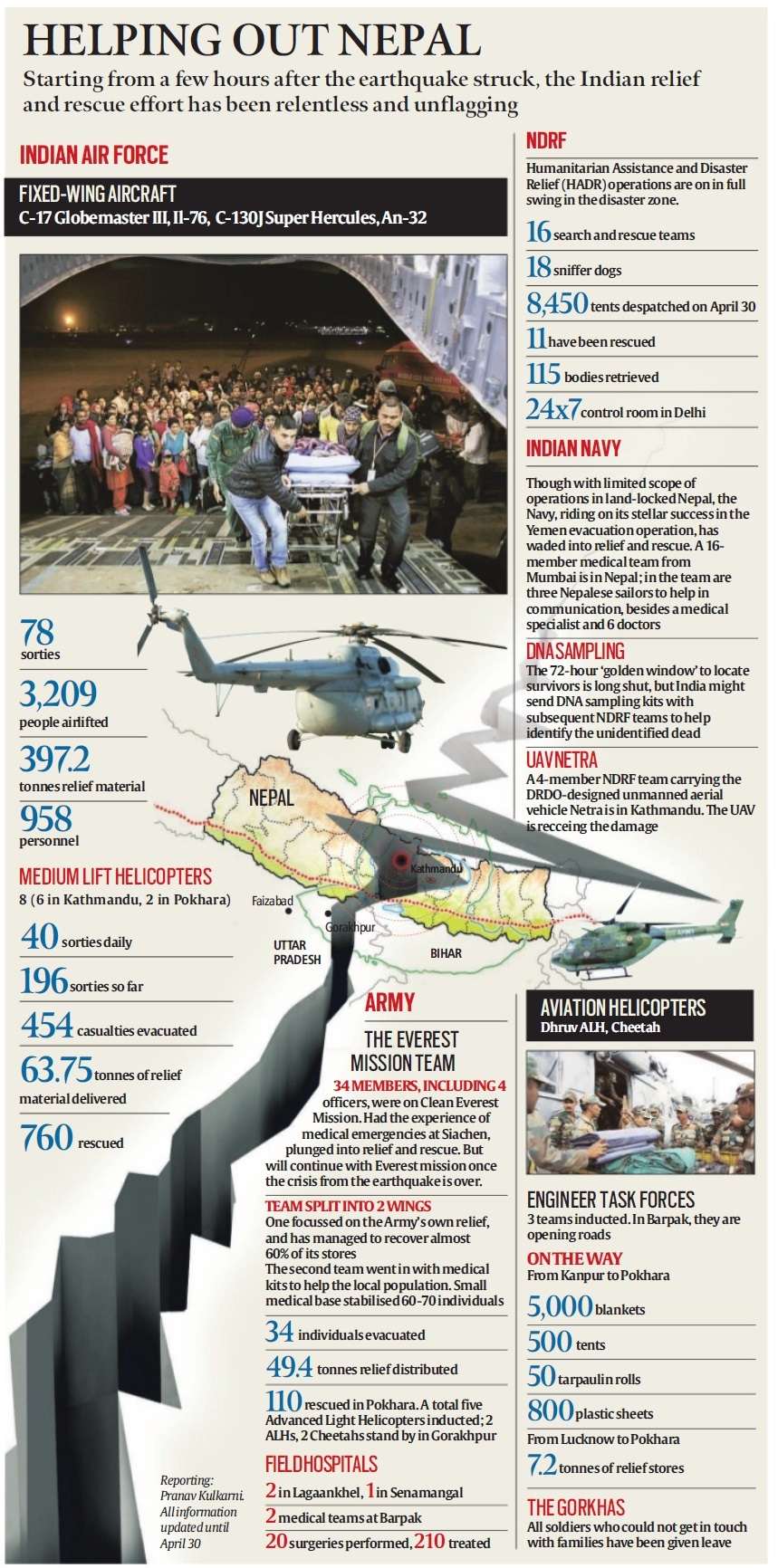 End of updates for April 30, 2015
1:58 pm: Pakistan Prime Minister Nawaz Sharif called Prime Minister Narendra Modi to condole the loss of lives in India in the recent earthquake.
1:24 pm: Defence Minister Manohar Parrikar assured Nepal of India's continued support in the wake of the devastating earthquake.
11:48 pm: Indian Americans are also moblising support for Nepal quake victims. Organisations like Aim for Seva, BAPS Charities, ISKCON – Food for Life, India Development and Relief Fund (IDRF) and SEWA International are contributing in numerous ways — from providing recovery assistance and urgent medical care to healthy meals and temporary shelter, a media release said.
9:16 am: Kathmandu police say the death toll from Saturday's earthquake has topped 5,500. The police says 5,489 have died and another 11,440 people have been injured in Nepal.
End of updates for April 29, 2015
3:12 pm: Scientists have warned that there is a risk of mudslides and landslides in quake-hit Nepal (Source: PTI)
3:10 pm: Nepal has told foreign search and rescue teams not to come because there are already enough in the earthquake-hit country, a senior UN official told Agence France-Presse on Wednesday.
12:19 pm: People in Kathmandu who hail from elsewhere but work in Kathmandu worry about their relatives who haven't received any help so far.
12:10 pm: Apart from criticism for absence of a response in equal measure, the people in Kathmandu criticised the government for restricting rescue efforts and aid to Kathmandu Valley, while forsaking several other districts.
11:45 am: It is a national disaster but the Nepal government is a long way from finding its feet. The ministry of health and population under-secretary Babu Ram Khawal cut a lonely figure, with an assistant compiling names of district level nodal health officers, as the rest of the ministry lay deserted. "We are also manning the help desk," he says.
11:30 am: From providing free wi-fi to food and shelter, Samaritans are doing the rounds in Nepal. When people started camping on the grounds of Amrit Science College, the students staying in the hostel took it upon themselves to help them. Then there were volunteers at camp sites and of course those from international NGOs.
11:20 am: The number of people killed in Nepal by the Himalayan country's worst earthquake in eight decades has risen to 5,006, a home ministry official said on Wednesday.
10:34 am: Aid agency World Vision says international aid agencies are also stretched thin as they respond to multiple humanitarian crises across the world including Syria and South Sudan.
10:31 am: A man pulled from the rubble of a collapsed building in Kathmandu more than three days after the deadly Nepal earthquake says he drank his own urine to survive.
10:30 am: International Development Secretary Justine Greening says the additional support brings the total U.K. response to the earthquake to 15 million pounds ($23 million).
10:23 am:  Britain sending additional 30 medics to treat the injured and heavy lifting equipment to move aid supplies off aircraft and ease congestion at Kathmandu airport.
9:50 am: Municipal workers on Wednesday began cleaning the streets, and the "kalimati bazaar" – the vegetable market – has reopened. Before first light, truckloads of fresh produce were unloaded and customers began to arrive.
9:00 am: World Vision say they face huge challenges as they respond to the weekend's deadly earthquake.
9:00 am: Death toll now at 4,700 and will likely rise as response teams continue to trek to the most remote areas near the epicenter, says aid agency World Vision.
8:58 am: Many of the people from other districts who work in the capital have received little news of their families and loved ones since Saturday's magnitude 7.8 temblor, which killed more than 4,700 people.
8:48 am: The government has even deployed school buses to supplement the overstretched service.
8:40 am: Thousands of people are lining up at bus stations in Kathmandu where the government is providing free transportation for people hoping to travel to their hometowns and villages.
28th April
9.20 pm: Prime Minister Narendra Modi today once again reiterated India's commitment to do everything possible to help quake-hit Nepal and said that it was not alone at this moment of tragedy.
8.30 pm:
8.16 pm: A special team of Gujarat-based officers will soon be heading to Nepal to ensure better coordination among various Indian agencies engaged in relief operations there even as around 550 people from the state have returned home safely so far from the quake-ravaged nation.
7.55 pm: Nepal today thanked India for extending a "blank cheque" and taking initiative in launching relief operations in the aftermath of Saturday's killer earthquake, which was followed suit by other countries.
7.30 pm: Two young doctors from Kerala had died in the earthquake that hit Nepal on Saturday. The victims have been identified as Dr Deepak Thomas, of Kannur, and Dr A S Irshad, of Kasargode. Another doctor has escaped with injuries. Full report
6.50 pm: A special 16-member medical team of the Indian Navy will today fly to Nepal to assist the rescue operations in the earthquake-devastated Himalayan nation.
6.10 pm: District official Gautam Rimal says heavy snow had been falling Tuesday near the village, Ghodatabela. He said officials received initial reports of the disaster by phone but then lost contact.
6.00 pm: An official says 250 people are believed missing following a mudslide and avalanche in an isolated village in rural Nepal not far from the epicenter of Saturday's powerful earthquake.
5:14 pm People injured in the deadly earthquake in Nepal are now so traumatised with fear that they prefer receiving treatment in tents rather than inside hospitals after several buildings collapsed burying hundreds of victims.
4:51 pm The toll in the earthquake in Bihar has risen to 58 and around 100 people stranded at Pokhara in Nepal have been brought back safely to Raxaul on the India-Nepal border, Chief Minister Nitish Kumar said.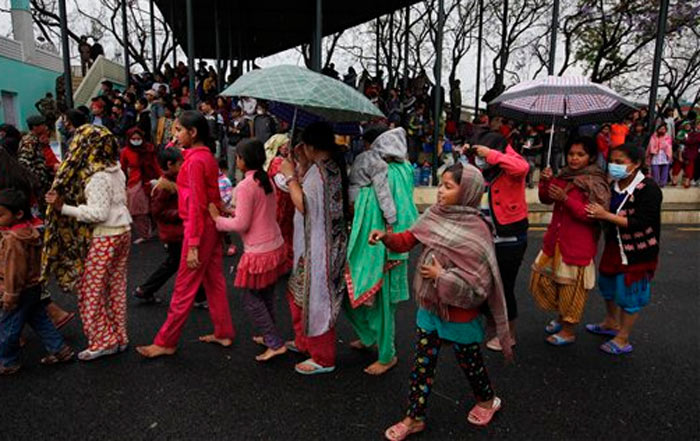 3.10 pm:
3.00 pm: India today pressed six more teams of NDRF personnel into its relief and rescue operations in Nepal as the Himalayan country struggles to cope in the grim aftermath of the deadly earthquake which has left thousands dead and affected millions.
2.50 pm: US today praised India's leadership role in helping earthquake-hit Nepal and persons of different nationalities stranded in war-ravaged Yemen. "India has demonstrated its global leadership in recent weeks, first in Yemen and now in Nepal. We are grateful; we are impressed; we are inspired.
2.30 pm: Railways have made arrangements to facilitate transportation of families of those hit by devastating earthquake in Nepal. Additional coaches have been added in several trains for different destinations to accommodate the families of affected persons, a senior Railway Ministry official said.
2:16 pm: "In the rural areas, 90 per cent of the people have been affected by this calamity," district official Surya Mohan Adhikari said. "They are cut off by road slides on the mountain roads, and the wind and rain is making it difficult for helicopters to land."
2:00 pm: Helicopters criss-crossed the skies above the high mountains of Gorkha district on Tuesday ferrying the injured to clinics, and taking emergency supplies back to remote villages devastated by the disaster. 

1:49 pm:

The NDRF, Indian Army and other forces are doing a remarkable job in Nepal.

— Rajnath Singh (@BJPRajnathSingh) April 28, 2015
1:48 pm:
NDRF has rescued 11 individuals, recovered 67 dead bodies and evacuated more than 1000 people in Nepal.

— Rajnath Singh (@BJPRajnathSingh) April 28, 2015
1:48 pm:
Spoke to DG NDRF Shri OP Singh this morning who apprised me of the ongoing rescue operations in earthquake affected areas of Nepal

— Rajnath Singh (@BJPRajnathSingh) April 28, 2015
1:40 pm:
MoS Dr. Jitendra Singh, a doctor by profession has arranged to send free insulin to diabetes patients among the Earthquake victims in Nepal.

— PMO India (@PMOIndia) April 28, 2015
1:00 pm: The death toll in Nepal's earthquake could reach 10,000, Prime Minister Sushil Koirala told Reuters on Tuesday, ordering intensified rescue efforts and appealing for foreign supplies of tents and medicines.
WATCH VIDEO: Nepal drone reveals extent of earthquake devastation
12:48 pm: Preparing to push into the most isolated areas of quake-devastated Nepal, soldiers packed food, water and other emergency supplies to be loaded onto helicopters Tuesday in Gorkha near the epicenter of the powerful earthquake.
12:45 pm: The government will decide within the week whether they'll close the mountain or allow the climbers to proceed. At least 18 people were killed in the avalanche and more than 4,400 in the earthquake.
12:30 pm: An expedition doctor and base camp manager for a trekking group says that all those injured in Saturday's quake-triggered avalanche have been evacuated and the dead bodies flown out.
12:20 pm: Relief writ large on their faces, 32 persons hailing from Tamil Nadu arrived here from quake-hit Nepal.
11:48 am: More than 1.4 million need food, while water and shelter are also in short supply, the UN said in a report.
11:30 am: Eight million people have been affected by the devastating earthquake, the United Nations said today.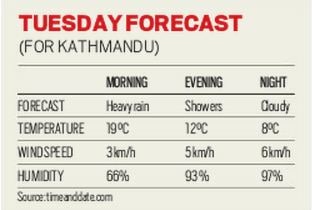 11.18 am: Head of India's National Disaster Response Force (NDRF) said that finding survivors and the bodies of the dead would take time. NDRF Director General O.P. Singh said heavy equipment could not fit through many of the narrow streets of Kathmandu, reports Reuters.
11.17 am: Anger in Nepal as survivors forced to dig themselves in order to rescue those who are still trapped. According to Reuters, "hundreds of Nepalis, angered and frustrated by the government's slow response, were digging through rubble themselves on Tuesday to find remains of their loved ones."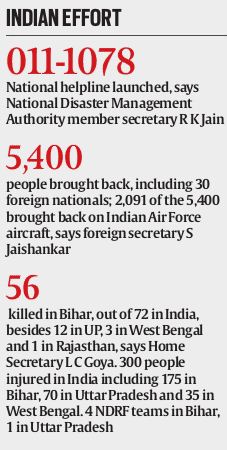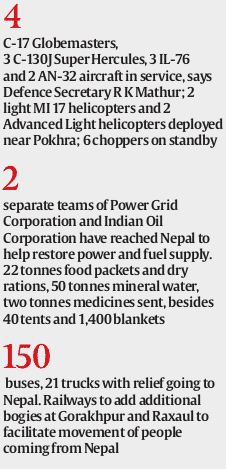 10:38 am:
In Raxaul, MEA, Indian Oil & Security Forces are facilitating the sending of affected people coming from Nepal back to their homes.

— Narendra Modi (@narendramodi) April 28, 2015
10:27 am:

From Raxaul, Bihar, which is on the India-Nepal border my colleague @dpradhanbjp is co-ordinating relief work to help affected people.

— Narendra Modi (@narendramodi) April 28, 2015
10:00 am: A crisis management group has been formed to deal with the impact of the quake that hit some parts of West Bengal even as efforts are on to trace over 100 people from the state who were in Nepal during the calamity.
9:50 am: Prime Minister Sushil Koirala admitted that the rescue and relief operations have not been effective.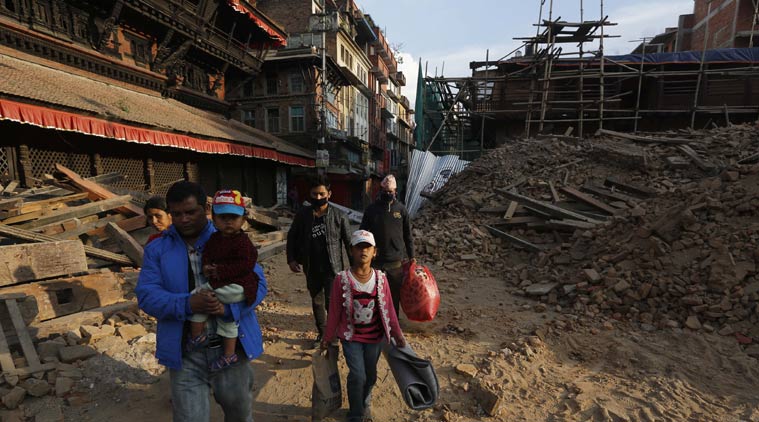 9:32 am: Deputy Inspector General of Police Komal Singh Bam says the toll includes 1,176 bodies recovered in Sindhupalchuk district, just northeast of the capital.
9:28 am: Adhikari said they have reports of some 300 casualties, but that number is rising. Nationwide, more than 4,300 people have been killed in the magnitude 7.8 quake.
9:27 pm:  District official Surya Mohan Adhikari  said that in the rural areas 90 percent of the people have been affected "by this calamity. They have lost their homes and livestock. They have no way of getting food."
9:25 am:  District official Surya Mohan Adhikari says the supplies will be sent out later in the day to villages that need them most.
9:20 am: Army troops are loading bags of rice and cornmeal into a storage room at the district headquarters in Gorkha, the epicenter of Saturday's massive earthquake was located.
9:11 am: Smaller aftershocks are expected to continue for a month and Kathmandu residents could continue to feel tremors because the epicentre is close to the city.
9:10 am: The ground shook Tuesday morning at 5 a.m. but measured only magnitude 4.5.
9:01 am: There have been more than 100 aftershocks since Saturday's magnitude 7.8 temblor that left more than 4,000 people confirmed dead so far. The largest of these was magnitude 6.7 on Sunday.
9:00 am:  Lok Bijaya Adhikari, chief of Nepal's National Seismological Center, says the number and strength of aftershocks have been receding.
8:53 am: The counties of Gyirong, Nyalam and Tingri in Tibet were most affected. Nearly 80 per cent of the houses in the three counties have collapsed.
8:50 am: Tens of thousands more squat on sidewalks and roads — anywhere but their own houses — fearing aftershocks that have shaken Nepal repeatedly.
8:46 am: The catastrophe has overwhelmed Nepal's government. Garung said the Cabinet was meeting daily, but "we don't know what to do in such a situation … this is very hard. It's a big problem. It's a mess."
8:27 am: The estimated death toll from Nepal's earthquake soared past 4,000, and could go much higher if it turns out that vulnerable mountain villages — where information is still scarce and rescue workers are still struggling to reach — were hit hard.
8:21 am: Tibet quake toll rises to 25; 117 injured.
8:19 am: The quake that flattened homes and buildings and the subsequent powerful aftershocks forced people out to live in
the open under plastic tents barely shielding them from cold and rains.
8:10 am: More than 48 hours after the 7.9 magnitude temblor shook the Himalayan nation, injuring more than 8,000 people and leaving thousands more homeless, multi-nation rescue teams, including from India, carried out relief works.
8:00 am: Death toll in Nepal earthquake rises to 4310 killed.
Bruised and scarred by back-to-back temblors over the weekend, Kathmandu now refuses to go indoors. Every open space in the city has been taken over, people rigging tents with plastic sheets, bedsheets, canvas to crawl in and spend the night.  READ: Tears after shock: Fearful Kathmandu stays outdoors in the rain and cold
At Kathmandu's 5th century Pashupatinath Temple, the bodies have been arriving for cremation since Saturday, when the first earthquake struck. READ: Nepal Earthquake: 1,200 bodies in three days, Pashupatinath pyres keep burning
For the last 36 hours, assistant commandant Raj Kamal and his team of 45 National Disaster Response Force (NDRF) personnel have been trying to retrieve bodies from a six-storey building which collapsed in the earthquake, at the Shobha Bhagwati bridge in Kathmandu on Saturday. READ: NDRF teams search for life, find the dead
Toll from the Nepal earthquake is past 4,000. Over the last 114 years, 48 quakes have killed 5,000 people or more. READ: Explained: Biggest killer earthquakes, 1900-2014
The Indian Express meets Russian tourists, working Indians and locals stranded outdoors in Kathmandu. READ: On the streets, thinking of home
The Indian Express website has been rated GREEN for its credibility and trustworthiness by Newsguard, a global service that rates news sources for their journalistic standards.