Three weeks of mystery bombings in Austin, Texas, came to a close on Wednesday after the serial bomber blew himself up. Aware that SWAT teams were moving in to arrest him, Mark Conditt detonated a bomb inside his Sport Utility Vehicle and killed himself. In a cell phone video accessed by the police, Conditt confessed to making seven bombs and planting them across the city, but failed to provide a motive for the same. In what is being called one of the largest bombing investigations in the United States since the 2013 Boston Marathon attacks, two people were killed and five injured in the violence that began on March 2.
"He does not at all mention anything about terrorism, nor does he mention anything about hate, but instead it is the outcry of a very challenged young man, talking about challenges in his personal life," Austin Police Chief Brian Manley was quoted as saying by Reuters.
"I would classify this as a confession."
The police chief expressed confidence that there were no other bombs located in the city and that the public was safe.
What is this case all about?
Seven bombs were made by Conditt — five of which exploded, one was recovered by the police before going off and the seventh detonated by the accused in his vehicle on Wednesday. The first bomb, disguised in a package, exploded on March 2 killing 39-year-old Anthony Stephan House. On March 12, Draylen Mason, 17, was killed after a second package exploded. His mother was injured in the explosion. On the same day, a 75-year-old woman was injured in a third explosion. The Austin police, at this point, suspected a pattern in the bombings.
On March 18, two men were injured after a bomb exploded on a sidewalk in the city. Two days later, the fifth explosion is reported at a FedEx sorting facility in Schertz. One person was injured. The package was to be delivered within Austin.
On the same day, a FedEx facility near the Austin airport alerted the police of a suspicious package, which was later confirmed to have contained an explosive device. FedEx revealed that the two packages were shipped by the same person.
The last explosion was triggered by Conditt in his vehicle. The police said they received over a thousand calls of suspicious packages in Austin during the last three weeks.
If you see or receive a suspicious package, do NOT touch or handle it. Call 9-1-1 immediately so that we can get officers out to assist you. #AustinPD #ATX #Safety pic.twitter.com/eScYLxpbfD

— Austin Police Dept (@Austin_Police) March 17, 2018
Who is Mark Conditt?
Mark Anthony Conditt, a 23-year-old, grew up in Pflugerville, a suburb of Austin. The oldest of four children, he lived with roommates a few miles from his parents' house. He was home schooled before attending Austin Community College from 2010 to 2012, where he was a business administration major. He did not graduate. During his time in college, no disciplinary action was taken against him. In fact, he had never been in trouble with the law. He worked briefly at a manufacturing company, but was recently unemployed. He attended Church regularly.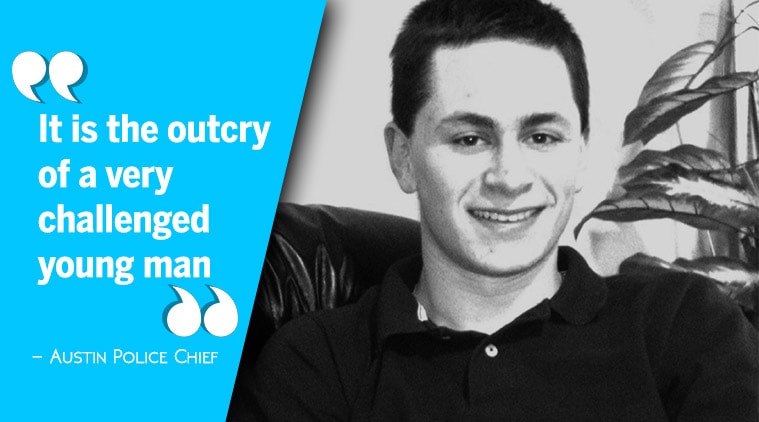 While Conditt's family said they had "no idea of the darkness that Mark must have been in", he was described as a smart and kind "computer geek" by his uncle, while a friend said he was an assertive person who would end up being "kind of dominant and intimidating in conversation."
Conditt did not have an active Facebook profile, but in a blog created in 2012, he opined on several topics including gay marriages, the death penalty and eliminating sex offender registries. In the about me section, he said he wasn't "that politically inclined" and viewed himself as conservative but didn't think he had enough information "to defend my stance as well as it should be defended."
Why did he plant bombs across Austin?
In his "confession" video, Conditt did not reveal the reason for planting bombs across Austin. The police had previously suspected that the attacks were racially motivated, as the first victims, including the two who died, were African-American and Hispanic.
Were more bombs planned?
Conditt would have planted or shipped more bombs in the city if he was not caught. This information was revealed after the police recovered a "target list" of addresses and individuals singled out by Conditt, reported Reuters.
AUSTIN BOMBING SUSPECT IS DEAD. Great job by law enforcement and all concerned!

— Donald J. Trump (@realDonaldTrump) March 21, 2018
Did Conditt make the bombs?
At the accused's house, the police recovered explosive material and bomb components. Special agent Fred Milanowski was quoted as saying by Reuters, "I wouldn't call it a bomb-making factory, but there's definitely components consistent with what we've seen in all these other devices." Authorities are trying to determine if he learnt to make the bombs from the internet.
How did the police crack the case?
Good at hiding his tracks, it took the police weeks to find Conditt. He avoided cameras by wearing a blonde wig and gloves, and used the alias "Kelly Killmore" to ship packages to the victims. However, authorities said his "fatal mistake" was driving a red truck, which helped them identify him. Surveillance footage helped authorities with the licence plate number of the truck, which was seen entering the FedEx facility which received Conditt's packages. The licence plate was linked with Conditt's cellphone number. Although he had "powered down" his phone for several days, the police were able to track him down the minute he switched it back on.
"The suspect's cellphone number showed up at each of the bombing sites as well as some key locations that helped them connect him to the crime," Texas Governor Greg Abbott was quoted as saying by The Associated Press.
When Conditt turned his phone on, a police chase ensued to arrest him. On being surrounded by police vehicles, he detonated the seventh bomb, killing himself.