In what is being billed as the world's biggest single-day election, Indonesians began voting on Wednesday to choose a new president and Parliament. Polling stations opened today across the equatorial archipelago following an election campaign which lasted for six months.
Former general Prabowo Subianto, who was defeated in the last election in 2014, is contesting against Indonesia's incumbent President Joko Widodo, who entered politics nearly 14 years ago as a small-city mayor.
Prabowo had told a news conference late Tuesday that he expected to win with 63 per cent vote. "Even though there have been obstacles and anomalies, I believe, at the end of it, we cannot contain the will of the people," Prabowo said on the eve of the vote.
The election is being viewed a testimony to the resilience of democracy after it defeated authoritarianism, nearly after two decades. Voting first began in the eastern province of Papua, which is two hours ahead of country capital, Jakarta. Nearly 350,000 police and soldiers will join 1.6 million paramilitary officers stationed across the country of 17,000 islands to safeguard the vote today.
Live Blog
World's largest single-day election is underway. HIGHLIGHTS:
Voting for Indonesia's one-day election closes
Voting drew to a close after Indonesia held one of the world's biggest one-day elections Wednesday, pitting president Joko Widodo against ex-general Prabowo Subianto in a race to lead the Muslim-majority nation. More than 190 million Indonesians were eligible to cast a ballot from easternmost Papua to Sumatra at the other end of the volcano-dotted country, although some polling stations remained open due to delays and long queues. (AFP)
Indonesian President Joko Widodo and candidate Prabowo Subianto cast their vote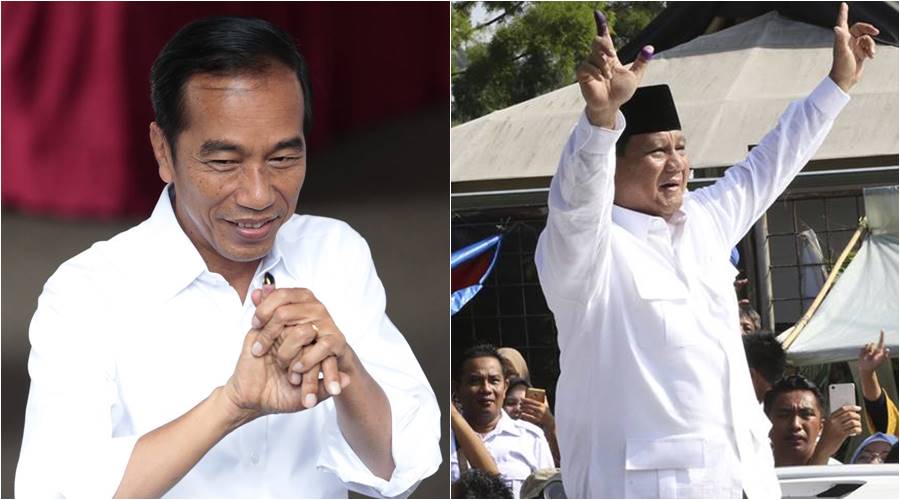 Opinion polls show Widodo, 57, is a clear favourite -- but he faces a tough challenge from Subianto, 67, who has leaned on a fiery nationalist ticket. Subianto narrowly lost to Widodo in 2014 elections, and unsuccessfully challenged those results.
Voting for presidency and parliamentary seats underway in Indonesia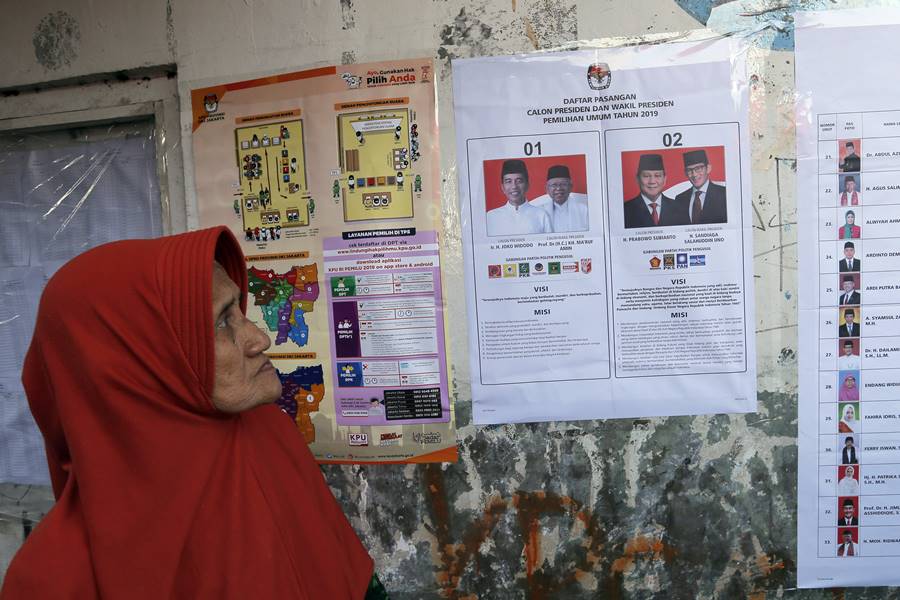 President Joko Widodo and his running mate Ma'ruf Amin contest against ex-general Prabowo Subianto and his running mate Sandiaga Uno.
After casting his vote Prabowo Subianto says confident of winning
Prabowo Subianto after casting his vote in presidential and legislative elections says he is confident of winning despite polls showing that he trails President Joko Widodo by up to 20 percentage points. After voting, Subianto, a former special forces general, echoed his campaign themes of a weak Indonesia at risk of disintegration.

Speaking in English, he said ``I promised that we will work for the good of the country. If it's chaos or not it's not coming from us, but I guarantee that we don't want to be cheated anymore, that Indonesian people don't want to be cheated anymore.'' (AP)
Ex-general Subianto, a wealthy financier, vows to put 'Indonesia first'
Ex-general Prabowo Subianto's strongman image is underscored by a penchant for slamming lecterns as he accuses Jakarta of selling the country off to foreign interests. Subianto, a 49-year-old wealthy financier -- has courted Islamic hardliners, promised a boost to military and defence spending and, taking a page from US President Donald Trump, vowed to put "Indonesia first" by reviewing billions of dollars in Chinese investment.
Subianto's long-held presidential ambitions have been dogged by strong ties to the Suharto dictatorship, which collapsed two decades ago, and a chequered past. He ordered the abduction of democracy activists as the authoritarian regime collapsed in 1998, and was accused of committing atrocities in East Timor. (AFP)
Opinion polls give President Widodo a lead but opposition says race is much closer
President Joko Widodo, a furniture businessman who entered politics 14 years ago as a small-city mayor, is seeking re-election against former general Prabowo Subianto, whom he narrowly defeated in the last election, in 2014. The economy dominated the hard-fought campaign, though the rise of political Islam loomed over the contest in the world's most populous Muslim-majority country. Most opinion polls give Widodo a double-digit lead but the opposition says the race is much closer.
Nearly 350,000 police and soldiers will join 1.6 million paramilitary officers stationed across the country of 17,000 islands to safeguard the vote.
More than 192 million people are eligible to cast ballots in national and regional legislative elections being contested by more than 245,000 candidates. Polling stations opened at 7 a.m. (2200 GMT on Tuesday) in the east and will close at 1 p.m. (0600 GMT) in the west.
Voters will have five paper ballots for president, vice president, and national and regional legislative candidates. (Reuters)