Paris |
January 25, 2014 1:08:59 am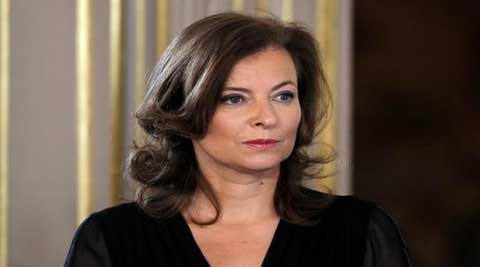 FRENCH First Lady Valerie Trierweiler will make her first public appearance since it emerged President Francois Hollande was cheating on her with an actress, with a trip to India next week for charity work.
Trierweiler was hospitalised for a week after news broke of Hollande's affair with 41-year-old French actress Julie Gayet, and has since been holed up in a presidential retreat outside Paris as her future remains unclear.
She will visit Mumbai for two days from Monday on a trip organised by French relief organisation Action Against Hunger. which had been planned long in advance.
Trierweiler, who left hospital last Saturday where she was treated for a bout of "tiredness" brought on by the scandal, had been invited in her official capacity, said ACF.
The charity is paying for the trip, which is financed mostly by private Indian partners.
The trip comes after a spat between Trierweiler and her lawyer, Frederique Giffard, who Thursday said the 48-year-old first lady was aware that a "clarification" on her tangled situation was due.
Giffard remained evasive on the question of whether they would split, saying: "The president and my client are thinking. The decision is theirs alone. It is very difficult for Valerie Trierweiler to remain calm in the face of this media and political pressure. But she is aware that a clarification is necessary."
But Trierweiler reacted furiously to the lawyer's remarks and chastened Giffard for speaking without her permission.
Her chief of staff Patrice Biancome said he was "the sole person authorised to speak in the name of Valerie Trierweiler", an announcement interpreted as a sign that she considered herself first lady and that no clarification was necessary as far as she was concerned.
📣 The Indian Express is now on Telegram. Click here to join our channel (@indianexpress) and stay updated with the latest headlines
For all the latest World News, download Indian Express App.