On Monday the Bangladesh cabinet approved a new law to raise the maximum prison sentence for those causing deaths due to road accidents to five years. This law comes after nine days of demonstrations by thousands of school and college students over the deaths of two teenagers by a speeding bus in Dhaka on July 29.
The protests paralysed the capital, with students blocking streets and only allowing emergency vehicles through. It also resulted in clashes between the protesting students and security forces.
During the protests, an official vehicle carrying the US ambassador to Bangladesh, Marcia Bernicat, was attacked by a group of unidentified armed men on Saturday. Social activist and award-winning photographer Shahidul Alam was detained for alleged "provocative comments" made in media interviews about the protests.
* Why are the students protesting in Bangladesh?
Thousands of college and school-going students have virtually paralysed normal life in Dhaka after a privately-owned bus ran over a group of students on July 29, killing two of them.
Diya Khanam Mim and Abdul Karim Rajib were killed, and 12 others were injured. The driver of the bus allegedly involved in last weekend's crash has been arrested, but the incident has set off an agitation by students demanding stricter road safety laws.
A report by the Bangladesh Passengers Welfare Association said that last year alone, road accidents claimed 7,400 lives and left over 16,000 injured.
Bangladesh's transport sector is widely seen as corrupt, unregulated and dangerous, and the July 29 incident led to an outpouring of anger on the streets.
* What are the demands of the students?
Agitating students had issued nine demands, including capital punishment for those found guilty of irresponsible driving. During the past week, students have reportedly started enforcing traffic laws, stopping drivers in the streets of Dhaka and checking their licenses. Authorities said more than 300 vehicles have been vandalised since the protests started. Bus companies have taken their vehicles off the road to prevent them from being damaged.
Protesters as young as 13 were seen on Dhaka's notoriously clogged roadways, checking whether cars and buses had valid licenses and were roadworthy.
"We won't leave the roads until our demands are met. We want safe roads and safe drivers," a protester named Al Miran told Dhaka Tribune. On August 2, a traffic sergeant refused to show his driving license, prompting students to seize his motorbike and set it on fire, according to a Dhaka Tribune report.
Sheikh Shafi, a student of a polytechnic institute in Dhaka who lost his brother in a road accident in 2015, said one of the problems with buses was that bus drivers are not paid fixed monthly salaries and instead earn commissions based on the number of passengers they transport, forcing them to work long hours.
"Our demand is that the owners must appoint them and they will work a maximum of 10 hours. The commission-based system must be eliminated," Shafi told Reuters.
The United Nations has also expressed concern about the ongoing agitation in Dhaka and said students and young people had a legitimate right to speak on issues bothering them. "UN agencies are increasingly concerned for the safety of children and young people caught up in recent protests over road safety in Dhaka and other parts of the country. Students and young people have a legitimate right to speak out on issues of concern to them," Unicef Bangladesh tweeted on Sunday.
UN agencies are increasingly concerned for the safety of children & young people caught up in recent protests over road safety in #Dhaka & other parts of the country.

Students & young people have a legitimate right to speak out on issues of concern to them…

Full Statement👇🏾 pic.twitter.com/Kj65cJeqP3

— UNICEF Bangladesh (@UNICEFBD) August 5, 2018
* Why did the protests escalate?
The student protests had been peaceful till the weekend, but a remark by minister Shajahan Khan – who has ties with the powerful transport unions – only agitated protesters. A Daily Star report said the minister had asked why there was such an uproar over the death of two Dhaka children, when there was hardly any reaction in India to 33 people dying in a bus accident on the Mumbai-Goa highway.
The students called for the minister's resignation despite him apologising for his comment. On Saturday, over 100 protesters were injured as police fired tear gas and rubber bullets, and mobs attacked demonstrators and photographers.
There was more violence on Sunday with police firing tear gas into a large crowd marching towards an office of the ruling Awami League party. The Daily Star reported that up to 25 people had been injured in the protests.
Police said they were also investigating an attack on the US ambassador's vehicle on Saturday by an unidentified group of armed men, some riding motorcycles. The embassy has earlier condemned the "brutal attacks and violence" against the student protesters by security forces, a charge the government has denied.
Authorities shut down mobile internet services across parts of the country, and many schools and colleges have remained shut.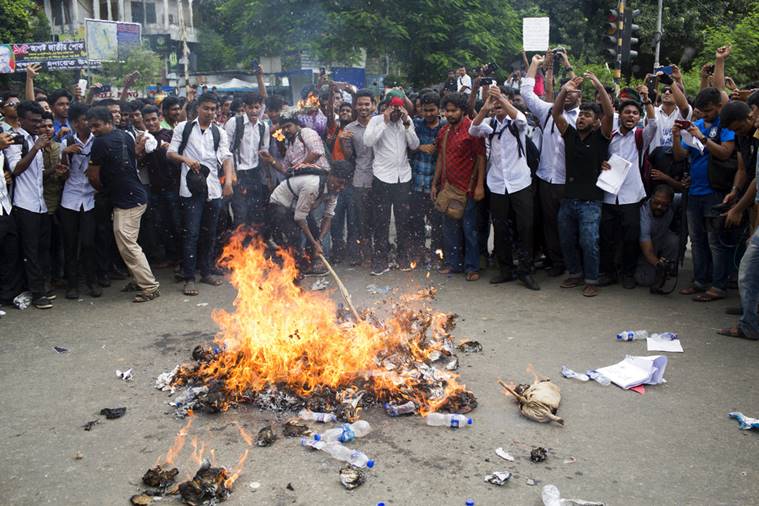 Bangladeshi students burn an effigy of Bangladesh's Shipping Minister Shahjahan Khan, who is also a transport workers' leader, as they block a road during a protest in Dhaka. (AP)
* Why was Bangladeshi photographer Shahidul Alam detained?
Amidst the protests, Bangladesh police arrested award-winning photographer and social activist Shahidul Alam for "provocative comments" he allegedly made in an interview with Al Jazeera about the protests. Aslam had also shared a video of the protests on Facebook.
Police officers detained 63-year-old Alam from his Dhaka home late on Sunday.
"We interrogated him for giving false information to different media and for provocative comments," police official Moshiur Rahman told Reuters. Rights groups have demanded the immediate release of the photographer.
Alam told Al Jazeera on Sunday the demonstrators were driven by "larger" factors than just road safety, highlighting "the looting of the banks, the gaggling of the media, the extrajudicial killings, disappearings, bribery and corruption".
"Today the police specifically asked for help from armed goons to combat unarmed students demanding safe roads," said Alam.
At least seven photojournalists who were taking pictures of the protests were allegedly attacked by activists of the Bangladesh Chhatra League, the student unit of the ruling Bangladesh Awami League party.
* What has the draft Road Transport Act 2018 proposed?
Under the proposed law, if a death by road accident is proven to be intentional murder, the offenders will be tried and punished as murder suspects. It has now been made a non-bailable offence, whereas it was bailable earlier.