Bangladesh General Election 2018: At least 15 people were killed in poll-related violence as voting to elect new Bangladesh government ended on Sunday evening amid allegations of manipulations by the ruling Awami League led by Prime Minister Sheikh Hasina.
Prime Minister Sheikh Hasina who was elected virtually unopposed from the Gopalganj-3 constituency is eying her third consecutive term is "confident" of winning the elections. "I believe that people will cast their votes in favour of Awami League to continue the pace of development," Hasina told reporters in Dhaka. "The 'boat' will surely win," she added. Hasina, who faces anti-incumbency after being in office since 2009, faces a stiff challenge from a united opposition fighting under the banner of Jatiya Oikya Front (JOF) led by jailed ex-premier Khaleda Zia's Bangladesh Nationalist Party (BNP). The Bangladesh Nationalist Party (BNP), Jatiya Oikya Prokriya, Jatiya Samajtantrik Dal, and Nagorik Oikya have come together against Hasina's Awami League.
Live Blog
Counting of votes underway in Bangladesh's Parliamentary Elections. Read highlights in Bangla
Violence reports from across Bangladesh
While Hasina is seeking re-election for a fourth term as the prime minister, her chief rival, ex-premier Zia, who is reportedly partially paralysed, faces an uncertain future in a Dhaka jail. Meanwhile, EC officials said they have received over a hundred complaints from candidates throughout the country amid reports of violence.
Ruling Awami League party wins 90 seats
According to results announced until 11 pm, the ruling Awami League party won 90 seats, followed by its key ally the Jatiya Party at 13, bdnews.24 reported. Main opposition Bangladesh Nationalist Party of jailed ex-premier Khaleda Zia won just three seats. BNP secretary general Mirza Fakhrul Islam Alamgir, who steered the party in Zia's absence, won in his northeastern Thakurgaon constituency, officials said. (PTI)
PM Sheikh Hasina wins from Gopalganj-3 seat
Bangladesh Prime Minister Sheikh Hasina was Sunday elected virtually unopposed from the Gopalganj-3 constituency as she won by a landslide, bagging 229,539 votes while her main BNP opponent could manage just 123, news agency PTI reported.
Bangladesh polls: Awami League-led alliance leading in 54 seats, Jatiyo Oikya Front in 1
As per Bangladesh media, Awami League-led alliance is leading in 54 seats, while Jatiyo Oikya Front is leading in 1 seat.
Just In: Opposition alliance Jatiya Oikya Front leader Kamal Hossain calls elections "farcical" and wants the Election Commission to cancel the elections. Demands that fresh elections should take place as soon as possible. #BangladeshElection2018 @IndianExpress

— Shubhajit Roy (@ShubhajitRoy) December 30, 2018
Bangladesh Parliamentary elections: At least 15 killed in poll violence
Voting ended at 4 pm, and counting has begun. At least 15 people have died in poll violence throughout the country, reports Bangladesh media. Dhaka was relatively peaceful. Roads were empty, mobile internet services were down. #BangladeshElection2018 @IndianExpress

— Shubhajit Roy (@ShubhajitRoy) December 30, 2018
At least 13 killed in Bangladesh polls
Voting for Bangladesh's 11th Parliamentary elections ended on Sunday with at least 13 people being killed in poll-related violence and allegations of manipulations by the ruling Awami League led by Prime Minister Sheikh Hasina.
Bangladesh Parliamentary Elections: Voting ends amid reports of violent clashes
Voting ends in Bangladesh amid reports of clashes between the ruling Awami League and opposition parties. According to reports, atleast 10 people have been killed and several injured in the violence. The results will be announced with 24 hours.
At least 10 killed in poll-related violence in Bangladesh
At least 10 people have reportedly been killed in poll-related violence in Bangladesh on Sunday. According to a report by PTI, a leader of Jubo League - the youth wing of the Awami League - was killed and 10 others injured in a clash between the ruling party and opposition BNP supporters in Rangamati's Kawkhali, Bdnews24 reported. While one BNP activist was killed in Chattogram and an Awami League supporter died in Rajshahi, the news portal reported.
An Awami League polling agent was killed in Narsingdi 3 constituency.
According to the Daily Star newspaper, BNP men attacked and killed an Awami League supporter in Mohonpur, Rajshahi-3. One Oikyafront supporter was killed in Chandina in police firing.
A voter died during tension between supporters of the Awami League and the BNP in Dinajpur-2. An activist of Bangladesh Chhatra League was killed in clashes with the BNP activists in Cox's Bazar-1.
One Awami League supporter was killed during a clash with the BNP workers at Baghail Government Primary Schoo, under Bogura-4. A member of law enforcement agency was killed by activists of Jamaat in Noakhali-3 constituency.
Security agencies keep vigil on minority communities during polling
Over 600,000 security personnel including several thousand soldiers and paramilitary border guards have been deployed across the country to help conduct the election in which 10.41 crore people are eligible to vote. Security agencies have been asked to keep an extra vigil on religious minority communities as media reports said at least three Hindu households were set on fire by miscreants between December 16 and 26. (PTI)
Voting underway for 299 Parliament seats in Bangladesh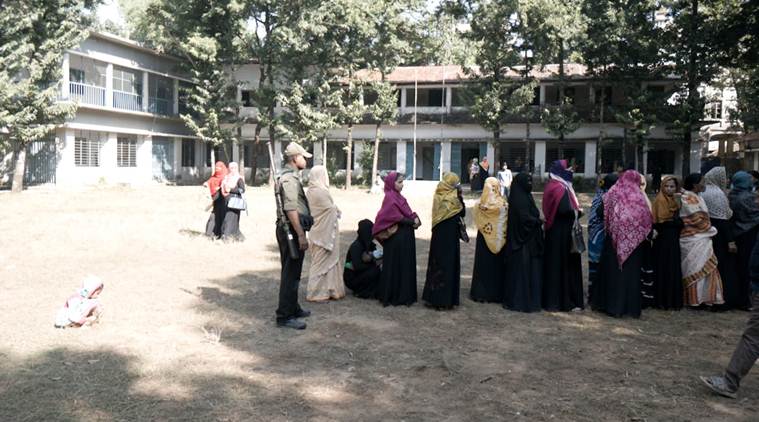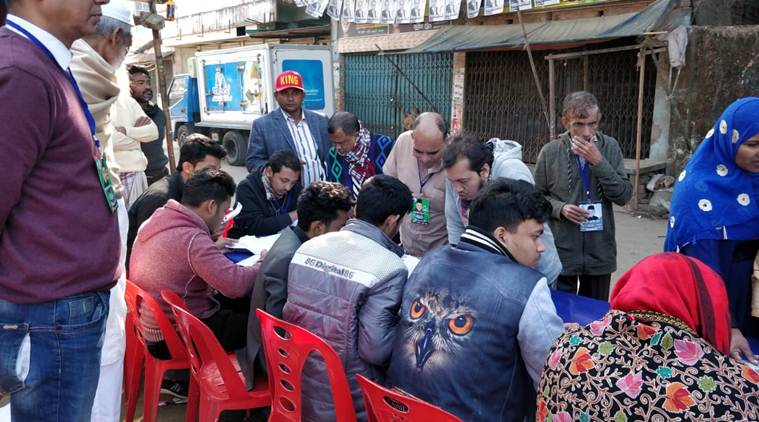 Pics from Bangladesh's Cox Bazaar where voting is underway. (Source: Narayanan PM)
Kamal Hossain asks election officials to discharge duty 'with dignity'
Amid allegations of initimdation, Kamal Hossain, chief of the main Opposition alliance, on Saturday urged returning officers and other election officials to discharge their duties "with dignity". "If you snatch anyone's right, remember that someone else is taking away the right of your father, mother, wife and children. If you do this, people, history and the law won't forgive you," he said.
Bangladesh TV station taken off air for election day
Bangladesh's news channel Jamuna TV has been taken off air, news agency AFP reported. "Cable operators took Jamuna TV off air without giving us any explanation," Fahim Ahmed, the station's chief news editor, told AFP. "We are still transmitting. But no one in Bangladesh can see our channel due to the blackout," he said.
Jamuna Group is known for its independent coverage in Bangladesh. While a top cable operator suggested that the broadcast was stopped due to technical rather than political reasons, Jamuna rejected the theory.
There have been mounting accusations that Prime Minister Sheikh Hasina's government has been stifling dissent and curbing freedom of the press ahead of Sunday's election.
Why India was not hot-button issue in Bangladesh polls?
This time, the India factor - which has been part of the pre-election rhetoric in the past — was missing from campaign speeches. Unlike the past polls when BNP accused Awami League of being "pro-India," the party this time nuanced its position, having burnt its fingers in 2014.
What has worked in India's favour is the fact that it worked on the Bangladesh relationship quite seriously over the last few years. Some of the increased interaction at the highest level is telling. There were 10 meetings between Prime Minister Narendra Modi and Sheikh Hasina, six video conferences and five telephone calls in the last five years — 19 development projects were inaugurated jointly by the two leaders, and they signed over 90 bilateral agreements. India's development assistance to Bangladesh increased from $3 billion to $8 billion in three years. Bilateral trade has increased by 31.5 per cent from $7 billion to $9.3 billion. But, what was the real game-changer was the ease of visa process for Bangladeshi nationals to India — it has increased three-fold in three years, from 5 lakh in 2015 to 14.5 lakh in 2018.
India has also refrained from issuing any statement, except for asking for "free and fair elections", unlike many of its western counterparts — especially the Americans and Europeans. Read more
In Bangladesh, a 47-year-old war dominates election campaign rhetoric
Sheikh Hasina and her party Awami League have led their election campaign by relying on references to the country's 1971 war for independence from Pakistan. Hasina's father Sheikh Mujibur Rahman won the country that independence, and her Awami League party has run a campaign on reminding the public of "war criminals", "fake freedom fighters" and "collaborators".
Accusing the opposition BNP of being culpable in the war crimes, due to its association with Jamaat-e-Islami - an Islamist group that opposed the independence movement - Hasina at a public gathering asked voters: "Do you want to vote for betrayers?"
Weeks before elections, a tense 'docudrama' on Hasina's life released in cinemas in Bangladesh depicted how most of her family, including her father who is known in the country as the Father of the Nation, was assassinated in 1975 in an army coup while she was away with her sister in Germany. Hasina refers to the BNP as thugs in the film.
(Inputs from Reuters)
Scenes from Bangladesh's polling booths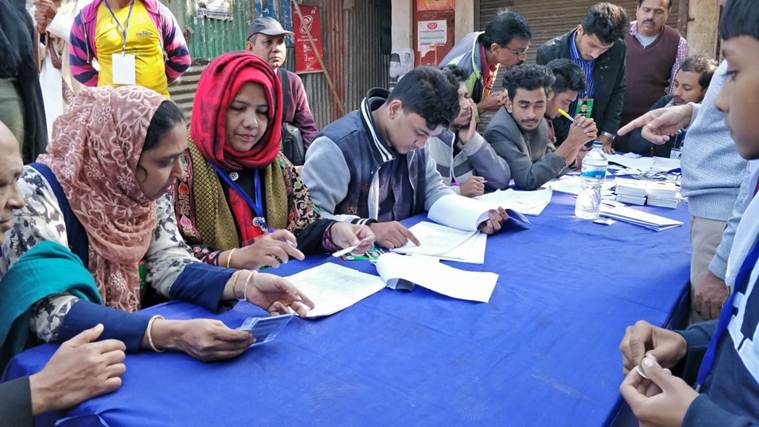 Voters line up at polling booths in Cox's Bazaar to vote in the 11th Parliamentary Elections in Bangladesh (Photo:PM Narayanan)
Hasina's son Sajeed Wazed casts vote
While Sheikh Hasina is lauded for her lifting Bangladesh from poverty, critics also accuse her of authoritarianism. Her son, Sajeeb Wazed, told Reuters that Hasina regarded such accusations by "Western media" as a "badge of honour". "Don't you see anti-government posts on Facebook? Do you not see that? You are free to write whatever you want but you are not free to hurt someone. If you write something false and that causes an attack on someone, should there be no consequences?" he added.
The 47-year-old, who lives in Washington D.C. and runs an IT business in the United States has declined to take a senior position in the ruling Awami League. Adding that he was not keen on becoming the prime minister, Wazed said, "Anything is possible, but interested? No. Possible perhaps, but only time will tell."
"The reason people of Bangladesh support the Awami League is very, very simple: development and economic improvement," he added.
.@sajeebwazed casts his vote in Dhaka in #BangladeshElection2018 pic.twitter.com/0V2VagcFE6

— Awami League (@albd1971) December 30, 2018
Abysmal voter turnout in Bangladesh: Report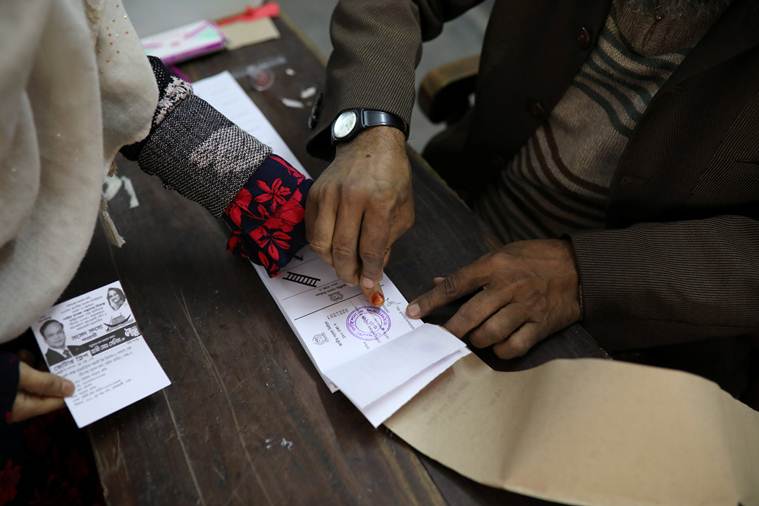 According to a report in Reuters, low voter turnout has been recorded in Bangladesh across the multiple polling booths. At a polling booth set up in a high school in old Dhaka on Sunday, some were afraid to comment on the polls, describing an atmosphere of fear.
A middle-aged businessman who declined to be named said: "I am here to vote, but my family says, 'what's the point?' The ruling party will come back in power in any case," Reuters reported
"I will freely vote for whom I want," said Manjur Ahmed, 23, a first-time voter who had come to a polling station with his father. "I want the development of the country to continue. I realise some people are nervous but I am not."
Minorities' treatment - major poll plank in Bangldesh
The treatment of minorities is one of the "sensitive issue" in the Bangladesh elections. Minorities form about 10 per cent of the population of Bangladesh's 16 crore people — Hindus account for about 8-9 per cent, Christians about 0.5 per cent and the rest are Buddhists. The Hindu community is unhappy with the Awami League since some of its MPs have engineered attacks on their property to grab them. To assuage their concerns, the Awami League has given party tickets to 18 Hindu candidates. "We are aware about the threats posed to minorities in the past. While the government is taking measures to address the situation, we are also mobilising the community to not vote for communal forces. There should be a neutral and secular government at the centre," Nirmal Rozario, president of the Bangladesh Christian Association, told The Indian Express.
Besides, the Awami League has said in its manifesto that it will form a national commission for minorities. "All discriminatory laws and systems against minorities and ethnic minorities will be abolished and there will be no discrimination," it said. The BNP has also promised to set up a separate Ministry for Religious Minority Affairs. "Right to life, property, and social dignity of the minority and ethnic nationalities living in the hills and the plains would be fully protected," its manifesto states. Read more
Politicians, cricketers urge voters to exercise franchise
After intensive efforts by the BNP to get Khaleda out of jail failed, her son, Tarique Rahman, who is wanted in Bangladesh accused of masterminding a 2004 plot to kill Hasina, appealed to women, who make up nearly half the 100 million voters, on Facebook. "This is my appeal to every mother, every woman in Bangladesh: only you can get her reunited with her family through the collective power of each of your votes," he said.
Capital Dhaka's streets are dotted with banners of youth icon and Bangladesh cricketer Shakib Khan, asking young people to exercise their voting rights. "Ebar Tomar Pala (Now, it's your turn)," they read.
Khaleda Zia sends message from jail to voters
While the ruling coalition is banking on Prime Minister Sheikh Hasina's track record of "development", hoping people will favour the 'boat (the Awami League's election symbol)' over the Opposition's paddy sheaf, and send her to power for a third straight term, the Opposition coalition, the Jatiya Oikya Front (National United Front), is hoping anti-incumbency will finally bring down the government and pave the way for release of BNP leader Khaleda Zia from jail.
The BNP said its chief Khaleda Zia had sent out a message from jail, asking voters to guard polling centres until the declaration of results. Reading out from "Khaleda's message" at a press conference held in the party's Nayapaltan central office, senior BNP joint secretary General Rizvi Ahmed said, "I request you (people) to stand in queue for vote after offering Fazr prayers. Guard the centres and stay there until the result is announced. You will get a chance tomorrow to rid the autocratic rule. Go to the polling centres in groups ignoring all threats…"
Awami League workers prevent Opposition supporters from voting: Report
According to a report in news agency Reuters, the ruling Awami League party workers prevented Opposition supporters from voting, an accusation Sheikh Hasina's party has denied. Few BNP leaders also have expressed fears that the election would be rigged.
Hasina's party dismissed the accusations, saying the opposition has been making "one false allegation after another for months prior to the election as polls show a landslide victory" for the ruling party. The country is under a tight security cover, with over 6 lakh security personnel, including several thousand soldiers and paramilitary border guards, on alert.
While many in the Awami League are confident of a victory, there is also concern that the credibility of the polls may be challenged if the security situation worsens.
Clashes erupt in Bangladesh; 1 killed, 10 injured
A Jubo League leader was killed and 10 others injured after clashes broke out between the ruling Awami League and opposition BNP supporters in Bangladesh, news agency PTI reported, quoting local media. The deceased was identified as Md Basir Uddin, the Jubo League general secretary of Ghagra Union, the report added. The Jubo League is the youth wing of the ruling Awami League.
According to reports the supporters clashes at 6.30 am local time and shots were fired.
Kamal Hossain casts vote
Kamal Hossain casts his vote at Viqarunnisa Noon School and College centre in Dhaka. Hossain served as the law and foreign minister in Sheikh Mujibur Rahman's Cabinet between 1971 and 1975. After Bangladesh was liberated in 1971, he was the first law minister of the country and headed the Constitution drafting committee, and is regarded as the architect of Bangladesh's Constitution in 1972.
Meet Kamal Hossain, the challenger in Bangladesh polls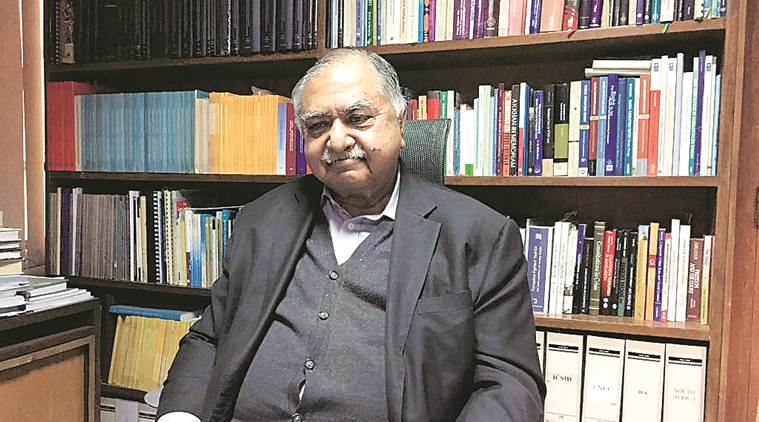 Kamal Hossain, who played a key role in bringing Sheikh Hasina back to Bangladesh from her exile in India, is now leading the opposition alliance seeking to oust her as PM. He currently heads the Jatiyo Oikyo Front (National United Front) — the main opposition in the polls.
Calling the election day as "second liberation day," Hossain said, "I am no challenger. I am just an 80-year-old man… I am just working to restore the rule of law, democracy in the country." "Right now, democracy is compromised, and democracy is critically important. Independence is meaningful when there are free and fair elections," he added.
"I was just practising law when BNP's (Bangladesh Nationalist Party's) secretary general Fakhrul Islam came to meet me a few months ago and asked me to lead the front. I was aware of what was happening throughout the country, so I agreed," he says calmly, talking about his becoming the leader of the opposition alliance. He was referring to the crackdown against civil society activists and journalists, as well as the opposition, in the last few months. Read more
Voting underway in Bangladesh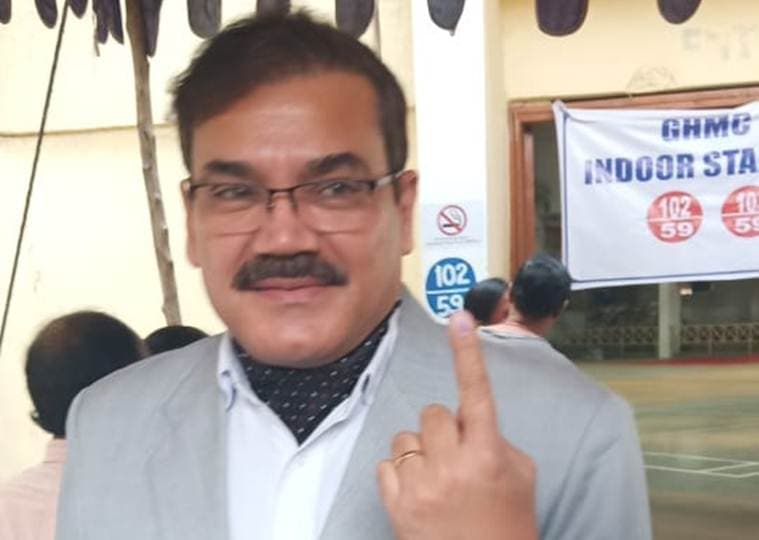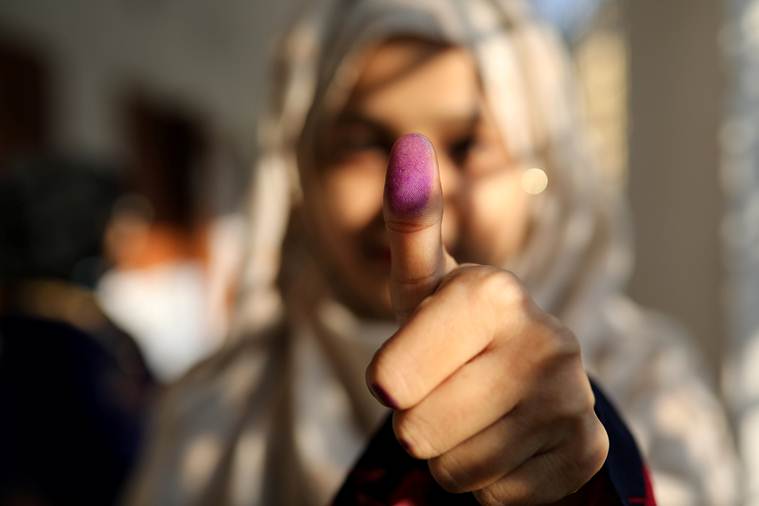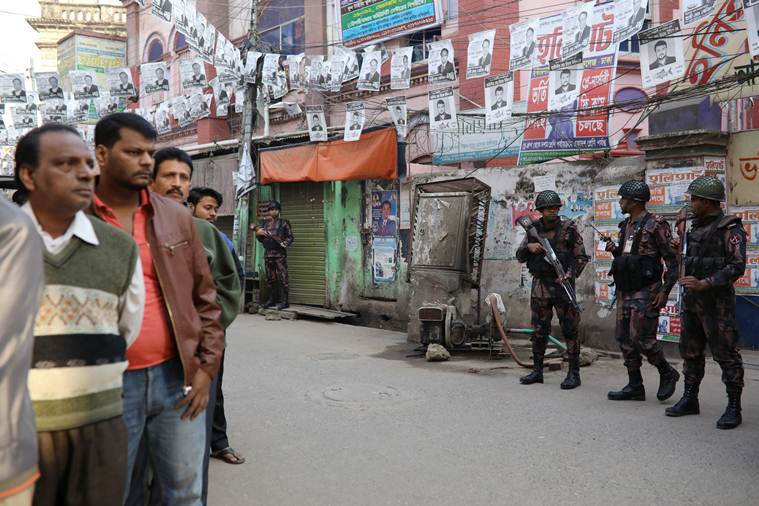 (Source: Reuters)
Sheikh Hasina warns against Opposition's boycott of polls
Sheikh Hasina expressed fears that the opposition could boycott polls in the middle of voting as part of a "political trick" to evade a "humiliating defeat". "I want to caution all about the character of (main opposition) BNP...they may say in the middle (of the elections) that we are boycotting the polls," she said. "In that case (opposition boycott) I will ask our candidates and other contenders to continue polls until the voting is ended," the 71-year-old leader added.
BNP Secretary General casts vote
Bangladesh Nationalist Party Secretary General Mirza Fakhrul Islam Alamgir casts his vote. He said that if people are able to come out and vote, BNP will win
What works in the favor of Sheikh Hasina?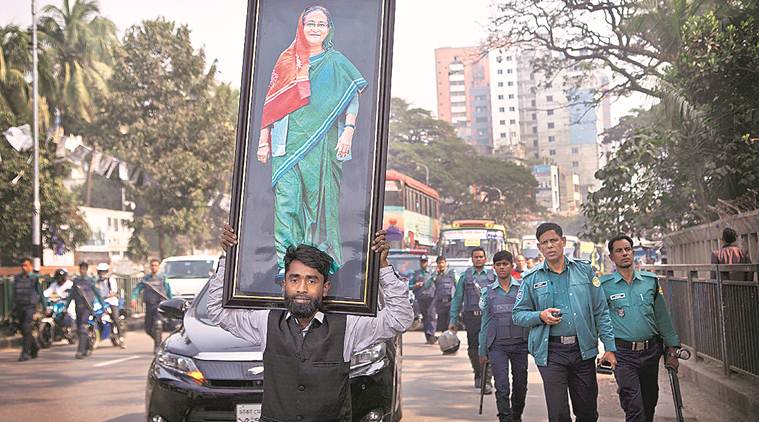 Majority opinion polls suggest that Hasina-led Awami League will head for a comfortable victory. For Hasina, the election will be a litmus test of her policies and programmes, executed during the last one decade of her uninterrupted rule. Under Hasina's leadership, the economy of Bangladesh has grown by more than 6 per cent annually, shifting from being a "least developed" country to a developing nation.
Her policies have made Bangladesh's socio-economic indices the best among South Asian nations and her development strategy has become the model for the least developed countries. Her push for digitisation and bringing madrasa degrees at par with those of modern education has increased employment opportunities. She has also been lauded for sheltering the Rohingya refugees and for her response to a 2016 attack on a cafe in Dhaka.
But her tenure also has included allegations of mass arrests and jailing of activists and critics on false charges _ so commonplace that a term for them in Bengali, ``gayebi maamla,'' has been coined _ as well as forced disappearances and extrajudicial killings.
Bangladesh hopes to avoid a repeat of 2014
Prime Minister Sheikh Hasina is seeking a record fourth term in Bangladesh. Hasina's Awami League and the Opposition is hoping to avoid a repeat of the 2014 elections, which saw an abysmally low voter turnout as well as post-election violence. While Hasina's Awami League came to power in 2009 after a resounding win over Bangladesh Nationalist Party, its subsequent term in 2014 was an easy win as the faction led by Khaleda Zia announced a boycott of the elections after the house arrest of Zia.
BNP's ally and now banned radical outfit Jamat-e-Islami's leaders were also executed for their role in 1971 war crimes, infuriating the right-wing Islamists. This led to post-poll violence in which 22 people were killed.
Security tightened across Bangladesh, internet services suspended
Security has been heightened across the country in wake of the elections. Law enforcement agencies in major cities are checking vehicles as part of their vigil as some 6,00,000 security personnel including several thousand soldiers and paramilitary border guards were deployed across the country.
The Rapid Action Battalion or RAB on Friday night arrested eight people for circulating "provocative videos and rumours" on social media relating to the parliamentary election. Video-making materials, laptops and mobile phones were seized from the detainees, officials said.
High-speed internet services stand suspended in the country till Sunday midnight
Voting underway for 299 parliamentary seats
Voting began at 8 am and will continue till 4 pm at 40,183 voting centres. This time, 299 parliamentary seats are up for election. Polling was deferred in one seat after the death of a candidate. The voters largely comprise of a young population - 12.1 million are first-timers.
Sheikh Hasina casts vote
Prime Minister Sheikh Hasina casts her vote at the Dhaka City College polling centre. "People will cast their vote for Awami League to ensure the win of pro-Liberation forces," she said, , reports Dhaka Tribune.
Voting begins in Bangladesh polls
Early trends and results will start coming in by Sunday night. According to the Bangladesh Election Commission, 1,848 candidates are in the fray for 299 out of the 300 seats in parliament.