In a strong message to Pakistan, for sponsoring terrorism, the United States on Monday designated the leader of Kashmiri militant group Hizbul Mujahideen, Syed Salahuddin, as a "global terrorist", hours before Prime Minister Narendra Modi was scheduled to meet with President Donald Trump. The move comes as a huge blow to Pakistan which has been projecting Salahuddin as a "freedom fighter".
India welcomed the move and said it will vindicate India's stance on cross-border terrorism. Ministry of External Affairs' spokesperson Gopal Baglay, in a statement, said, "This vindicates India's long-standing position that cross-border terrorism has been behind the long-standing disturbance in Kashmir since last year, and the outfits he leads perpetuates cross-border terrorism against India from Pakistan and Pakistan-occupied Kashmir." Describing terrorism as "global menace", Baglay added terrorism knows no boundaries. "It also underlines quite strongly that both US and India face threat of terrorism, and terrorism knows no boundaries and is a global menace," he said.
Here is everything you need to know about Syed Salahuddin:
Who is Syed Salahuddin?
Mohammad Yusuf Shah, 71, alias Syed Salahuddin, is the head of Kashmiri militant faction Hizbul Mujahideen. A native of Budgam district in central Kashmir, Salahuddin is known to operate out of Pakistan-occupied Kashmir, where he moved to in 1989. He is known to have played a key hand in fueling militancy in Kashmir over the last 27 years. Salahuddin also heads the United Jihad Council which is the umbrella body to oversee active terror outfits in Jammu and Kashmir. He is also known for supplying arms and training youths and sending them back to the Kashmir Valley. He was listed in NIA's most-wanted list.
According to an article by Canada Free Press, Salahuddin finished his Masters in Political Science at Srinagar University in 1971, where he wrote several poems. He later jointed Jamat-e-Islami after concluding his education and contested state elections in 1987. After losing the elections, Salahuddin moved to militancy and was one of the key founders of Hizbul Mujahideen in 1989. In July 2006, according to Canada free Press, Indian Foreign Ministry Navtej Sarna made a formal request to Pakistan to arrest Salahuddin and hand it over to Indian authorities.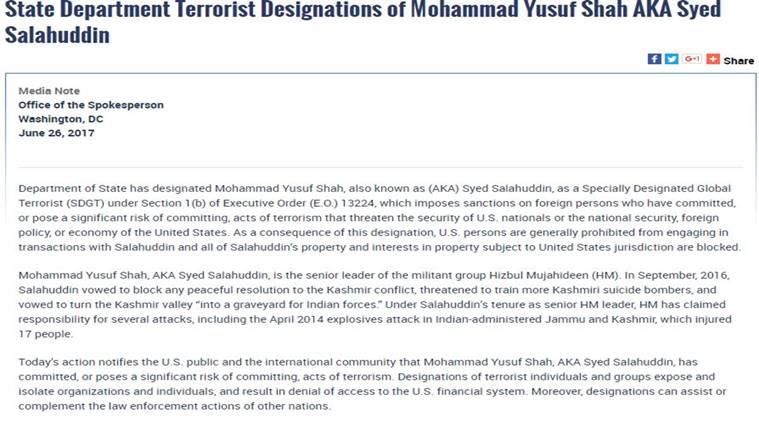 After the killing of Hizbul Mujahideen militant commander Burhan Wani last year, Salahuddin hailed Wani as a martyr. He also asked Pakistan to snap diplomatic ties with India during the clashes in Kashmir valley after Wani's death. "If a peaceful solution is not reached then Pakistan should consider cutting off diplomatic ties with India over the killing of Wani," the Hizbul Mujahideen leader said. At a public rally in Lahore in 2016, Salahuddin had reportedly warned Home Minister Rajnath Singh to not travel to Islamabad for the SAARC meeting of home ministers. Jamaat-ud-Dawa chief Hafiz Saeed followed up on Salahuddin's threat and announced a nation-wide protest against his visit.
Why US designated him as a global terrorist?
The statement by Department of State said Salahuddin is against a peaceful resolution of the on-going Kashmir conflict. "In September, 2016, Salahuddin vowed to block any peaceful resolution to the Kashmir conflict, threatened to train more Kashmiri suicide bombers, and vowed to turn the Kashmir valley "into a graveyard for Indian forces"," it said. It also added that the Hizbul Mujahideen is responsible for several attacks in Jammu and Kashmir under his leadership including the April 2014 explosives attack in the state, which injured 17 people. The statement noted that Salahuddin poses a "significant risk of committing, acts of terrorism".
What does it mean for Salahuddin?
According to US State Department, the move will prohibits US citizens from engaging in transactions with Salahuddin. They also said the designation may put a block on Salahuddin's property and interests in property which lies under US jurisdiction. They further added the designation will help in exposing and isolating organisations and individuals associated with global terrorism. The designation will also lead to restriction from accessing US financial system, according to the statement. "Designations can assist or complement the law enforcement actions of other nations," the State Department added.