Weather forecast HIGHLIGHTS: Various parts of Delhi-NCR witnessed rainfall Wednesday morning, bringing relief to the otherwise scorching heat in the national capital.
Heavy rains lashed various parts of North India including states of Punjab, Uttarakhand, Himachal Pradesh on Tuesday. IMD has issued a warning for rainfall and thunderstorm over northwest and adjoining central India till May 15. Apart from the warning about heavy rainfall, IMD has also alerted the formation of a cyclonic circulation over West Rajasthan. West Bengal and Sikkim are likely to receive heavy rains today and tomorrow.
The air quality in the national capital improved significantly after this morning's downpour, authorities told news agency PTI. The air quality index (AQI) of the city was recorded at 138 on Tuesday according to the System of Air Quality and Weather Forecasting and Research Institute (SAFAR), while the Central Pollution Control Board recorded Delhi's AQI at 147 and could well drop further today.
Live Blog
Weather forecast today: Air quality in the national capital region improves as downpour continues in Delhi-Noida, thunderstorm expected in various parts of North India.
Zero Shadow Day in Mumbai at noon today
Zero Shadow Day in Mumbai at noon today, the sun will be exactly overhead. The sun usually transits a bit lower in altitude, a bit to the north or a bit to the south, and is not exactly overhead on all other days of the year.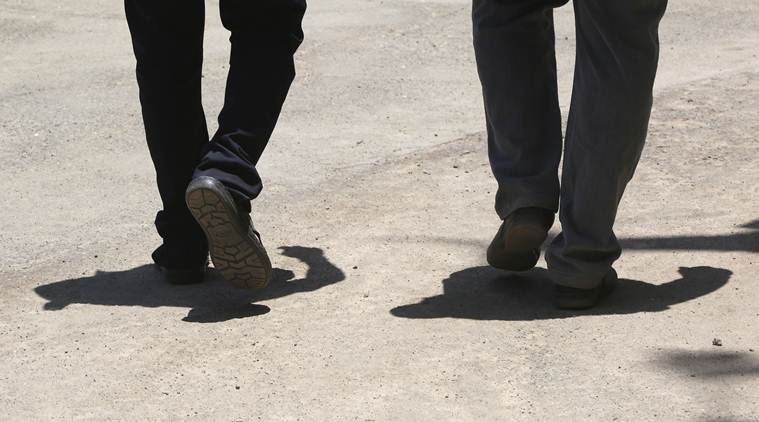 Light rain predicted for next two days in Delhi-NCR
The Safdarjung observatory, recording for which is considered official for the city, recorded traces of rainfall, while Palam and Lodhi Road observatories recorded 1.8 and 1.5 mm rainfall respectively. The weatherman predicted a windy day with the possibility of thundershowers, light rain accompanied by lightning. The maximum temperature is likely to settle around 34 degrees Celsius. According to a MeT department official, light rain is predicted for the next two days. (PTI)


The Southwest monsoon is likely to miss its date with Kerala on June 1
IMD in its onset -forecast informed that the monsoon arrival over the Andaman and Nicobar islands will happen towards the end of this week. Normally, it arrives over the islands anytime between May 10 – May 15. "Conditions are becoming favourable for monsoon to advance onto Andaman and Nicobar islands around May18 or May 19," the forecast suggested. Read the full story here
MeT predicts light rain for next two days
According to a MeT department official, light rain is predicted for the next two days. On Tuesday, the minimum temperature was recorded at 20.8 degrees Celsius while the maximum temperature was recorded at 35.6 degrees Celsius.
Monsoon to hit Kerala on June 6, to be delayed by 5 days: IMD
The monsoon will arrive in Kerala on June 6, five days after its normal onset date, the IMD announced in its monsoon forecast on Wednesday. The normal onset date for monsoon over Kerala is June 1, with a standard deviation of about a week. Read full story here
Rain brings much needed respite from heat
Rain brought a much-needed respite from the scorching heat on Wednesday and this spell of pleasant weather is likely to continue for another couple of days. Several parts of the capital received morning showers which made the weather pleasant. The minimum temperature was recorded at 24.3 degrees Celsius, a notch below the season's average and humidity was recorded at 82 per cent at 8.30 am, news agency PTI reported.
SEE PHOTOS | Visuals of rainfall at ITO
Dust-storm accompanied by rain in Haryana and Rajasthan
Duststorm accompanied by rain is expected in many districts of Haryana and Rajasthan such as Jind, Rohtak, Fatehabad, Hisar, Jaisalmer, Sirsa, Bhiwani and Jhajjar today: SkymetWeather
In Pics | Heavy downpour in several parts of Delhi-NCR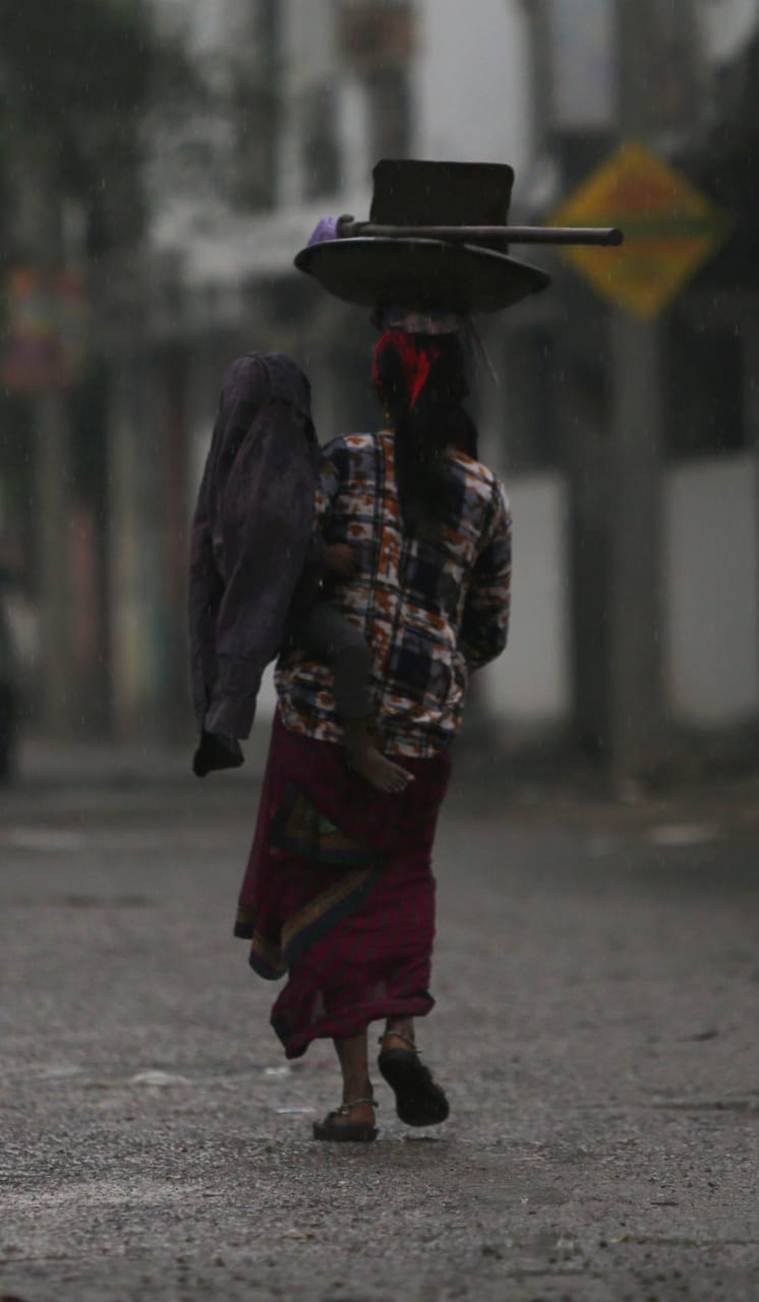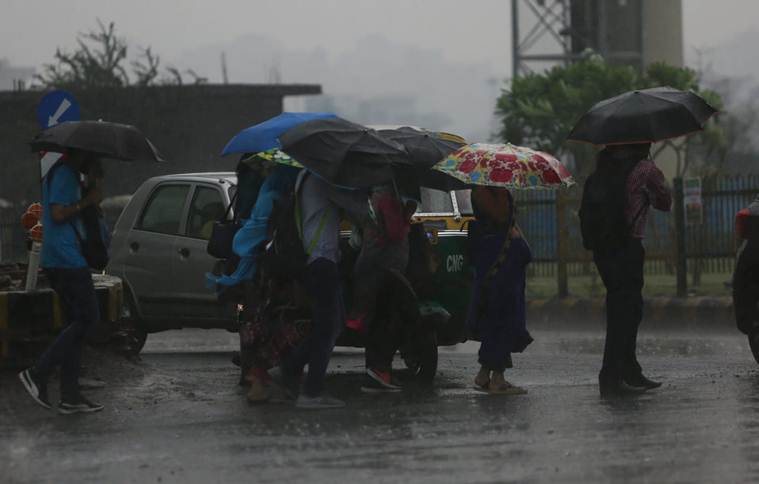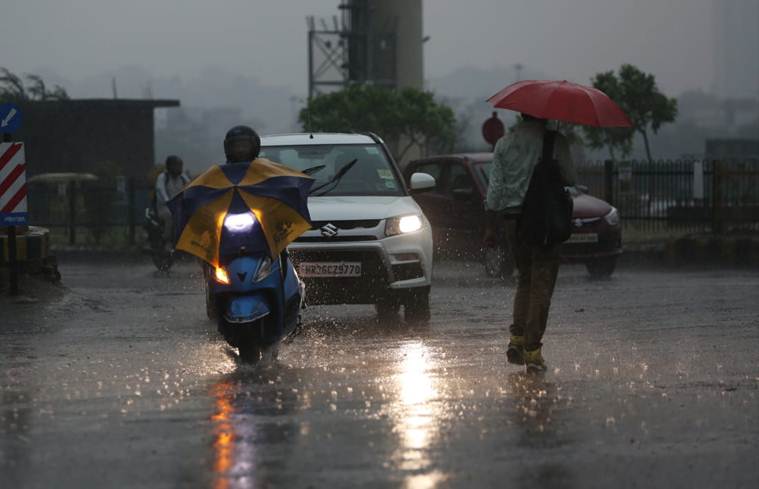 Stubble burning rises: Late harvest, poll duty
NASA's fire mapper, which uses satellites to map the number of active fires in a region, shows that the instances of fires in Punjab and Haryana have sharply risen over the last week. The spike in crop burning comes despite several orders from the state government, the Ministry of Environment and Forests and the National Green Tribunal, which have directed that farmers burning crop residue be fined based on the area under cultivation. Read the full story
IN PHOTOS | Visuals of rainfall at Mandi House and Shastri Bhawan
Welcome to our LIVE blog
Good Morning! As rains lash the city, the pollution levels have decreased but IMD predicts thunderstorm in various parts of North India. The downpour is likely to bring respite to the residents from the heat. Stay tuned to this space for the latest weather updates.