Weather Today HIGHLIGHTS: With the onset of heavy rainfall, Ganesh Chaturthi in Pune is all set to begin on a wet note. The India Meteorological Department (IMD) predicted heavy rains in the region from Sunday. In its final leg, the southwest monsoon is all set to get active once again, bringing moderate to heavy showers over Konkan, Madhya Maharashtra and Vidarbha.
Two cyclonic circulations that lay over Chhattisgarh and Madhya Pradesh are likely to cause widespread rainfall over Maharashtra. The Regional Meteorological Centre (RMC), Mumbai, has placed Mumbai, Raigad, Ratnagiri and Sindhudurg on alert.
Meanwhile, Delhi witnessed a pleasant morning with an overcast sky. The maximum temperature in the national capital on Saturday was 37 degrees Celsius, while the minimum temperature was recorded at 29.1 degrees Celsius. The Met department has predicted cloudy skies for Sunday with light to moderate rain.
Live Blog
With heavy rains predicted in Maharashtra, the monsoon season will come to its final leg. Follow for LIVE updates
Odisha gets 24.5% surplus rainfall in August
Odisha received an average rainfall of 443.3 mm last month against the long term average (LTA) of 356 mm, registering a surplus of 24.5 per cent. Of the 30 districts in the state, Malkanagiri recorded the highest rainfall of 763.3 mm, showing a surplus of 61.5 per cent, while Puri district received the lowest rainfall of 287.6 mm, a deficit of 3.4 per cent, a senior official said. The cumulative rainfall of the state from June 1 to August 31 stood at 901 mm against the LTA of 912.4 mm, registering a deficit of 1.2 per cent, he said. Five districts - Kalahandi, Koraput, Malkanagiri, Balangir and Jharsuguda - have received surplus rainfall of more than 19 per cent between June and August. Altogether 21 districts have received normal rainfall during this period, the office of Special Relief Commissioner said. (PTI)
Rains fail to dampen Ganesh festival spirit in Goa
Incessant rains in parts of Goa, including Panaji, failed to dampen the spirit of people who were seen busy with last-minute shopping on Sunday for the Ganesh festival. The 10-day long festival will commence on Monday with Ganesh Chaturthi. However, the weather is likely to play a spoilsport as the India Meteorological Department (IMD) has predicted light to moderate rainfall at most places in North Goa and South Goa districts in the next four days. The IMD has also forecast heavy rains at isolated places over the next four days and advised fishermen not to venture into the sea in view of the rough weather conditions. (PTI)
A view of Gujarat's Aji-I dam
The water levels of the Aji-I dam on the outskirts of Gujarat's Rajkot city has risen to around 27 feet following monsoon inflow and pumping of Narmada waters through SAUNI pipeline by the state irrigation department.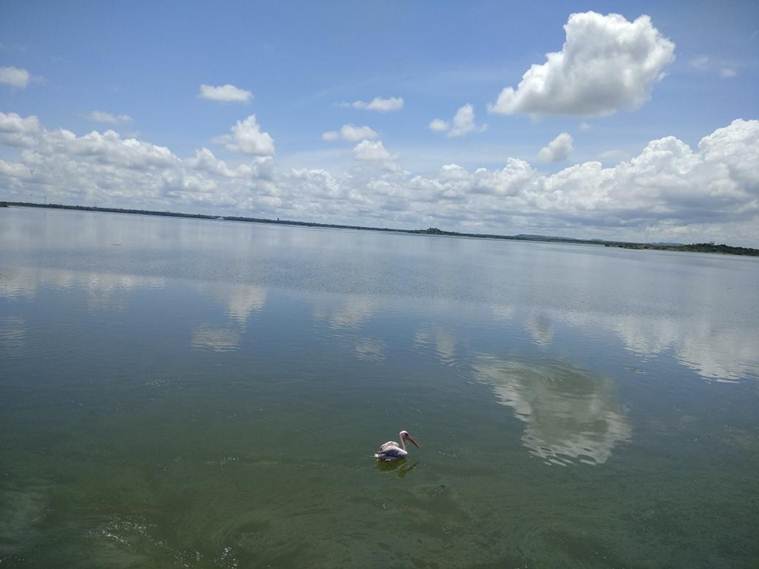 Maharashtra, Vidarbha, Marathwada to experience heavy rainfall for next 2-3 days
The regions of Maharashtra, Vidarbha, and Marathwada are set to experience heavy to very heavy rainfall in the coming two to three days, IMD said. Two cyclonic circulations that lay over Chhattisgarh and Madhya Pradesh are likely to cause widespread rainfall over Maharashtra. The Regional Meteorological Centre (RMC), Mumbai, has placed Mumbai, Raigad, Ratnagiri and Sindhudurg on alert. "There are even chances of very heavy spells over Bhandara, Gondiya and Chandrapur districts, particularly on September 2 and September 3," said Anupam Kashyapi, head of the weather department, IMD, Pune.
IMD advises fishermen to not venture into sea
IMD advises fishermen to not venture into the sea as strong winds reaching 45-55 km per hour are likely to prevail over southeast Bay of Bengal and north Andaman Sea.
Light rains end sultry spell in Delhi; more likely
Delhiites woke up to the rumbling of thunder as rains lashed the city on Sunday morning, in a much-needed break from a long spell of sultry weather. The national capital remains swallowed by dark grey clouds and more showers are likely during the day. The local MeT office said the Safdarjung Observatory, which provides official figures for the city, recorded 0.8 cm rains till 8.30 am. "Several areas have reported light rainfall. More showers are likely during the day," an India Meteorological Department official said. The rains are a result of a fresh Western Disturbance in north Jammu and Kashmir and nearby areas and a cyclonic circulation over south Punjab, Skymet Weather, a private forecaster, said. The axis of monsoon trough is moving from south Punjab to central parts of the country, it said. At 8.30 am, the city recorded a low of 26.4 degrees Celsius and the humidity was 84 per cent. (PTI)
Heavy rains likely to lash Odisha in next 5 days, districts put on alert
With heavy rains likely to pound many parts of Odisha in the next five days due to a fresh low-pressure area taking shape over the Bay of Bengal, the state government on Saturday asked the districts to be prepared to meet the possible flood situation. A low-pressure area is likely to develop over north and west-central Bay of Bengal during the next 48 hours and is likely to become more well-marked thereafter, Director, Bhubaneswar Meteorological Centre, H R Biswas said. Under its influence, heavy to very heavy rainfall will lash parts of Malkangiri, Koraput, Rayagada, Gajapati, Nabarangpur, Kalahandi, Kandhamal, Ganjam, Mayurbhanj, Puri and Nayagarh till Monday, he added. (PTI)
Somewhere over the rainbow
With more rain than Cherrapunjee this monsoon, Mahabaleshwar is being called 'the rainiest place in the country'. What does it mean for the town, its infrastructure, its tourism, and its Met officials? Read here
Heavy rainfall recorded in and around Mumbai in last 24 hours: IMD
IMD Mumbai says, "Moderate to heavy rainfall recorded in last 24 hours in Mumbai and around Mumbai. Panvel recorded 13 cm rainfall. Latest satellite picture indicates active west coast move towards south Konkan and further. Conditions are likely to prevail for the next 2-3 days."