Weather forecast Today HIGHLIGHTS: With no let-up in rain, the India Meteorological Department (IMD) Wednesday sounded a red alert in the Kerala districts of Kozhikode, Kannur and Malappuram for the next 24 hours. At least 102 people have died in rain-related incidents across the state. Rescue and relief operations continued at the landslide sites in Malappuram and Wayanad districts; at least 40 people remain buried in the debris, official sources said. Educational institutes in the state will remain closed today.
According to the state disaster management authority, 59 people are missing across Kerala. In Karnataka, meanwhile, 58 people have died and as many as 1,224 relief camps are engaged in the rescue and rehabilitation process.
In Maharashtra, the government has pegged the flood-related damages at over Rs 6,800 crore as the preliminary assessment. The IMD has predicted strong winds accompanied by thunder and lightning along the Gujarat-Maharashtra-Goa-Karnataka-Kerala coast.
Torrential downpour is likely over east Rajasthan, Kerala and west Madhya Pradesh, while parts of east Madhya Pradesh, coastal Karnataka, Vidarbha and Madhya Maharashtra are also expected to receive fresh showers.
Live Blog
Weather today LIVE updates: IMD has sounded a red alert in two districts of Kerala. Heavy rain is also expected in Maharashtra, Madhya Pradesh, Karnataka, Rajasthan. Follow the latest news on monsoon in other parts of India.
Lot of rain in very short time: Climate change patterns explain Kerala flood catastrophe
In the first two months of the southwest monsoon — June and July — Kerala recorded rainfall deficiency of 40%-50%, and the administration had begun to prepare for a drought situation. Until July 2, the state had received just 365.99 mm rain against the normal of 697.8 mm, a deficiency of 48%. Read more here
Heavy to very rainfall in three dictricts of Karnataka: IMD
IMD predicts rainfall at most places with heavy to very heavy rainfall with extremely heavy falls at isolated areas of Kodagu, Chikkamagaluru and Shivamogga districts of Karnataka. (ANI)
KSDMA reports 102 deaths, 59 people missing, and 35 injured due to flood-related incidents
IMD issues red alert for Kerala's Malappuram, Kozhikode, and Kannur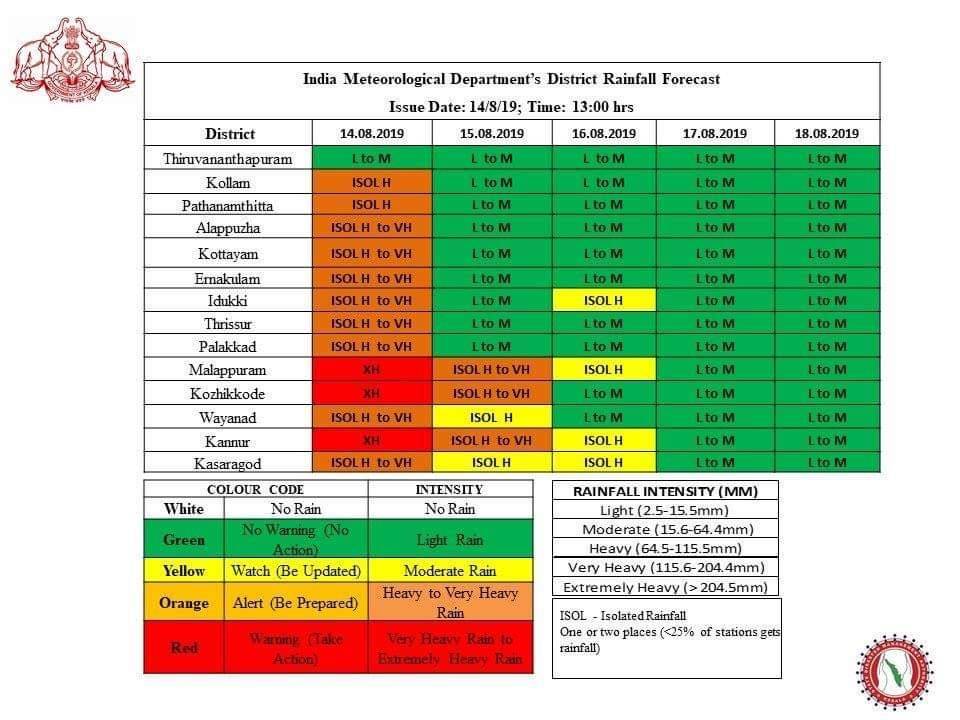 Malayalam film industry comes together to help Kerala flood victims
The Malayalam film industry is doing its bit to encourage the public to participate more generously in the relief efforts. Mollywood celebrities have started a celebrity challenge to raise funds for CMDRF. Many A-listers of Mollywood have already accepted the challenge. Actors like Tovino Thomas, Indrajith Sukumar, Poornima and a few others are also providing on-ground assistance in bringing supplies to the flood victims. Read more here
Reservoir levels — West well stocked with water, South is short
Among the four states that have experienced extremely heavy rainfall this month, the status of water stored in their reservoirs is vastly different. Reservoirs exceed normal levels for this stage of the year after heavy rain in Maharashtra and Gujarat, way below normal in rain-hit Kerala and Karnataka. Read our explainer.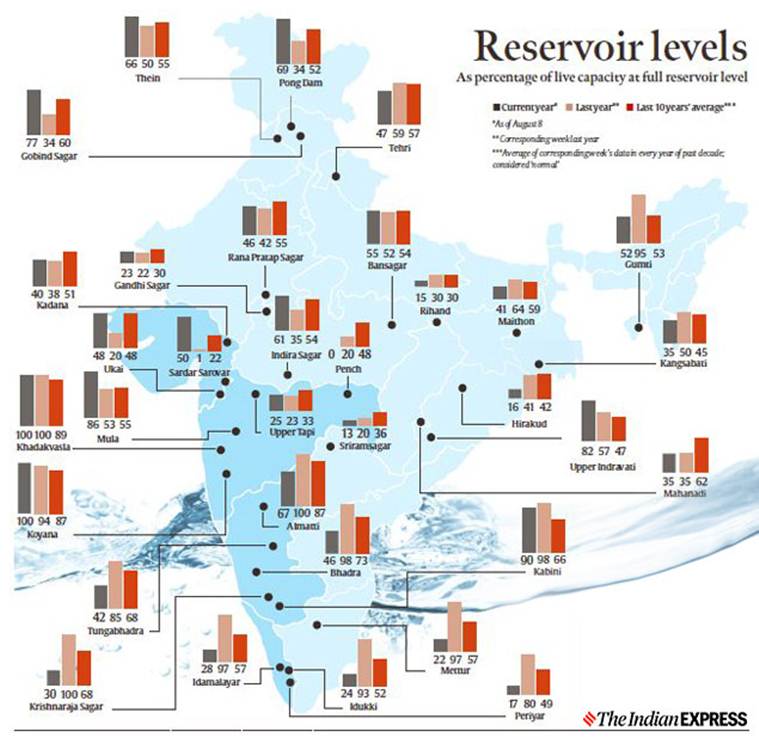 Mismanagement of dams worsened flood situation in Maharashtra, says ecologist
Ecologist Madhav Gadgil said that Kolhapur and Sangli districts in western Maharashtra bore the brunt of devastating floods last week because there was a mismanagement of major reservoirs. Speaking to reporters, Gadgil, who was head of the Western Ghats Ecology Expert Panel, said the Maharashtra Water Resources Department failed to manage water storage in Koyna, Warana and Radhanagari dams. "Hence Kolhapur and Sangli districts suffered," he said. He echoed the view of non-profit group South Asia Network on Dams, Rivers and People (SANDRP) that officials of the Maharashtra and Karnataka governments mismanaged the reservoirs. (PTI)
Kerala requires no assistance in the wake of the monsoon fury: Pinarayi Vijayan
Kerala Chief Minister Pinarayi Vijayan tweet in Tamil for assistance to his rain-ravaged state seemed to be an attempt at reaching out to the people of Tamil Nadu, as hinted by an official in his office. However, in the series of tweets, Vijayan said some people were "spreading false propaganda" that Kerala required no assistance in the wake of the monsoon fury which led to landslides and floods, leaving 95 dead and nearly 2.25 lakh people displaced.
Red alert has been issued in districts Kozhikode, Kannur and Malapuram of which Malapuram shares a border with Tamil Nadu.
Odisha forecast: Heavy rainfall likely today
The IMD in its latest weather forecast Wednesday predicted heavy rainfall at isolated places across Odisha. On Friday, thunderstorm accompanied with lightning is expected at isolated places over Bihar, Jharkhand, Gangetic West Bengal and Odisha.
Odisha, which is being battered by heavy showers since last week, on Tuesday saw a flood-like situation in parts of the state and the forecast is of more rains in the next two days. Due to incessant rains in Odisha, train services were affected in western parts of the state as water was flowing over the tracks in some places in Boudh, Bolangir, Kalahandi, Kandhamal and Sonepur districts. (With PTI inputs)
Gujarat: 16 blackbucks fleeing floods hunted by dogs in Bhavnagar
As many as 16 blackbucks fleeing flooding in their habitat following very heavy rain were hunted by feral dogs near Blackbuck National Park, Velavadar, in Bhavnagar district over the past two days, forest officers said on Tuesday. One more of the herbivores was killed in a road accident while another drowned in floodwaters. The Blackbuck National Park (BNP) is located in Bhal region of Bhavnagar district. Major rivers such as Kalubhar and Ghelo of Saurashtra runs through Bhal, which gets submerged during the monsoon. READ MORE
Four more bodies recovered, flood toll climbs to 58 in Karnataka
With the recovery of four bodies in Hassan district, the toll in Karnataka floods has gone up to 58, authorities said on Wednesday. The situation in north, coastal, Malnad and south interior Karnataka has improved with inflows into the reservoirs decreasing. Rescue operations are on and damaged roads are being repared.
Editorial: Face the deluge
Editorial: Face the deluge
The southwest monsoon has left a trail of destruction this year. The focus this year, as in the past, has been on providing relief to the flood-affected. But questions must also be asked about the ways states prepare for, and deal with, floods. The floods also drive home the urgency of focusing on nature's mechanisms of resilience against extreme weather events. Policymakers and planners have shown little inclination to place wetlands, natural sponges that soak up the rainwaters, at the centre of flood control projects. Read The Indian Express editorial.
Punjab, Haryana: Heavy rainfall predicted today
The India Meteorological Department has predicted heavy rainfall at isolated places over Punjab, Haryana and Chandigarh. However, the states have hardly seen any rainfall today. Punjab witnessed a dry June month this year, its first since 2014. But July rains made up for this, taking it from a rain deficit to rain surplus state. Haryana was faced with a similar situation after it witnessed its driest June since 2016 with 60 per cent deficient rain. Rains in July, however, have made up for this.
Kerala floods: Pinarayi Vijayan announces compensation for kin of dead
Kerala chief minister Pinarayi Vijayan announced Rs 4 lakh for people who lost their houses in the floods, Rs 6 lakh for those who lost their land, and Rs 10 lakh for those who lost both in the floods that have killed as many as 95 people.
Internet, mobile services suspended in Kolhapur, Sangli to hide lackadaisical rescue process: Former MP Raja Shetti
Former MP Raja Shetti has alleged that mobile and internet services to the floor affected Sangli and Kolhapur have been intentionally shut down. In a press release issued on Wednesday, the farmers leader said this was done to hide the lackadaisical pace of rescue and relief operations in the region. The districts of Sangli and Kolhapur have been ravaged in the wake of devastating floods. As people pick up their lives as the waters recede, complaints about the slow pace of relief and rehabilitation have risen. The Kolhapur collector had in fact issued prohibitory orders which later were rescinded following outrage
Shetti who had to face defeat at the hands of Shiv Sena young gun Dhairyasheel Mane said the administration was not prepared to speed up the process. "Parts of Shirol taluka is still underwater and no relief has reached them. The number of boats needed is far more than those allowed,' he said.
Kerala fishermen advised to stay indoors
A red alert has been sounded for three north Kerala districts of Malappuram, Kannur and Kozhikode, which bore the brunt of the flood fury and landslides last week. "Forecasters predict that Moderate to Heavy rainfall with wind speed reaching 35 to 45 kmph is very likely to occur at one or two places in Malappuram, Kozhikode and Kannur districts," Kerala CMO tweeted. Pathanamthitta, a central Kerala district which has been receiving very heavy rains since last night is put on high vigil, authorities said Wednesday.
As squally weather is likely to prevail over the state, fishermen have been advised not to put out to sea, they said.
Heavy rains, landslides in Uttarakhand
Heavy rains lashed Uttarakhand on Tuesday, leading to landslides. The worst-hit is the Chamoli district, where six people have been killed in three landslides. The district administration has asked all schools to remain closed on Wednesday. IMD has forecast heavy rainfall at isolated places over the state.
Heavy downpour expected in Rajasthan 
In Rajasthan, thunderstorm along with heavy rainfall is expected at isolated places of the state. The minimum temperature recorded in Jaipur today is 24 degree Celsius.
Maharashtra to conduct disease-wise survey of flood-hit areas
The Maharashtra government's public health department on Tuesday said it would conduct disease-wise survey of the flood-hit areas for effective response to the situation arising out of any outbreak. The department, in a statement said, "The aid surveys are also being conducted on the basis of diseases like fever, diarrhoea and jaundice." There are 570 medical aid teams in the flood-hit areas, of which 196 are Kolhapur and 144 in Sangli, providing various health services, said Public Health Minister Eknath Shinde. Read more
Situation improves in Karnataka after days of flooding, rains
After days of flood and rain havoc in several districts of Karnataka, the situation has improved with water receding in the affected areas, even as the toll rose to 54 and nearly four lakh people lodged in 1,151 relief camps. Relief and rehabilitation operations have gathered pace in the 21 districts in north, coastal and Malnad regions, where the rains had created mayhem in the past one week. "Inflows into the reservoirs are steadily decreasing, flood situation is improving," the state government said on Tuesday in an official release. (PTI)
Rahul Gandhi seeks PM's assistance for his constituency Wayanad
Wayanad MP Rahul Gandhi on Tuesday wrote to Prime Minister Narendra Modi seeking to protect the people of his constituency and their livelihood from the yearly floods that occur during monsoons in the state. He suggested that early warning systems can ensure that many lives are saved. "Developing a long term strategy and an action plan supported through a special package of assistance to protect both the life and livelihood of people and environment in Wayanad to be taken up on priority," Gandhi wrote to the PM.
Sangli and Miraj: Homeless and depressed, flood-hit undergo counselling
In schools and public halls in Sangli town and Miraj, where temporary shelters have replaced benches and chairs for the flood-affected families, armed with a projector, screen and two technicians, 20 psychiatrists are a busy lot these days. Their task at hand: Conduct trauma counselling sessions with the help of powerpoint presentations.
On Monday, when the floodwater in Sangli district started to recede, food and medical supplies were available in abundance. The only stress for thousands of families — the loss of their homes. Insomnia and depression are the two common symptoms psychiatrists started noticing on Sunday when they began sessions. READ MORE
Cyclonic circulation over West Bengal to intensify during next 24 hours
According to MET officials, the low pressure area over southern parts of Jharkhand and adjoining areas of Gangetic West Bengal and north Odisha now lies over northwest Jharkhand and neighbourhood. The associated cyclonic circulation extends upto 7.6 km above mean sea level tilting southwestward with height. It is likely to become more marked during next 24 hours.
Delhi weather: Cloudy morning in national capital, light rain likely today
Delhi woke up to a cloudy morning Wednesday with temperatures recorded at around 30* Celsius. The maximum temperature is likely to touch 34* Celsius, while the minimum will settle at 27* Celsius. The city is likely to experience moderate rain today.
Madhya Pradesh: 8% more rainfall than average this season
Madhya Pradesh has received eight per cent more rainfall than the average so far this season, the Indian Meteorology Department (IMD) said on Tuesday. The state received around 623 mm rainfall (average of rainfall across all the districts) from June 1 to August 13, against the normal of 577 mm during this period, it said. For Wednesday, the IMD has forecast very heavy to extremely heavy rainfall at isolated places over the state.
Opinion | Kerala rains: Why people are showing signs of 'donor fatigue' and why it's time for government to introspect
Compared to last year, the public's response to Kerala Floods this year was rather cold. Following the last floods, when people contributed all they have, has Kerala government conserved its own resources, which are obviously paid for by the people as taxes, and spent them wisely? Has the govt been able to instil confidence in the people that they got the best bang for their buck? Read more
Odisha: Rains forecast for next two days
Odisha, which is being battered by heavy showers since last week, on Tuesday saw a flood-like situation in parts of the state. The IMD has forecast more rains in the next two days. Train services were affected in western parts of the state as water was flowing over the tracks in some places in Boudh, Bolangir, Kalahandi, Kandhamal and Sonepur districts.
Karnataka floods: At relief camp in Belagavi college, race against time to vacate campus
Their homes reduced to a rubble by the swollen Malaprabha river on the night of August 5, most of the 2,160 displaced people living at the relief camp in Government Junior College, in Belagavi district's Gokak town, are racing against time. For them, there is little to cheer even as floodwater is receding over the lost two days across Belagavi. With Independence Day around the corner, the college officials have received instructions to ask all people at the relief camp to leave by 4 pm Wednesday (August 14).
The BJP government of Chief Minister B S Yediyurappa has announced relief measures such as Rs 5,000 monthly compensation for people displaced by floods to live in rented homes for a while, and Rs 10,000 for repair of damaged homes. But there is confusion over how to access the money, and when it will be disbursed.
In Maharashtra, flood has damaged 1.39 lakh houses
The Maharashtra government Tuesday pegged the damages caused by floods in the state at Rs 6813.93 crore as the preliminary assessment, even as the toll from various flood-related incidents rose to 43. As per the initial assessment, the flood has damaged 1.39 lakh houses. The government will pay as compensation Rs 16,602 and Rs 5,200 for pucca structures fully and partially destroyed, respectively. Those who have lost their huts, will receive Rs 4,100. Meanwhile, the Congress Tuesday upped the ante on the demand for a complete loan waiver for farmers in the flood-hit belts. Read More
Mumbai-Pune rains: List of trains cancelled
After waterlogging on railway lines along Mumbai and Pune divisions, the following trains are cancelled
Central Railway: Due to heavy rains & water logging/landslide on Mumbai and Pune divisions of Central Railway, Miraj-Londa section on South Western Railway and Southern Railway, the following trains are cancelled/short originated/short terminated/diverted today: pic.twitter.com/boMgRq8X7w

— ANI (@ANI) August 14, 2019
How a hill in Western Ghats buried part of a village in Kerala
The landslide at Kavalappara occurred a couple of hours after another in Puthumala in neighbouring Wayanad district. The two landslide sites are on either side of a section of the ecologically sensitive Western Ghats, close to Tamil Nadu's Nilgiri district. Almost 60 people are feared dead, buried alive under layers of mud and rocks. It is the worst tragedy in Kerala's devastating monsoon so far this year.
How a hill in Western Ghats buried part of a village in Kerala: Read more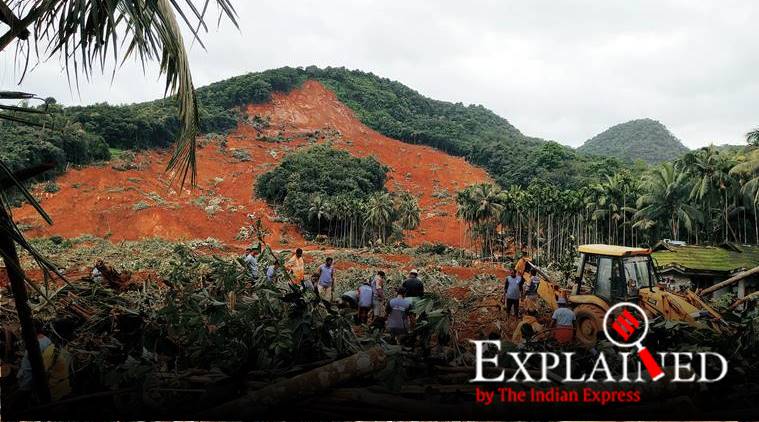 UN General Assembly Prez condoles loss of lives due to floods in India
President of the 73rd session of UN General Assembly Maria Fernanda Espinosa has expressed solidarity with India over floods wreaking havoc in southern and western parts of the country. Espinosa's spokesperson Monica Grayley said she has "sent her condolences to the people and the Government of India after the monsoon floods in the southern and western parts of the country, which led to over 140 deaths, and hundreds of thousands of people being evacuated." (PTI)
Welcome to The Indian Express' live blog on Kerala. IMD has sounded a red alert in two districts of Kerala. Heavy rain is also expected in Maharashtra, Madhya Pradesh, Karnataka, Rajasthan. Follow the latest news on monsoon in other parts of India.