Weather forecast Today India HIGHLIGHTS: The National Disaster Response Force (NDRF) pre-positioned 84 teams across 71 locations in 23 states as per the states' flood vulnerability profile late on Friday night, in order to deal with any flood-like situation. The India Meteorological Department (IMD) said that southwest monsoon has advanced into remaining parts of west Rajasthan during the past 24 hours and hence covered the entire country today, with a delay of four days from its normal date. Issuing a red alert in three districts in Kerala, IMD said the state is likely to witness heavy rainfall at most places till July 21. Rescue teams helped people move out of waterlogged areas in Kannur. Meanwhile, Assam which has been flooded is likely to receive reduced rainfall during the next three days.
After two days of moderate to heavy rainfall in Delhi-NCR, residents woke up to a sunny morning on Friday. Light rains are expected in certain parts of the capital region, but it is expected to turn weak, resulting in a dry spell between July 20 to 23. The flood situation in Bihar and Meghalaya was grim with death-toll crossing 100, PTI reported. In a press release issued on Thursday evening by IMD, the weather department said there would be enhanced rainfall over Peninsular India over the next four to five days. An off-shore trough is predicted from South Maharastra to Karnataka coast whereas a cyclonic circulation lies over parts of Bay of Bengal. Heavy rains will continue to lash Central India, especially Maharashtra, Odisha and Karnataka.
Live Blog
Three Kerala districts on red alert as flood toll in Bihar, Assam and Meghalaya crosses 100. Get latest weather updates here. READ in Malayalam
84 NDRF teams pre-positioned in 23 states to deal with floods
84 National Disaster Response Force (NDRF) teams have been pre-positioned in 23 states at 71 locations as per the states' flood vulnerability profile. In addition to this, 40 teams have been permanently deployed at 27 Regional Response Centres (RRCs) to respond to any eventuality.
Lakshadweep likely to receive rain during the next 3-4 days
The IMD has predicted fairly widespread to widespread rain over south interior Karnataka, Lakshadweep during the next 3-4 days.
Southwest monsoon covers entire country
The IMD said that southwest monsoon has advanced into remaining parts of west Rajasthan and hence covered the entire country today, with a delay of four days from its normal date of July 15.
Rescue teams help people out of waterlogged areas in Kannur
Below are the visuals from Kannur in Kerela, where rescue teams are helping people out of waterlogged areas.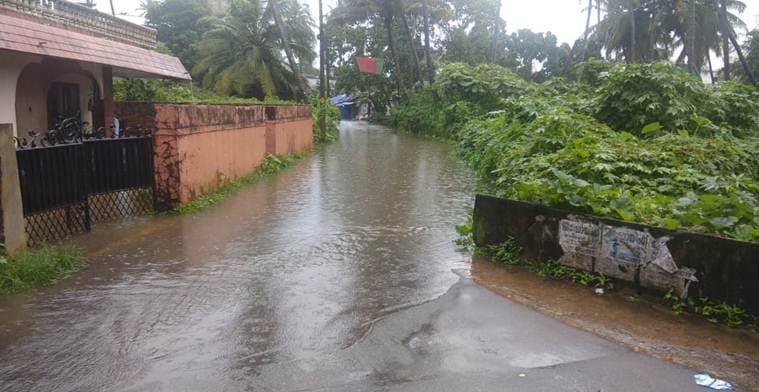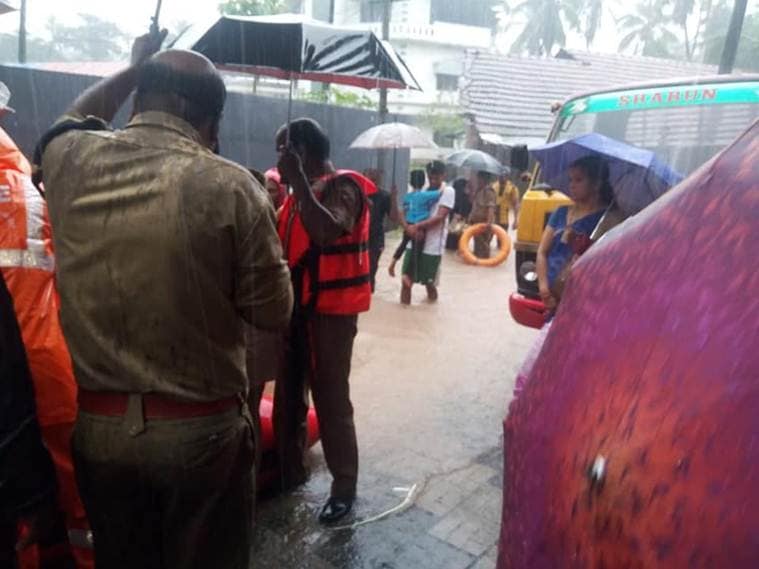 Telangana likely to receive rain during the next two days
Light to moderate rain has been predicted for many places in Telangana during the next 24-48 hours, Skymet Weather reported.
Karnataka likely to receive rain today
Intense rain and would continue in some places of Dakshin Kannada, Shimoga, Udupi and Uttar Kannada districts in coastal Karnataka over the next 3-4 hours.
Few spells of intense #rain and showers would continue at some places of Dakshina Kannada, #Shimoga, #Udupi and Uttara Kannada districts of coastal Karnataka during next 3-4 hours

— SkymetWeather (@SkymetWeather) July 19, 2019
Arunachal Pradesh hit by earthquakes
Arunachal Pradesh was hit by several earthquakes Friday afternoon. While two earthquakes of magnitudes 5.6 and 3.8 on the Richter scale rocked East Kameng district of the state around 3 pm, Kurung Kumey district reported an earthquake around 3:20 pm, measuring 4.9 on the Richter scale.
Check district-wise rain forecast for Kerala
Below is the rain forecast for various districts in Kerala.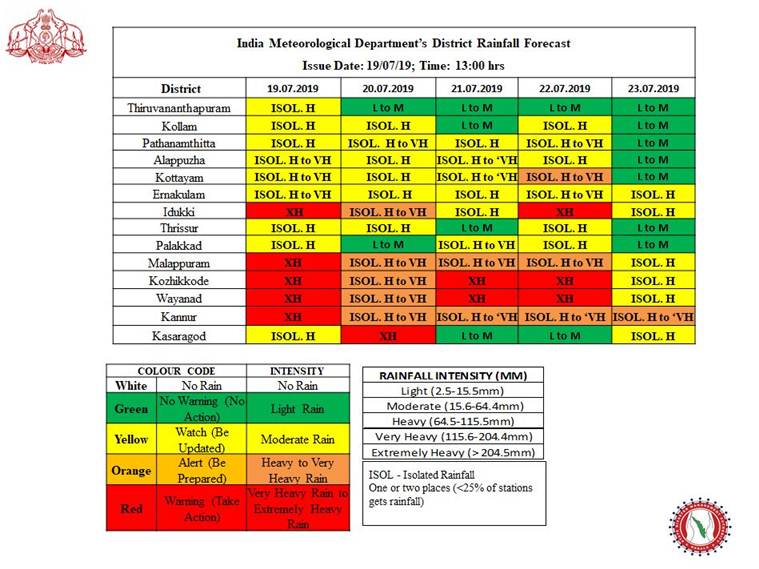 Bihar's Madhubani district flooded
Madhubani district in Bihar was flooded after heavy rain in the region.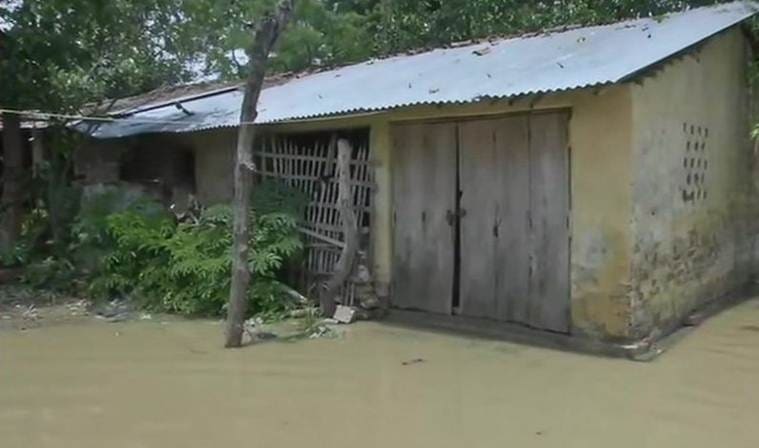 Assam floods: Nearly 4128 villages in 28 districts have been affected, claims ASDMA
Assam State Disaster Management Authority: Total 4,128 number of villages of 28 Districts have been affected in flood. Approximately 53,52,107 people have been affected. NDRF & SDRF teams have been pressed into service in the flood affected areas for rescue operation. (file pic) pic.twitter.com/DB2aOYGCu5

— ANI (@ANI) July 19, 2019
Kerala SDMA tweets the rainfall forecast for this week
Kerala State Disaster Management Authority tweeted the rainfall forecast in the state for the upcoming week. Check the forecast before you step out:
July 18, 2019
Uttar Pradesh to experience short spells of rain
Uttar Pradesh: Short spells of rain predicted in Aligarh, Badaun, Bareilly, Bijnor, Bulandshahr, Etah, Hapur, Jyotiba Phule Nagar, Kanshiram Nagar, Mahamaya Nagar, Meerut, Moradabad, Muzaffarnagar, Pilibhit, Rampur, Saharanpur, Sambhal, Shahjahanpur and Shamli during next 2-4 hours.
Vengurla in Maharashtra is the rainiest place in India
A red alert has been sounded in Kerala, meanwhile, the rainiest place in India is Vengurla in Maharashtra which has received 154 mm of rainfall in the last 24 hours. These are the other places which have received heavy showers:
Image Credit: skymetweather.com
Vigorous Monsoon triggers flooding rains in Kerala, over 500 mm rains likely in next 3 days.
As predicted, vigorous Monsoon conditions have given incessant rains over Kerala during the last 24 hours. Rains had picked up pace over entire Kerala during the late Friday night, with extremely heavy spells all across the state. In span of 24 hours from 8:30 am, Kozhikode has recorded 150 mm of rains, Karipur 118 mm, Kochi 116 mm, Alappuzha 97 mm, Punalur 57 mm, Cannur 85 mm, and Thiruvananthapuram 27 mm, reported Skymet.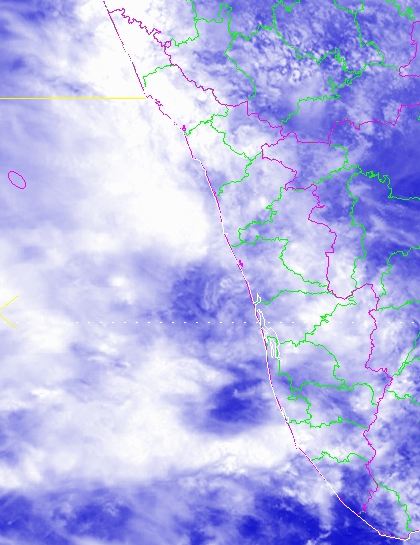 WATCH: The cloud build up of Kerala rains
Kerala: Intense showers in Kannur, may lead to local flooding
Intense spells of rain are expected to continue over Kannur and adjoining cities during next 1 to 2 hours. It may lead to local flooding, Skymet reported.
Kerala: Ernakulam receives heavy rainfall for the past 12 hours
Kerala: Wayanad catchment receives heavy showers, severe rainfall predicted in Ghats
Massive rains since the floods last year in Kerala have been reported. Waynad catchment received heavy showers and severe rainfall is predicted in the ghats of Kerala, Karnataka and Tamil Nadu today and tomorrow.
Kerala heavy rains in mm ending 8.30 am on 19.07.19

Pambla Dam, Idukki - 221
Neerimangalam, Eranakulam - 180
Peringalkuthu, Thrissur - 176
Kakki, Pathanmittha - 151
Kozhikode, Kozhikode - 150
Pamba, Pathanmittha - 143
For complete list - https://t.co/3S6Kzs6fmA pic.twitter.com/6wrd6Xqmh3

— TamilNadu Weatherman (@praddy06) July 19, 2019
Flooded Assam experienced tremors as an earthquake hit the state last night
Earthquake of Magnitude:3.1, Occurred on:18-07-2019, 21:20:26 IST, Lat:26.0 N & Long: 93.0 E, Depth: 20 Km, Region:Distt:- Nagaon,Assam pic.twitter.com/hardJVzfDu

— India Met. Dept. (@Indiametdept) July 18, 2019
Landslide, heavy rainfall at various parts in Kerala
Humid morning in Delhi; minimum temperature recorded at 25 degree Celsius
Delhiites woke up to a humid morning on Friday, with the minimum temperature settling at 25 degrees Celsius, two notches below the season's average According to the MeT department, the humidity level recorded at 8.30 am was 82 per cent The Safdarjung Observatory, which provides official figures for the city, recorded 3.6 mm rainfall in the last 24 hours. The weatherman has predicted light rains in some parts of the city later in the day. (PTI)
Welcome to our LIVE Blog
Good morning! It is a sunny day in Delhi-NCR after two days of light to moderate rainfall at various places. Meanwhile, IMD issued a red alert in Kerala's three districts yesterday as the state will witness very heavy rainfall for the next three days. Stay tuned to this space for the latest weather updates.