Andhra Pradesh and Odisha districts of Kendrapara and Jagatsinghpur are gearing up to tackle Cyclone Bulbul forming in the Bay of Bengal. This will be the seventh tropical cyclone this year to hit India, weather forecasting agency Skymet said. Follow Weather LIVE updates
HR Biswas, director of the India Meteorological Department (IMD), Bhubaneswar said the cyclone is likely to make landfall at the Odisha coast between November 8 and 9. Bulbul will be the second cyclone to hit Odisha this year after Fani, earlier in May, he said. The low-pressure area has been moving west-northwest and will intensify into a depression over the east-central Bay of Bengal.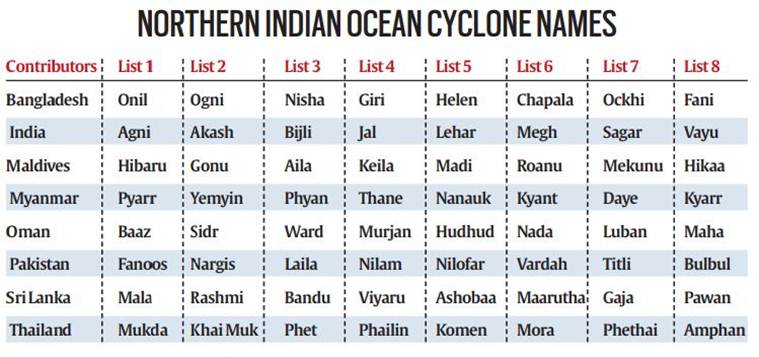 In the wake of Cyclone Bulbul, heavy rain is predicted between November 9 and 12 over the east coast, especially in Andhra Pradesh and Odisha.
The Odisha government on Monday warned people against visiting the sea shore. Over 600 cyclone shelters have been set up at villages, Sambeet Satapathy, the district emergency officer of Kendrapara, said. Authorities have also warned fishermen not to venture into the sea.
It is likely that India will break its previous record of having been hit my most number of cyclones in a year, Skymet said. Last year, a 33-year-old record was broken after the country was hit by seven cyclones, it said.
Each Tropical Cyclone basin in the world has its own rotating list of names. For cyclones in the Bay of Bengal and Arabian Sea, the naming system was agreed by eight member countries of a group called WMO/ESCAP and took effect in 2004.
These countries submitted eight names each, which are arranged in an 8×8 table (see below). The first cyclone after the list was adopted was given the name in the first row of the first column — Onil, proposed by Bangladesh. Subsequent cyclones are being named sequentially, column-wise, with each cyclone given the name immediately below that of the previous cyclone. Once the bottom of the column is reached, the sequence moves to the top of the next column. So far, the first seven columns have been exhausted, and Fani (again proposed by Bangladesh) is the top name in the last column. The next cyclone will be named Vayu. The lists will wind up with Cyclone Amphan, whenever it comes.
For all the latest Weather News, download Indian Express App