By:
Trends Desk
| New Delhi |
Published: March 6, 2017 3:32:32 pm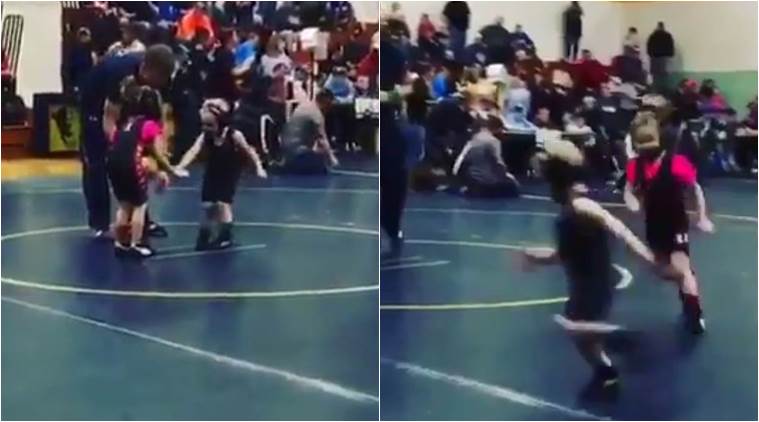 Here's when you expect the unexpected. (Source: ABC News/Twitter)
Of all the predetermined outcomes of a wrestling match between boys and girls, this is one that would you leaving you rolling on the floor laughing. Begone gender issues, because for these toddlers, it's all about fun and that moment when the unexpected happens. In a video shared by ABC News on Twitter, the four-year-old boy and the five-year-old girl are seen facing each other in a wrestling match before the boy suddenly starts running away from the girl in circles only to be finally being pinned down by the girl.
ALSO SEE | WATCH: This video of a slab of meat twitching will FREAK YOU OUT!
Reportedly, the boy – whose name is Isaiah Lineberry – had taken part in his first-ever wrestling tournament in Pennsylvania. But things got a bit scary for the little boy when he faced his opponent and straightaway headed for the hills only to be quashed down by the girl soon after. Speaking to ABC News, Alexis Salyers – Lineberry's mom – said she thinks that the size difference between her son and the other girl might have scared him. However, she also adds, "He's wrestled in several tournaments since then and has been in the top four placements in them. It was just that one fluke match."
4-year-old Pennsylvania boy runs away from 5-year-old girl during his first-ever wrestling tournament. https://t.co/X0EvoUo0Rl pic.twitter.com/B1r8MQQcLk

— ABC News (@ABC) March 2, 2017
For all the latest Trending News, download Indian Express App