By:
Trends Desk
| Kolkata |
Published: December 25, 2016 8:18:54 pm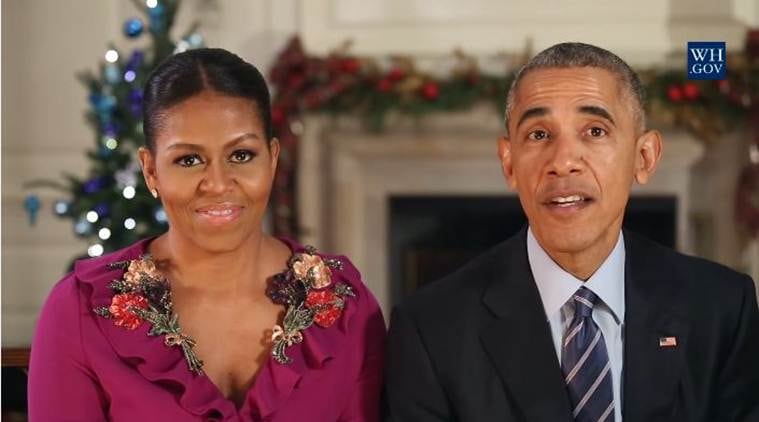 Keeping in mind the Holiday theme at the White for this year, the Obamas again extended their support to the war heroes and veterans and hundreds military personnel deployed away from home this festive season. (Source: The White House/ Youtube)
It's Christmas, and keeping the annual ritual in place, US President Barack Obama and First Lady Michelle Obama delivered their final Christmas address from the White House on Saturday.
Making it more and more difficult for those who have loved the Obamas in the White House these past years (and let's face it, their social media popularity go far beyond the borders of the United States), this final message once again reiterates why they will be missed. Politicians, of course, the Obamas listed out their achievements over the years – from the dip in unemployment numbers to Obamacare. They also paid their respects to the hundreds military personnel deployed away from home this festive season.
Not one to shy away from pulling the President's leg every now and then, Michelle reminded us why "Barack needed all the help he could get" in the jokes department. The official White House video cuts back to 2009's Christmas address as well, when a much younger and jolly Barack Obama just kept laughing! Yes, it's cute and nostalgic at the same time, we agree.
The first lady said that POTUS "treated Americans to countless dad jokes" and "they are not so funny!"
Michelle also shared some amazing statistics about the White House's holiday celebrations. Over the eight years in the White House, the first couple welcomed over half-a-million guests and the in-house pastry chefs have baked over 200,000 holiday cookies!
Well, all we can say is, the world shall miss their humour and wit.
For all the latest Trending News, download Indian Express App