Kavita Krishnan — secretary of the All India Progressive Women's Association, CPI (ML) Polit Bureau member and overall feisty feminist — is one of the most visible faces of women's rights in the country and can be seen on debate panels on TV, out in the sun shouting slogans and taking on trolls on social media.
A Facebook account called 'The Spoilt Modern Indian Woman' — which calls out patriarchy, rape culture, misogyny, stereotyping, automatic male-privilege and systemic oppression of gender and sexual minorities — put up a post slamming JNU's dossier on the the sex-and-alcohol-filled lives of seditious anti-national students. It named the authors of the dossier and the fact that they tried to bring Krishnan down during a TV debate by calling her a "Naxalite who has free sex".
While the idea was to highlight how the idea of women's sexuality becomes the first casualty in any disagreement, in typical Internet-trolling fashion, a Facebook user commented, "Ask your mother/daughter whether she had 'free sex'."
Find the Facebook post here.
Krishnan, of course, didn't take it lying down and replied, "Er, yes, my mother did. Hopefully so did yours. Because if the woman is not free, it is not sex but rape. Get it."
It was the next reply to troll comment that swept the Internet off its feet. Krishnan's mother, Lakshmi Krishnan, commented, "I am Kavita's mother. Of course I had free sex. I should jolly well hope so! As and when I wanted, with the person I wanted. And I fight for every woman and man to have sex according to their consent. Never unfree, never forced."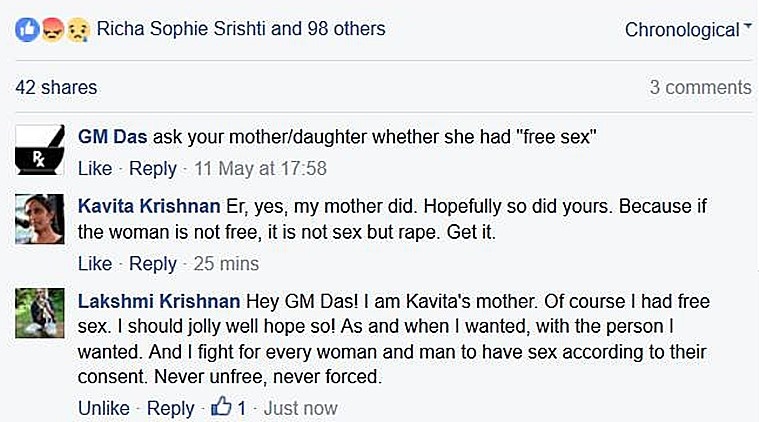 Krishnan's mother effectively silenced the troll, and received overwhelming #respect and support from Facebook users. Krishnan later posted the interaction as a snapshot with the message, "My mum's kickass reply to trolls asking if my mother had 'free sex'. With ma and behen of the fantastic kind I have got, the trolls find it so ineffectual and frustrating to give ma behen ki gaali." We have to say we agree.
For news updates, follow us on Facebook, Twitter, Google+ & Instagram