A massive fire ripped through a rubber godown in South Delhi's Malviya Nagar area Tuesday evening. A dense plume of smoke billowed from a burning truck and the godown in Khirki Extension area causing panic among locals. Rubber sheets worth lakhs were gutted. The Delhi Fire Services (DFS) received a call at 4.57 pm and thirty-four fire tenders were pressed into service.
The workers were safely evacuated, following which the police evacuated the area to ensure safety of the people living near the godown where the fire continued to spread. The fire has not been completely doused yet, firefighters continue struggle to douse the fire.
In addition, Air Force's MI 17 helicopter has been deployed to douse the fire. the chopper will use specialised buckets called bambi buckets that can carry approximately 2,500 litres of water at a time to pour water on the flames.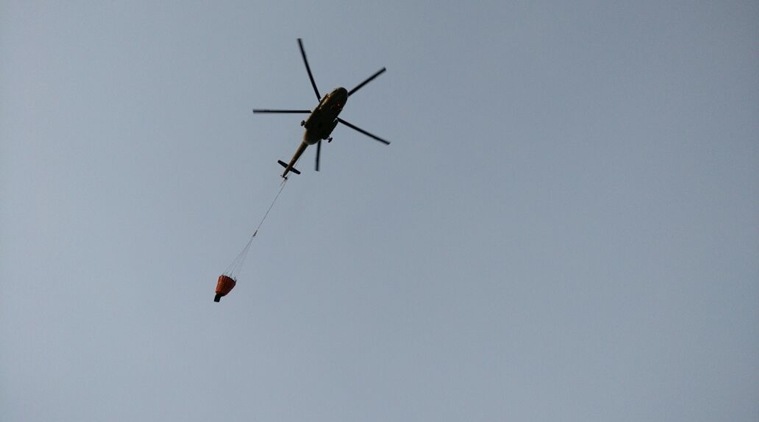 A resident, who did not wish to be named, alleged that the godown had been running illegally for over eight years. Police, however, said they are probing the matter and will register a case under appropriate sections. People who witness the fire took to Twitter to share images and videos.
Here are some visuals and videos of the fire.
#Fire #Inferno in Malviya Nagar #Delhi @PMOIndia Raging for 8 hours now. This is the capital of #India pic.twitter.com/aLAxo055Lc

— Avinash Joshi (@ajaxjoshi) May 29, 2018
Massive fire in South Delhi's Malviya Nagar area since early evening today.The fire which spread from a truck spread to a nearby rubber factory in a congested area. More than 35 trucks of the Fire Brigade still trying to bring the fire under control. Praying for all #Delhi #Fire pic.twitter.com/dG3aPPki0j

— saurabh tiwary💿 (@SaurabhTiwary22) May 29, 2018
More
Malviya nagar fire dangerous chemical smoke spreads in area…people facing breathing problem… pic.twitter.com/E5HaRLFzHo

— AMITA NANDAL (@amitanandal88) May 29, 2018
Huge fire in Malviya Nagar, New Delhi. pic.twitter.com/CjvsUDsgfk

— Aamir Sayid (@AamirSayid) May 29, 2018
Choppers being used to counter Malviya Nagar fire pic.twitter.com/uAYmk8m48s

— Ashish (@AshishXL) May 30, 2018