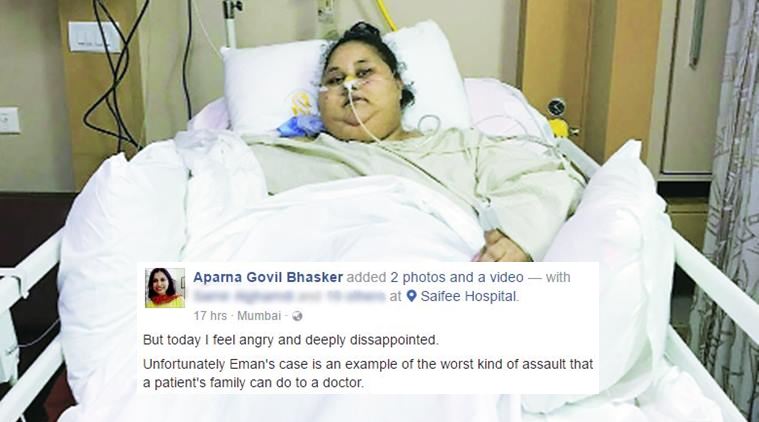 The story of Eman Ahmed, considered world's fattest woman, who is in New Delhi for treatment is getting murkier by the day. It began as a hopeful journey for the woman as she was flown to India for treatment on February 11, and for the longest time things did look up. Ahmed weighed over 500kg when she came to India and on Monday, doctors at Saifee Hospital weighed her at 171kg, calling it a miraculous weight loss.
However, there is a twist in the tale. In a Facebook video that has now gone viral, her sister Shaimaa Selim refuted the claims made by the doctors. Selim claimed that Eman has hardly lost any weight, and the doctors are hiding the truth.
ALSO READ| Twist in Eman Ahmed's tale: Sister sees holes in doctors' success claim
Just a day after the video was shared on social media, generating a lot of buzz, Dr Aparna Govil Bhasker — Section Chief, Bariatric Surgery, Saifee Hospital, Mumbai, and Ahmed's doctor — posted her resignation on Facebook, refuting Selim's claims. In the detailed and emotional post, Bhasker said she had "thought that Eman's case would go down in annals of medicine as one of the biggest medical challenges ever overcome. I feel extremely saddened today that though the challenges have been overcome, it has created history but of a very different kind.
"We put our heart and soul into her care. No stones were left unturned. The team of doctors, nurses and physiotherapists toiled day in and day out to make this one patient live. We didn't just provide medical care, we fell in love with Eman. She became our obsession. Even my 3 year old son made peace with the fact that in his mother's life at the moment Eman aunty takes precedence ….
"But today I feel angry and deeply dissappointed.
Unfortunately Eman's case is an example of the worst kind of assault that a patient's family can do to a doctor."
In no time her post received  a flurry of responses, and there appears to be a clear division of opinion among people. While come defended Ahmed, saying that she's just a patient — "Iman has nothing to do with this, I think she can't talk to ask & beg you to continue her treatment.. a real doctor would never let his patients down, just think of iman & forget all about her family please," commented someone, others sympathised with Bhasker. "You have gone through a challenge, so do not despair to become one of the greatest doctors in the world", commented another. 
While there was a division of opinion on the justification of Bhasker's action, the majority of comments encouraged the doctor to continue with her duty irrespective and provide much-needed care to the patient. Interestingly, many Egyptian doctors and nationals have also sympathised with Bhasker.
Read some of the comments here.