While social media can hardly take a break from the Virushka Wedding, which can easily be called the celebrity wedding of the year, rumours of yet another high-profile nuptials have been doing the rounds, thanks to a video that has gone viral. A clip showing an elaborate wedding card, allegedly with pure gold plating, has been doing the rounds of various social media platforms, with rumour mills buzzing that this invite could be that of Mukesh and Nita Ambani's eldest son, Akash Ambani. However, Reliance Industries Ltd has quashed the news.
The video, which is being widely shared on WhatsApp and Twitter, shows an expensive wedding invitation card — which is apparently made of pure gold and is worth Rs 1.5 lakh — with Netizens speculating that Akash's nuptials could be on the cards in 2018. But an official denial clearly refutes those claims. The statement says, "A fake video illustrating an alleged wedding card of Mr Akash Ambani – Board Member, Reliance Jio, is being currently circulated on various social media and instant message platforms. We would like to clarify that this video is completely untrue and contains hoax content designed purely for sensationalism."
Here's the video that went viral earlier.
Rs150000NU Wedding Invitation Card By Mukesh Ambani ⬆pic.twitter.com/XY82nWmM9Y

— Amarjeet Sahni (@amarsahni59) December 8, 2017
On a closer look, it can also be seen that the RSVP has been signed under the name of Lazer Footwear Pvt Ltd and it also shows the name of Meena and Naresh Bansal.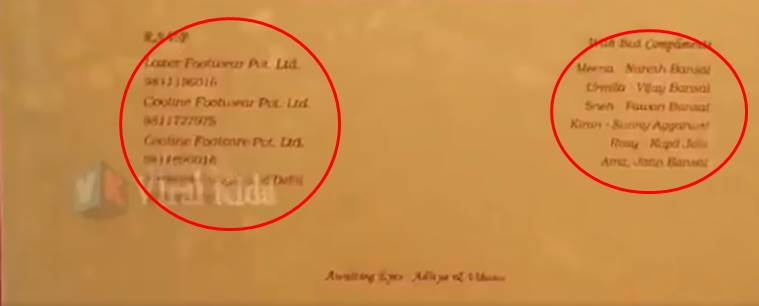 Moreover, the date on the card goes back to the year 2013.

Well, as they say, don't believe everything you find on social media.