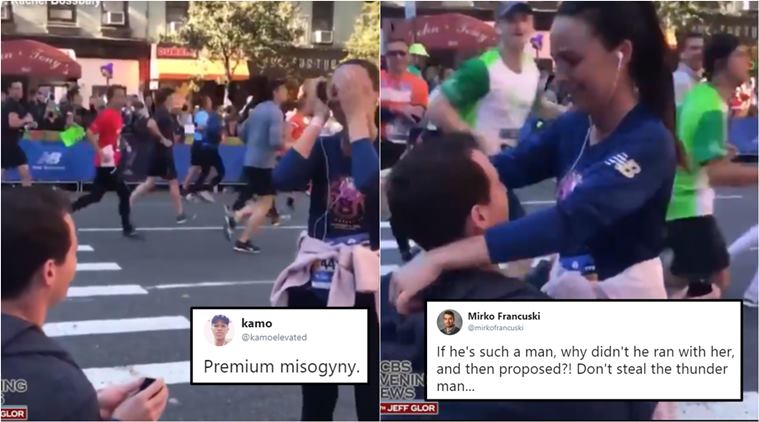 During the New York City Marathon, a man went down on one knee to propose to his long-time girlfriend. However, many on the internet were not happy at all with what happened because he had stopped his beau midway during the race to propose! After saying yes, she started running again, but people questioned why he couldn't wait to propose to her at the finish line.
Dennis Galvin surprised his partner, Kaitlyn Curran, with a ring just as she was hitting mile 16 during the race, CBS News reported. The firefighter was "very nervous" before the proposal as family and friends waited about an hour for Curran to reach the spot, the report quoted his cousin as saying.
SHE SAID YES: A woman who was running in Sunday's New York City Marathon was at mile 16 when her longtime boyfriend hopped over the barrier and dropped to one knee. She ended the day with a medal around her neck and a ring on her finger. https://t.co/8xbZ6P24RM pic.twitter.com/YizdEJYOhc

— CBS Evening News (@CBSEveningNews) November 5, 2018
"She ended the day with a medal around her neck and a ring on her finger," the report said. WNBC-TV reported that spectators had cheered for the couple when Galvin proposed.
But not everyone was that pleased with what Galvin did. While some slammed him for "making it about him", others thought the timing couldn't have been worse.
what a wombat I would have ran with her just for the metaphor when I propose at the end https://t.co/QJpZuWUM8e

— The Elephant In The Room (@sarcasticzack) November 9, 2018
He really could've waited til she got to the finish line. What a selfish prick https://t.co/s8aI5KaEgo

— The Warrior of Light🌈 (@SpivDeep) November 9, 2018
Men as usual holding women back https://t.co/E4WuHXjhx4

— KAVI (@blurt2kc) November 9, 2018
Like he really couldn't wait until the finish line? I'm really over it. https://t.co/0QrTnqmLIT

— Jennia Taylor (@JenniaTaylor) November 9, 2018
I wouldn't really consider this "romantic". This is literally like the worst time and place to pop the question. But good for them https://t.co/gVEWDLn7N5

— bae. (@itsShazyBaby) November 8, 2018
I did a 10k last night and was 17th last. If my boyfriend had pulled this stunt I'd have kept on jogging! Although he wouldn't because he has a brain. https://t.co/U2GrLmcHvI

— Ciara Mc REPEALis (@CiaraMcNelis) November 8, 2018
"Quick, before you succeed! Remember I am more important." https://t.co/XuP6bUVo5u

— brianna williams (@willsybee) November 8, 2018
I can use this to define selfishness https://t.co/FkqpH4v4UL

— E.K. Gupta (@Enybull) November 8, 2018
Premium misogyny. https://t.co/9WxgzWMcQC

— kamo (@kamoelevated) November 8, 2018
Men keep wasting women's time https://t.co/YY0TjDGNUj

— Khwezi Nyuswa (@Khw3zi) November 8, 2018
If he's such a man, why didn't he ran with her, and then proposed?! Don't steal the thunder man… https://t.co/WFKYoSMIjw

— Mirko Francuski (@mirkofrancuski) November 8, 2018
Marriage once again ruining a woman's ability to get ahead https://t.co/lBbQYxRZDw

— Nick Naylor (@MrImJustSayin) November 7, 2018
On next week's episode of Men Ruin Everything:

Woman's personal best race time thwarted by idiot male https://t.co/IYzYylpjCM

— Jessi ☽☄ (@Jessi_J_Barnett) November 7, 2018
Just allow her finish the gaddam race 🤦 https://t.co/b3yJAITDgl

— Alexander "pencil" haastrup (@olufadejuwonlo) November 8, 2018
I'm going to torture anyone who interrupts my running. Bet. https://t.co/nntEwSL5Jq

— Fu'ad. (@FuadXIV) November 8, 2018
😂😂 wowww he couldn't find a better time? Throw him away please. He is a distraction. https://t.co/8qM7ksXJ7l

— Fitgirl_Réji (@rejoice_emanuel) November 8, 2018
Way to go and mess up her timing for THE. NEW. YORK. CITY. MARATHON. He couldn't wait until she finished because…????? 🙄 https://t.co/DtGM2WBQwN

— potato (@23ermy23) November 8, 2018
I mean, I don't wanna be too hard on the dude, but this seems a little narcissistic and douchebaggy to interrupt her marathon run like that. If some dude did this to one of my daughters, I've have a stern talking to the young man privately later. https://t.co/7KtqVBJrKr

— Ken Shepherd (Unaffiliated-Md.) (@KenShepherd) November 8, 2018
Men do not think about women. They seriously never put themselves in a shoes of a woman. They seriously do. not. think. I seriously think most men in heterosexual relationships are at least 50% faking it, and that is so sad. https://t.co/8ZIhGInQJx

— wow (@floozytart) November 9, 2018
Completely unacceptable. Society pressures women into saying yes when presented with this scenario. Imagine how many people would harass her and call her a bitch if she said no! https://t.co/vkyiWO3PVl

— gamers rise up (@pelton_reid) November 8, 2018
Curran, a nurse, finished the race with a timing of 4 hours and 24 minutes, but people said she might have finished a lot earlier if she hadn't been stopped.