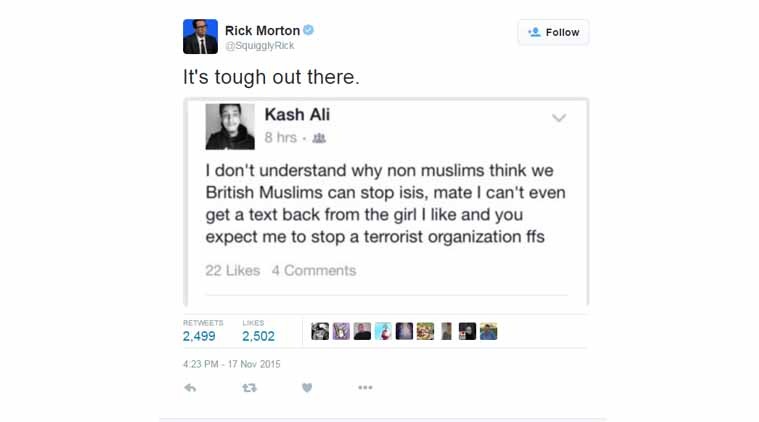 When a British man called Kash Ali posted about his helplessness in stopping ISIS on Facebook, he probably didn't expect his post to go viral like this.
From Sydney-based social affairs writer Rick Mortan to The New York Times' Nicholas Kristof, Ali's post was picked up and shared thousands of times across the social media sites, and more often than not with a quip about his conundrum as he said: "I don't understand why non muslims think we British Muslims can stop isis, mate I can't even get a text back from the girl I like and you expect me to stop a terrorist organization".
It's tough out there. pic.twitter.com/1N0Tdb07py

— Rick Morton (@SquigglyRick) November 18, 2015
Ali's hilarious response to the responsibility bestowed upon him and his ilk has gotten many in splits, while others have sympathised with him. "British teenager Kash Ali doesn't ask for much. Some romance, and for people to not expect him to stop ISIS. That's all," says a report.
The post is reportedly in response to UK Independence Party (UKIP) leader Nigel Farage, who accused British Muslims of having "a split of loyalties" following the Paris attacks on November 13.
So, while the governments and hackers' group Anonymous vow to take on the Islamic State, Ali's love life may have a chance just yet, according to the update on his profile a couple of hours after he became an Internet sensation.