By:
Trends Desk
| New Delhi |
Updated: December 24, 2017 7:25:49 pm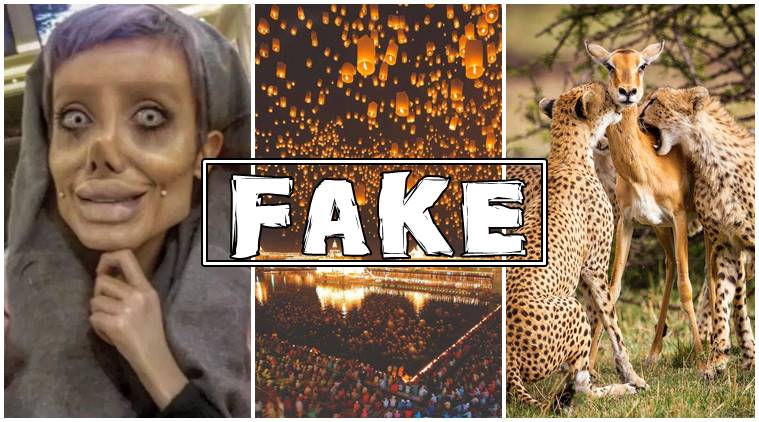 Here's all that went viral but turned out to be a hoax in 2017. (Source: File Photo)
As 2017 comes to an end, looking back at the various news points that trended this year, it's disturbing how fake news pretty much ruled the Internet on multiple occasions. A trend of fake news being widely shared across social media platforms right from Twitter to Facebook and WhatsApp was witnessed many times, to the extent that "fake news" was also named word of the year by Collins Dictionary due to its widespread use around the world.
A UK-based lexicographer found that the use of "fake news" registered a 365 per cent rise in the last 12 months, reflecting Trump's consistent use of the word, as well as the hoax stories that went viral this year. Defined as "false, often sensational, information disseminated under the guise of news reporting," it has directly affected news reporting all across the globe.
While social media is a great place to share news and have some fun as well, people need to be wary of sensationalised news that may not be true. Here are 15 such instances when most online users found themselves in a muddle after the truth behind each one was discovered.
1. Akash Ambani's viral 'wedding card worth Rs 1.5 lakh made of gold'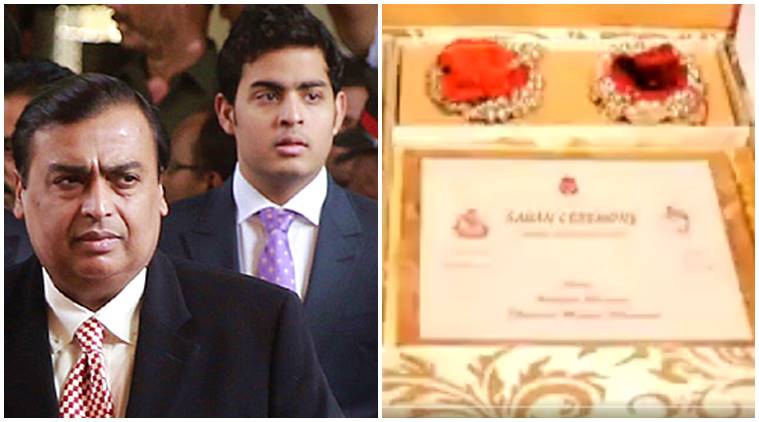 This invitation card being touted as Akash Ambani's wedding announcement is a hoax. (Source: File Photo/Twitter)
A clip showing an elaborate wedding card, allegedly with pure gold plating, was doing the rounds of various social media platforms, with rumour mills buzzing that this invite could be that of Mukesh and Nita Ambani's eldest son, Akash Ambani. However, Reliance Industries Ltd quashed the news saying: "A fake video illustrating an alleged wedding card of Mr Akash Ambani – Board Member, Reliance Jio, is being currently circulated on various social media and instant message platforms. We would like to clarify that this video is completely untrue and contains hoax content designed purely for sensationalism." Read the full story here.
2. The 'zombie' Angelina Jolie lookalike 'after 50 surgeries'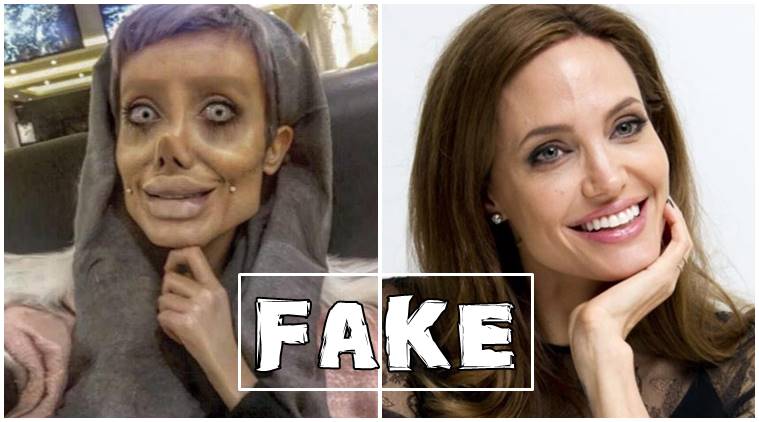 Turns out the viral story on photos of the Iranian teenager with claims that she went through 50 surgeries to look like Angelina Jolie was a hoax! (Source: Americo Sperandio/Facebook/File Photo)
Nineteen-year-old Sahar Tabar's pictures splashed all over the Internet with the claim that she underwent 50 surgeries to look like her Hollywood idol Angelina Jolie and sent shock-waves across social media. Later, it came to light after an interview with Sputnik, that the claims of Tabar undergoing plastic surgery to look like Jolie was actually wrong, and the results were thanks to, well, "technology". Remember, in today's age, seeing is not believing. Read the full story here.
3. South Africa president Jacob Zuma's 'in the beginning' video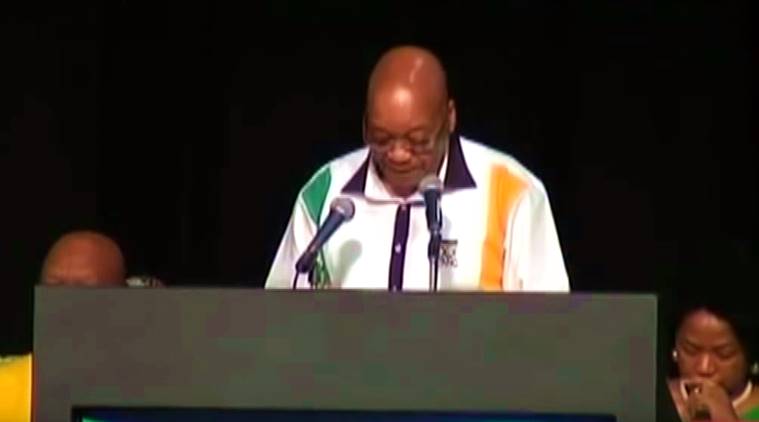 A video was modified to show that the SA president cannot pronounce 'beginning'. (Source: YouTube)
A fake video of the South African president Jacob Zuma did the rounds of social media to show that he cannot pronounce the word "beginning". However, it was later found out that the flurry of "in the beginning" videos on YouTube were all fake, and people started posting the original video to reveal the truth behind it. Watch how the fake video was made from the original here.
4. The claim that Swami Vivekananda's statue was beheaded by Muslims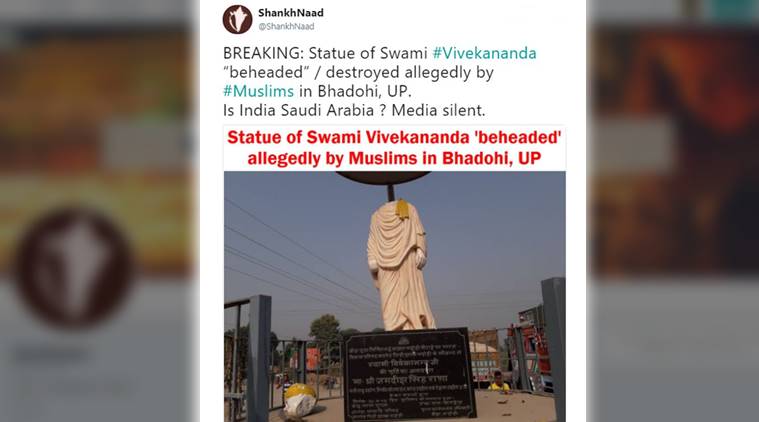 The claim that the statue of Swami Vivekananda was beheaded by Muslims was fake. (Source: @ShankhNaad/Twitter)
A photo of Swami Vivekananda's beheaded statue surfaced on social media. Later, a website named Akhand Bharat reported that the anti-social element who damaged the statue was subsequently arrested. However, it was turned into a communal fight when a tweet claiming that Muslims beheaded it went viral. The tweet by handle named @ShankhNaad was retweeted thousands of times, but it turned out to be a hoax. Read the tweet here.
5. Astronaut shared lit-up pic of India, but it was not from Diwali – again!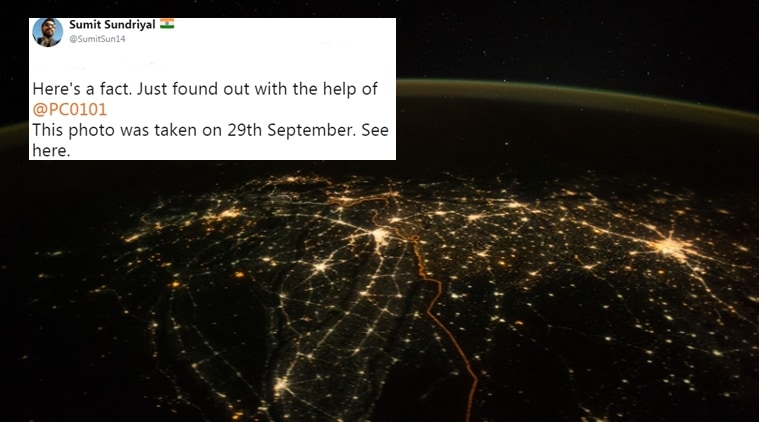 This picture of India was first shared by astronaut on Diwali, and then reshared by thousands as a real Diwali night picture of India from space. It has now come to light, the photo was taken the previous month. (Source: Paolo Nespoli/Twitter)
A breathtaking picture of 'India during Diwali as seen from the cosmos' had gone viral on social media. The picture was shared by astronaut Paolo Nespoli (@astro_paolo). Although the picture is indeed beautiful there is a slight problem — it's a picture of India from space alright, but it's not a Diwali night photo! A Twitter user dug out and tweeted that the photograph was originally shared by the astronaut on his Flickr account on September 29, 2017, nearly a month before Diwali! Read the full story here.
6. The viral photo of Golden Temple beautifully lit with lanterns during Diwali
While the entire country was celebrating Diwali, a spectacular picture of the Golden Temple with floating golden lanterns in the sky charmed many hearts online. The photo went viral after many celebrities took to Twitter to share it. However, later it was found out that it was photoshopped. Twitter user Navkaran Brar, who had created the picture revealed it and even asked for credit from whoever who shared his picture. Read his tweet here.
7. The fake Hurricane Irma video that sent shock waves on social media
The fake Hurricane Irma video that left many Netizens shocked. (Source: Hendry Moya Duran/Facebook)
A Facebook user named Hendry Moya Duran shared a video on his page in September and captioned it: "Hurricane Irma". With more than 35 million views at the time, it went viral. However, it was later found that the clip was fake. It was an old footage that had been online for over a year. Many users commented that it was a clip of a tornado hitting Uruguay in 2016. Watch the video here.
8. The shark on the street that went viral during Hurricane Harvey in US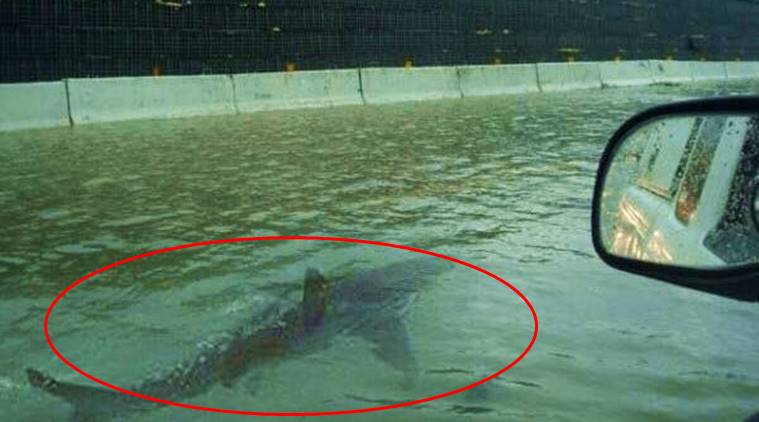 Here's the picture of the shark on the street that went viral. (Source: Jason Michael/Twitter)
A Twitter user posted a fake picture of a shark on the street of Houston, Texas, back in August when the US was hit by Hurricane Harvey, and it went viral. With more than 140,000 likes and over 87,000 shares, Jason Michael's photo was all over social media. He later clarified that he knew it was fake and that's why he had shared it with a misspelled Harvey (#HurricaneHarvy in his tweet), and also said that neither does he regret it nor does he doesn't plan to delete it. Read his tweet here.
9. Travel blogger got caught after posting fake 'photoshopped' Instagram photos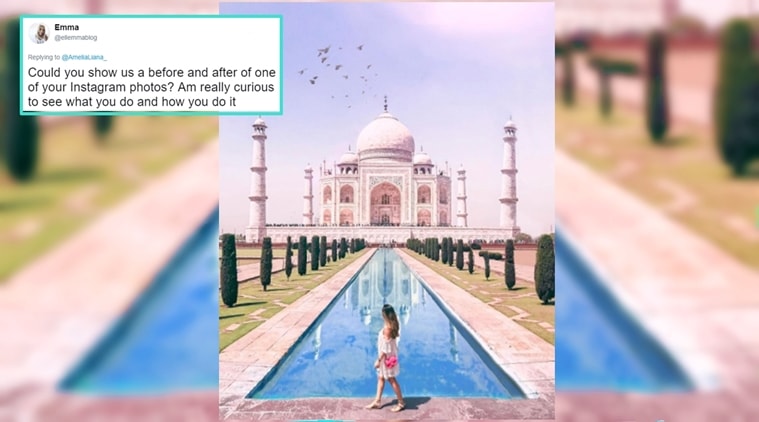 Do you think the travel blogger's pictures are fake? (Source: Amelia Liana/Instagram)
A popular travel, beauty and fashion blogger, Amelia Liana, resorted to photoshop and edit her pictures to grab attention. However, the stunt backfired and she was caught. Once caught red handed, Liana had to face a lot of flak online, and was brutally trolled on Twitter. Read the full story here.
10. Hilarious memes of this fake photo of world leaders from the G20 Summit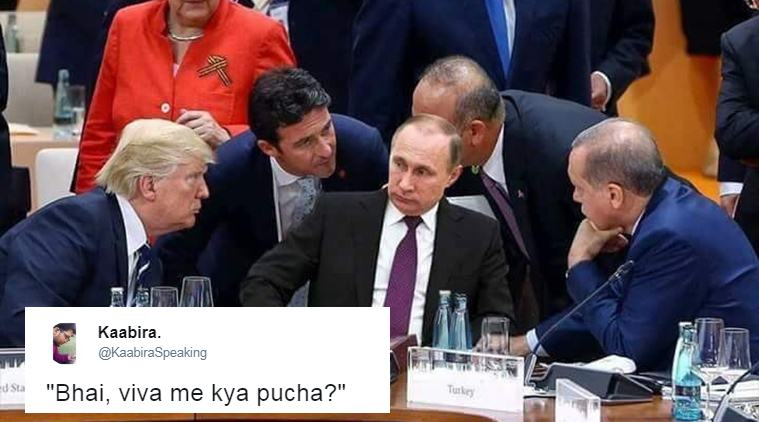 As the name tag was also morphed it probably did not grab their attention. (Source: Twitter)
A photo from the G20 Summit in July became the butt of a lot of jokes mainly because of the expressions on US President Donald Trump's and Turkish President Recep Tayyip Erdogan's face. The results of the caption contest are hilarious, however, many probably didn't realise that the picture was fake! Yes, Russian President Vladimir Putin was not present in the actual photo and one user alleged it was photoshopped by Russian press. The actual photo by the Associated Press (above) shows that the chair in which Putin has been photoshopped belonged to Theresa May. Read the full story here.
11. When fake Rs 200 notes went viral on social media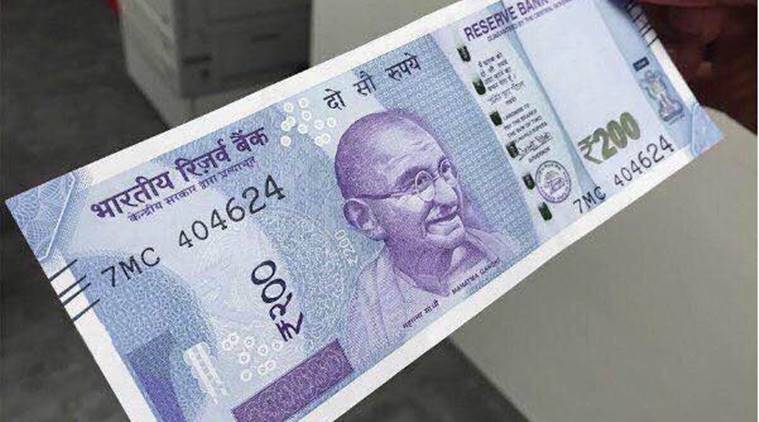 Images of this note went viral on social media. (Source: File Photo)
A Rs 200 note went viral on social media in April and it seemed to have all the necessary security features and watermarks. It also had Rs 200 written in Hindi more than once. Also, it was different in colour from Rs 500 and Rs 2000 notes released but it had the new design language. Read the full story here.
12. The real story behind the viral Cheetah and Impala photo
The iconic photo that went viral. (Source: Alison Buttigieg)
A photograph went viral that captures two cheetahs attacking an impala but what makes it iconic is the impala's reaction; unperturbed and unshaken. However, the picture was being shared with a story that said that the impala sacrificed itself to save its children and the photographer went into depression after clicking this series of pictures. Guess what, the story was completely made up. Read the full story here.
13. The seven-headed cobra viral video that collected millions of views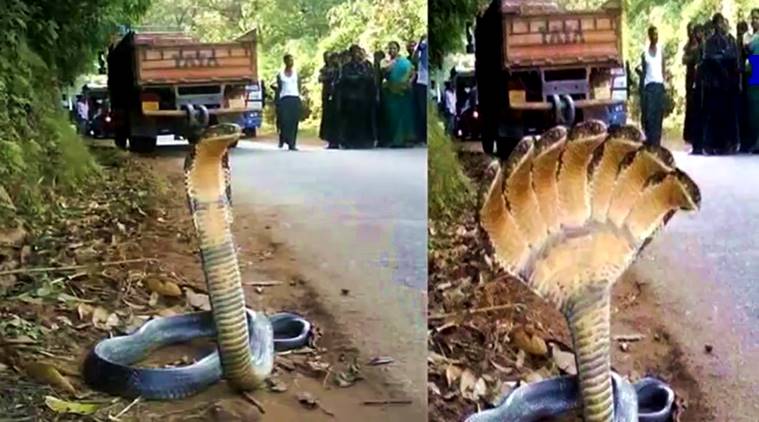 Here's the truth behind the viral seven-headed cobra that went viral. (Source: YouTube)
Sure, we have Shesh Naag in Indian mythology, but let's face it, we're highly unlikely to find an avatar of his slithering across the street here. Nevertheless, not only did a picture of this 'snake' go viral but this video unearthing the truth behind this image also got close to 10 million views at the time of writing, and that's in less than 10 days. Read the full story here.
 14. The Rs 2000-note car viral pic, and the 'lover who was arrested'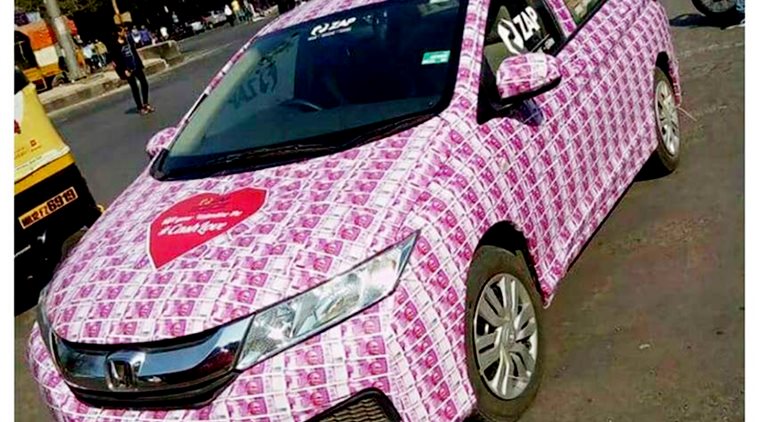 For the sake of cash/car/love… let's get some clarity on this! (Source: Facebook)
Around Valentine's Day this year, photos of a car covered in Rs 2,000 notes went viral, wherein a Mumbai-based man had apparently decorated the car thus to impress his girlfriend. It was also reported that the man was arrested as well. This, of course, was far from reality. Not only the photos, videos on the story also went viral. Read the full story here.
15. Kiran Bedi tweeted a fake picture of monuments lit up in tricolour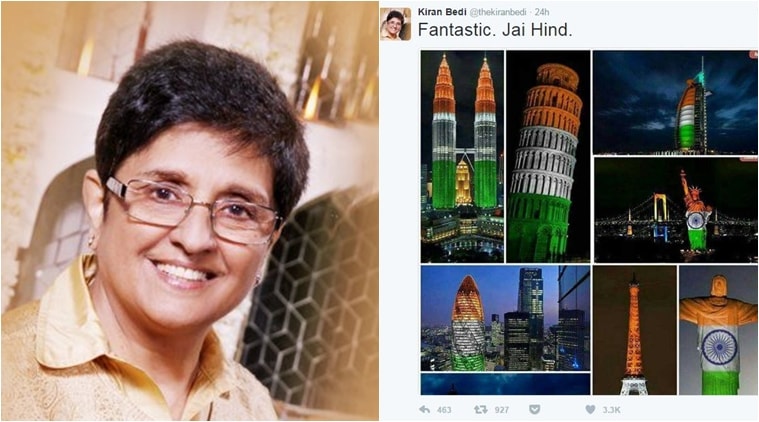 Kiran Bedi tweeted a picture with monuments lit up in tricolour. "Fantastic. Jai Hind," she wrote along with the picture.
Kiran Bedi tweeted a picture with monument like the Big Ben, Leaning Tower of Pisa, Twin Towers, Statue of Liberty lit up in tricolour. As you may have understood, the picture is fake and no monument other than Burj Khalifa was lit up in orange, green and white. The fake picture was doing the rounds on WhatsApp. Read the full story here.
For all the latest Trending News, download Indian Express App