When it comes to conspiracy theories, we have seen many in 2017. While few might be quite mind-boggling, others were downright rejected, but one conspiracy theory has left Twitter in frenzy and it deals with none other than Trump! Yes, people are convinced that at a recent interaction with the press at the White House lawn the US President used a body double of his wife Melania Trump!
Crazy, right?
But somehow, after 'fake news' the idea of a fake Melania has people hooked. Also the fact that on numerous occasions she was caught on camera being uncomfortable around her husband, it seems somehow plausible.
On October 13, POTUS spoke to reporters ahead of visiting the US Secret Service training facility in Maryland. Next to him stood FLOTUS, wearing big glares, long coat. Speaking on the White House lawn Donald Trump pointed out, "My wife Melania, who happens to be right here". And that sparked a controversy.
Here's the footage that gave birth to the controversy:
"We've done a great job in Puerto Rico," President Trump says of hurricane relief efforts https://t.co/76jXCrGqVV

— NBC News (@NBCNews) October 13, 2017
People were quick to jump to conclusion that something was very fishy and as to why Trump said something like that. But soon people started comparing pictures of Melania Trump from earlier events to that of the fateful day. From Twitter to Facebook, its raining memes on the conspiracy.
"MY WIFE MELANIA WHO HAPPENS TO BE RIGHT HERE" IS EXACTLY WHAT SOMEONE WHOSE WIFE MELANIA HAPPENS TO *NOT* BE RIGHT HERE WOULD SAY https://t.co/vVIz3Q6QQe

— Sam Stryker (@sbstryker) October 18, 2017
I almost believe the Melania body-double conspiracy because I doubt the real Melania would ever leave the house with those split-ends… pic.twitter.com/XL0ijIIhHS

— julieverive (@julieverive) October 18, 2017
I'm not one for conspiracies but that's not Malania…..

— 🎃Jack-o-lantern🎃 (@YourFavArkie) October 16, 2017
My investigation has concluded that this is NOT Melania, but Jared in a wig and sunglasses!!! 😺🔍 pic.twitter.com/PCxDT9hzvo

— Philip Meowlowe 🎃👻😈💀 (@PhilipMeowlowe) October 18, 2017
No doubt, thats not melania 😳 https://t.co/k9FdXU6GUZ

— Mette Larsen (@MetteL0302) October 19, 2017
@rhyse Is it me or does Melania appear to be a man in drag here with a wig and large sunglasses on. Can only assume she left trump weeks ago and he hasn't yet found a way of saying he's done a great job on the divorce …I have the best divorce lawyers THE BEST .

— Rhydian Williams (@Rhyddler) October 14, 2017
I initially didn't notice, but thought it was strange when he said "my wife Melania, she's right here" to try & convince media it was her.

— BuyLegalMeds.com (@JoeVargas) October 18, 2017
Me: I can't deal with all this fake news, it's harming American democracy

Twitter: Melania Trump has a body double

Me: pic.twitter.com/QMXROMyRe8

— Sam Stryker (@sbstryker) October 18, 2017
Me: "I really don't have time for BS right n-"

Internet: "Trump's speaking to the press with a fake Melania."

Me: "BRB investigating!" pic.twitter.com/JnzSbQpbE2

— Shannon Miller (@Phunky_Brewster) October 18, 2017
Me: conspiracy theories are stupid
Twitter: Donald Trump is going around with a fake Melania stunt double
Me: pic.twitter.com/9UdkMWWdVG

— regina phalange (@rhcphaley) October 18, 2017
It is I, the real Melania, reporting for duty. pic.twitter.com/6NBMSF7TVV

— Kashana (@kashanacauley) October 18, 2017
This is not Melania. To think they would go this far & try & make us think its her on TV is mind blowing. Makes me wonder what else is a lie pic.twitter.com/NCYIJfeVhx

— Patrick Monahan (@pattymo) October 18, 2017
Maybe there's loads of them?
Melania
Melanib
Melanic
Melanid
Melanie
Melanif
Melanig
Etc… https://t.co/zPoozVuyTr

— Greg Jenner (@greg_jenner) October 18, 2017
hello it's me, FLOTUS Melania pic.twitter.com/VK5OQprFev

— Ashley (@ashcech) October 18, 2017
I'm over here staring at melania clips comparing nostrils and hairlines like pic.twitter.com/0BGSZ6kw4p

— tekla (@alketrolyat) October 18, 2017
Fake Melania as played by @BoJackHorseman 's own Vincent Adultman. pic.twitter.com/fSiDQWTu26

— Kent M. Wilhelm (@kw_hc) October 18, 2017
Me: Time to take a break from Twitter.

Twitter: Did you hear about fake Melania?

Me: I'M LISTENING… pic.twitter.com/MvmlMVFLwo

— Annette Christie (@MsAnnetteMC) October 18, 2017
if you do not choose to believe in the existence of fake melania I encourage you to find more room in your heart for joy and whimsy today

— Alex Trimboli (@Nicole_Cliffe) October 18, 2017
What happens when Fake Melania calls in sick? The gif has nothing to do with my question, just thought it was funny. pic.twitter.com/8XX631IzMj

— Steven Riggall (@SteveRiggall) October 19, 2017
That time Trump used Caitlyn Jenner as a body double for Melania … pic.twitter.com/8HDGzP0xf4

— Steven R. Walker (@Steve_R_Walker) October 18, 2017
What if you're comparing the fake Melania with the fake Melania 🤔😲😱

— Cynthia Soto (@cynthiasoto78) October 19, 2017
When Melania pulls up and sees fake Melania 😭 pic.twitter.com/ImHIiTutKV

— Auntie Eva (@curlyandboujee) October 19, 2017
And this tweet sums up everything!
You know, I want to say "of course that's Melania, not a body double" but things are generally too weird in 2017 to rule anything out

— BOOisa 💀🌹🍞🌹💀 (@LouisatheLast) October 18, 2017
Even on Google trends phrases like "Melania Trump body double", "Melania Trump double", "fake Melania Trump" and "Melania Trump decoy" have seen a surge in this week.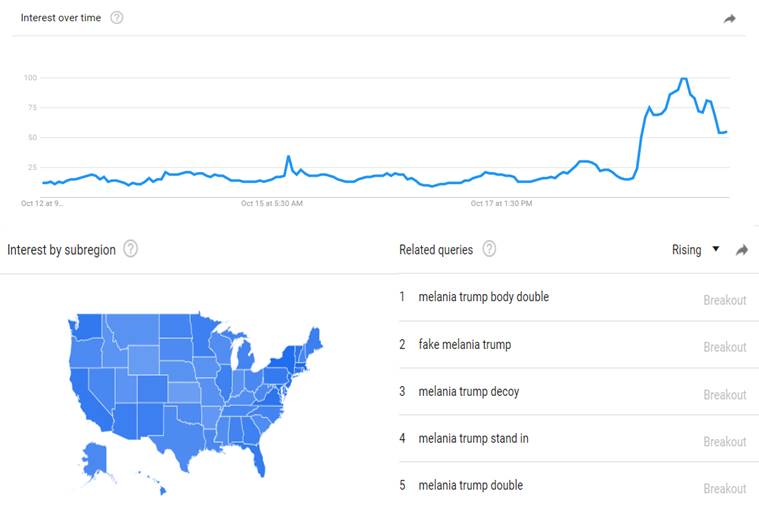 Do you believe in this conspiracy theory? Let us know in comments below.