US President Donald Trump is quite (in)famous for his Twitter talk. Usually whenever the 71-year-old goes on to post something on his Twitter account, a huge controversy springs up on social media. To turn his absurd tweets into profound poems, Reddit user Darby Crash has created a platform "Poet in Chief," which runs on an algorithm. According to the website, "Poet in Chief was created with hopes of immortalising the president's infamous tweets in verse."
Wondering how it works? It's simple. Go to the website — http://www.poetinchief.com/ — and click on "Generate New Poem". In an instant, you'll see tons of poems with words taken from Trump's tweets. Interesting, isn't it? Sample some poems here.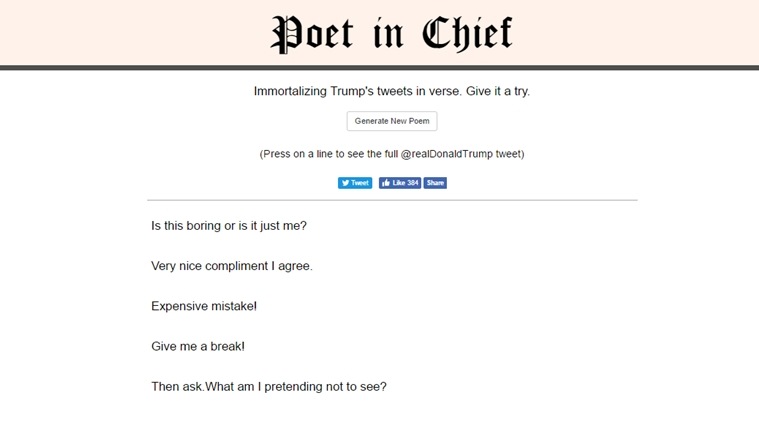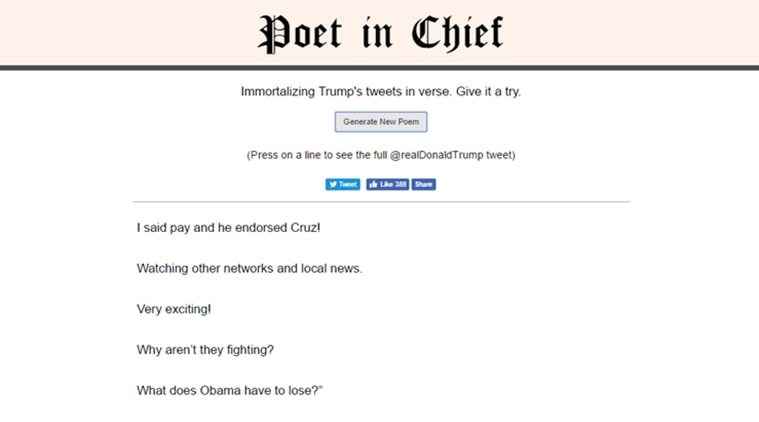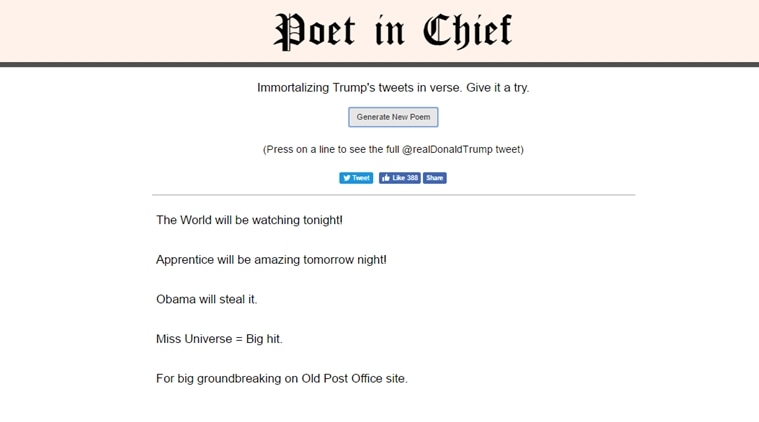 Trump's Twitter errors are difficult to be erased from the history, and this website only adds to the mockery. Remember the enormous fuss surrounding his misspelt word "covfefe"? Around midnight on May 31, Trump had tweeted, "Despite the constant negative press covfefe," and it had left many people across the world confused. While people went on to call it a mix-up between coverage and coffee, many others came up with tonnes of creative memes, jokes and videos. Referring to the word again in another tweet later that day, Trump wrote, "Who can figure out the true meaning of "covfefe" ??? Enjoy!" Surprise, surprise… the joke still hasn't died.
However, that's not the only error he has committed on the social media networking site. He once tweeted the single word, "We," only to delete in it soon after. As usual, the time-in-between did the harm as it already became the fodder for memes and jokes for Twitterati. Earlier, he struggled with the word "unprecedented" in a tweet — "China steals United States Navy research drone in international waters – rips it out of water and takes it to China in unpresidented act," — that he later deleted.