The jury is still out on whether the film is good, bad or ugly, but if you are looking for some great battles between the Man of Steel and the Caped Crusader, here are seven comic book clashes between the two superheroes that you really need to check out.
They are both superheroes (although only one of them has 'super' powers). And are very good friends. But that does not mean that the Batman and Superman do not have disagreements. And sometimes, those disagreements spill into epic battles – well, they ARE superheroes so the battles WOULD be epic. And while clashes between superheroes are not unknown in different universes – be they DC or Marvel – the ones between Batman and Superman have always been special. For the simple reason that any battle between them represents a mortal taking on someone with superpowers — for the uninitiated (where have you been, pray, and when did you return to this planet). Superman has super powers such as the ability to fly, almost impossible to penetrate skin, heat and X-ray vision, strength enough to carry aircraft and so on. The Batman, on the other hand, is very much a very well-muscled and intelligent but very human person. Battles between them therefore have a different dimension than say a conflict between the Hulk and Thor would have.
Which is perhaps why they made a high-profile Hollywood movie on Batman vs Superman, and not on any other super hero clash. The two have been clashing with each other across decades in comic books, beginning with a light flirtation with Lois Lane during their first meeting on a cruiser in the 1950s (Superman, #76, May-June 1952, to be exact) to the crushing slugfest a few years ago in Batman: Endgame. And while common sense would suggest that the Kryptonian would reduce the Bat-inspired crime fighter to chutney, the results of these encounters have been surprising to say the least, sparking endless debates among comic book lovers.
So, if your appetite for superhero wars between the two was not satiated by the film, or you are simply curious about what happens when these two clash, we would suggest checking out the following seven Super-Bat encounters:
Batman: The Dark Knight Returns (1986): The film's inspiration?
There are many who believe that the clash between Batman and Superman in Frank Miller's The Dark Knight Returns is the best of the lot, and that it also inspired the film to a large extent. An old (he is over fifty) Batman returns to tackling crime, but the establishment is none too enamoured of his vigilante ways and sends Superman to arrest him. Batman chains himself to a lamp post, dons armour and takes on the Man of Steel in a fantastic battle that ends with Batman seemingly winning only to collapse from a heart attack. Does he survive? Read the book to find out.
Killer line: " I want you to remember, Clark. In all the years to come. In your most private moments. I want you to remember my hand at your throat. I want you to remember the one man who beat you."
JLA: Tower of Babel (2000): How well do you know him?
No, there is no actual fight between Batman and Superman here but the Tower of Babel represents perhaps one of the most dramatic conflicts in the relationship between the two men. Paranoid as ever, Batman has compiled a database of the weaknesses of each member of the Justice League of America (JLA) to be used in case any of them go rogue. An excellent idea on paper. Only the plans fall into the hands of the evil Ra's al Ghul, who uses them to take down the likes of Superman and Wonder Woman. The JLA recovers and wins the day, but many of its members have lost faith in the Batman, and out forward a motion to expel him. The deciding vote is Superman's – but even before we are told of how the Man of Steel would have voted, Batman leaves the building, knowing well Superman would vote against him. No fisticuffs but so much tension in the air!
Killer Line: "You are the closest thing he has to a friend on this team. How well do you really know him. Or I guess, more to the point, how well does he know you? "
Batman: Hush (2002): Bitten by the Ivy
Superman falls under the spell of the delectably beautiful and dangerous Poison Ivy, thanks to her special neurotoxin spores, and is ordered to take out Batman. The result is perhaps the most spectacular clash between the two in terms of sheer graphics. Batman tries to hold his own with a Kryptonite ring and by constantly trying to talk Superman back into normalcy, but the overwhelming strength of the Kryptonian seems set to prevail, until Catwoman saves the day with some help from Lois Lane.
Killer line: "If Clark wanted to, he could use his superspeed and squish me into the cement. But I know how he thinks. Even more than the Kryptonite, he has got one big weakness. Deep down, Clark's essentially a good person…and deep down, I am not."
Superman: Red Son (2003): Super Commie Men!
Superman and Batman fighting it out in the erstwhile Soviet Union? Well, that was the premise on which this comic strip was based, starting with Superman's escape pod from Krypton landing in the Soviet Union instead of the United States. Superman allies with the powerful socialist lobby and makes the Soviet Union a global power. Of course Batman gets in his way, although he is allied with (of all people) Lex Luthor. He lures Superman into a battle in a room which emits rays similar to those of Krypton's sun, which robs him of his super powers. Batman seems to be winning, until Wonder Woman intervenes.
Killer Line: "You don't have heat vision any more, Superman"
Superman/ Batman #78: Who Would Win? (2011): Child's Play!
Two kids argue on who would win if Batman and Superman ended up fighting each other. And the result is hilarious mayhem, with fantasy and sci-fi running into utter overdrive. And intermingled with the fisticuffs between the two heroes is the banter between the two children:
"Subcutaneous Beacon. That's a remote under his skin"
"That's sick, dude, who would do that?"
"Someone who doesn't like to lose and who thinks of everything -"
"-and is messed in the head. Wouldn't you get, like, radiation poisoning or something -"
It is easily the most entertaining and fantastic battle between the two superheroes, going all the way from earth to outer space before the kids realise that there is actually no winner in such a tussle. And as they walk away, we see Batman and Superman looking down at them, and debating who would win themselves. Priceless.
Killer line: "As long as there is crime in the streets, I have no time for nooky!"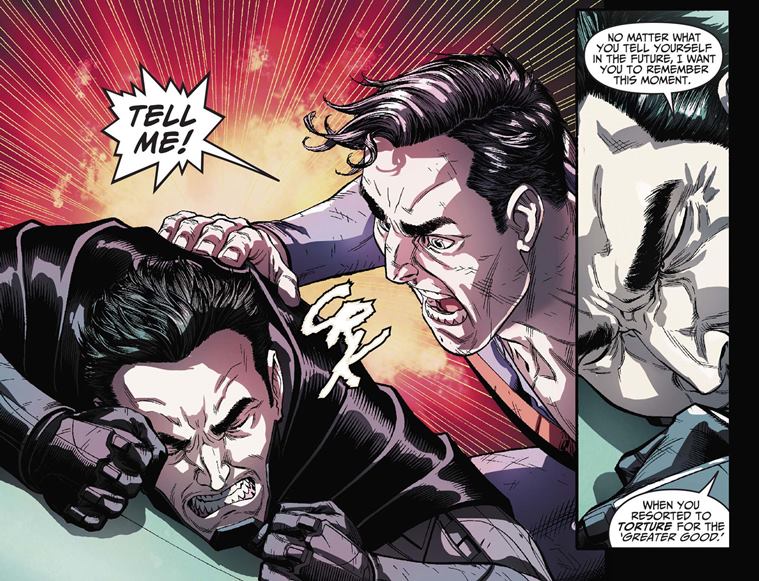 Injustice: Gods Among Us (2013): The Butler Did It!Peace has come to the world, but not in the way that many imagined. It is now controlled and ruled by Superman, who has been driven to despair when the Joker killed his wife and unborn child. Of course, this puts him on a collision course with Batman, who runs an insurgency to topple the government and bring back true freedom. Cue a battle between the two, which Superman wins easily, and smashes Batman's back on his knee (shades of Bane!). Only to be head butted and knocked out by…yes, Alfred. The Batman's Butler does it with the help of a nanotech pill.
Killer line: " No matter what you tell yourself in the future, I want you to remember this moment. When you resorted to torture for the "greater good'…you are not a hero, you are just another thug!"
Batman: End Game (2014): The Joke(r)'s on You!
The Joker WOULD present the Batman with his greatest challenge. And in this story, a dose of poison from the Joker sees various members of the Justice League turn against Batman. The Caped Crusader beats them all one by one, setting up a final battle with Superman, who often switches to an eerie Joker-like grin. It is a humdinger of a battle, one which the man from Krypton seems to have won, until Batman spits Kryptonite laced chewing gum (yes!) into his eye.
Killer line: "Who wins in a fight? The answer is always the same…neither of us"
The Indian Express website has been rated GREEN for its credibility and trustworthiness by Newsguard, a global service that rates news sources for their journalistic standards.