With the rise of social media, videos of atrocities in India's households are now coming into the limelight. One such video was shared recently by human rights activist Kundan Srivastava on his Facebook page. It was a video of a man cruelly beating his wife and another man — both tied up with rope — as neighbours stood watching.
A while back, another disturbing video of a woman beating her elderly mother in the balcony went viral, prompting the police to enquire, but they couldn't take any action because the mother refused to give a statement against her daughter. Nevertheless, the video brought to the forefront the continuing physical assault in families even today — be it urban or rural.
In this more recent video that has surfaced on social media platforms, a man is seen ruthlessly beating his wife and another man — who seems to be her lover — with a stick. But what is shocking in this incident is that there is a section of the populace that is actually supporting the treatment meted out by the man. Srivastava shared the video on his FB page with the following message:
"The Video was sent to me by one of the followers. I don't have any authentic information yet about the incident. But, after seeing the Video I do believe it can be a Love Affair.
A Man brutally beating his wife and her Lover in front of the entire Villagers. You can see in the video that both Man & Woman have been tied to the pole and are beaten severely. The woman's voice shows that she may belong to Bihar, UP & Jharkhand
I condemn the incident and urge the people of India, if you have any authentic information ..Inbox me please! ?#?HeightOfCruelty?
PS: I'm against the Violence, Physical Abuse and the Crime!"
Interestingly, this video has sparked a debate among viewers. While some have vociferously condemned the incident, others have taken a sympathetic view and even supported the man's violent reaction, saying: "When a man do mistake u punish very hardly . Y can't we punish women equally?"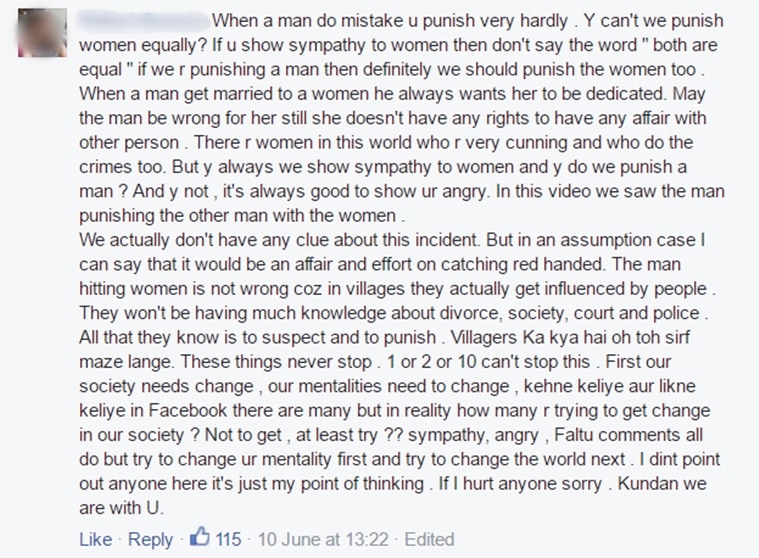 Though it was heartening to see that members of the social media community stood for gender equality, the attitude towards use of physical violence as a means to exercise that sense of equality is justifiably worrisome. Thankfully, there were some who raised a voice for humanity and against violence — of any kind.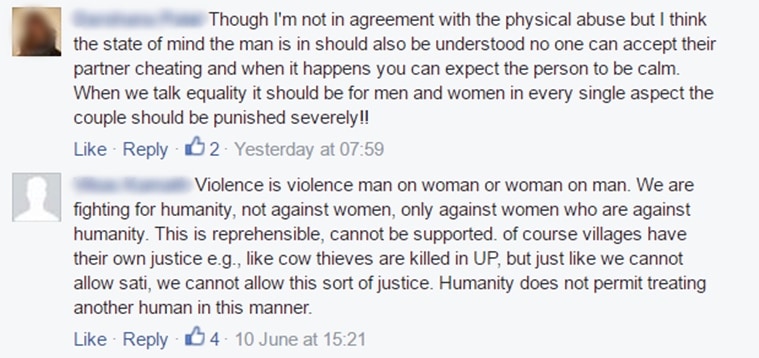 Srivastava told the IndianExpress.com that his team is trying to find out more details on the incident, but has been unable to do so thus far, as it was shared by a follower. From the voices, the engineer has speculated that the incident may have taken place in Bihar, UP or Jharkhand, he said there were some who believed it may have been in Maharashtra instead. Details are yet unknown.
📣 The Indian Express is now on Telegram. Click here to join our channel (@indianexpress) and stay updated with the latest headlines
For all the latest Trending News, download Indian Express App.