Mahadevi Varma, renowned Hindi poet, freedom fighter, educationist and women's rights activist, received the prestigious Gyanpeeth Award for her invaluable contribution to literature on April 27, 1982. Google, on Friday, celebrated the poet's award by dedicating a doodle in her honour. Varma was awarded the Padma Bhushan in 1956 and the Padma Vibhushan in 1988. She was the recipient of the Sahitya Akademi Fellowship in 1979. The doodle, drawn by guest artist Sonali Zohra, shows Mahadevi Varma seated on the left of the frame, busy writing against the backdrop of a sunset, under a tree in the countryside. The right side of the frame shows her writing in the Devnagiri script.
Born on March 26, 1907, in Farukhabad into an orthodox family, Mahadevi Varma spent her childhood near Allahabad. Her father was a professor. It was her mother who encouraged her to write in Hindi and Sanskrit, even though both her parents wanted her to study further. She was also known as 'modern Meera'. She was married in 1916, when she was nine years old, but she continued to live at her parent's home, studying at the Crossthwaite Girls' School in Allahabad.
Read this story in Bengali here. 
Live Blog
Mahadevi Varma honoured with Google Doodle today. She was awarded the prestigious Gyanpeeth Award on April 27, 1982.
Mahadevi Varma on November 20, 1983.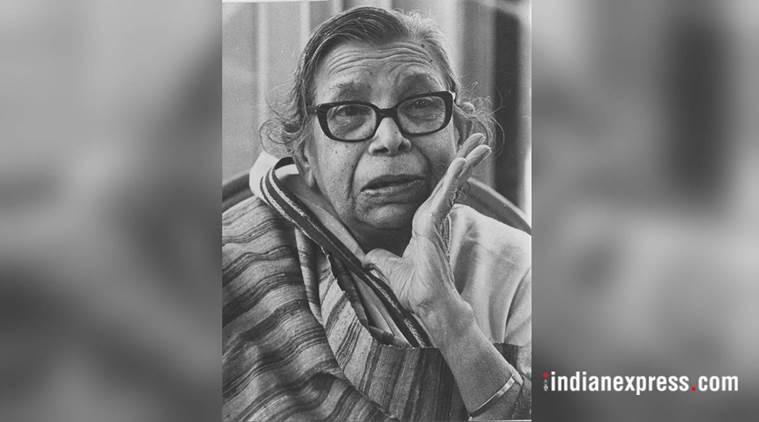 As the Hindi language gained acceptance and prominence in literary circles, Mahadevi Verma and her friend Subhadra Kumari Chauhan grew together as writers. They read their works in public gatherings and went on to publish their work. . (Express photo by RK Sharma)
Gyanpeeth Award from then British PM Margaret Thatcher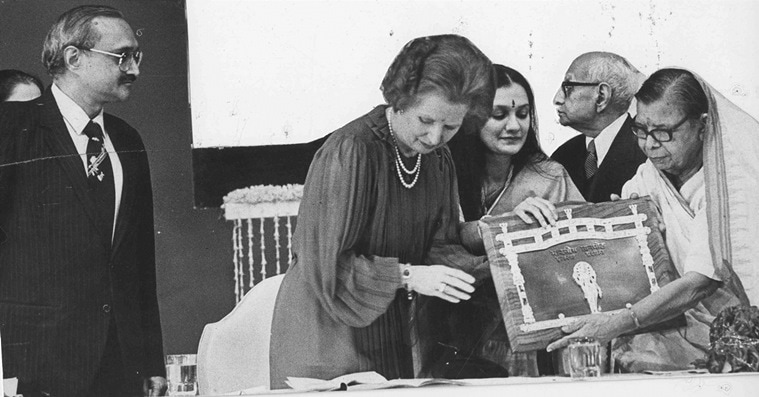 Mahadevi Varma received the Gyanpeeth Award from then Britain Prime Minister Margret Thatcher on this day back in 1982. (Express Archives)
Archive photo of Mahadevi Varma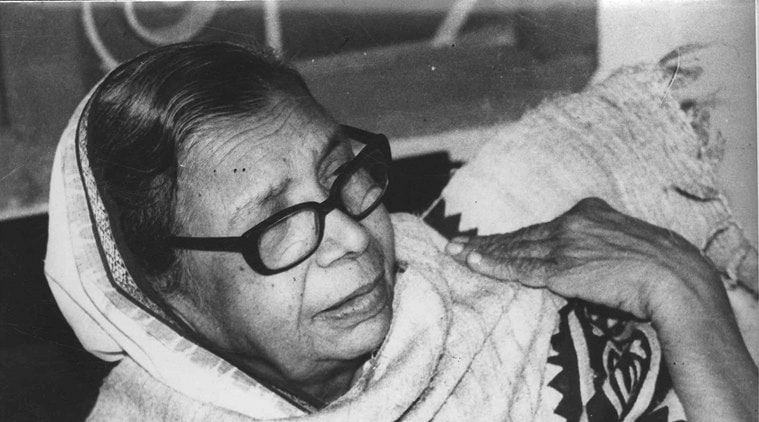 Hindi poet Mahadevi Varma (Photo: Express Archives)
Writings besides poetry
Mahadevi Varma also explored traditional topics with gusto beside her feminist writings.
Varma's short stories
Mahadevi Varma's short story collection called "Sketches from My Past" essays the women she had the chance of meeting in life.
Varma's feminist writings
Mahadevi Varma's writings often drew the spotlight towards the experience of being a woman.
Known among prominent Hindi poets and writers
She was honoured by major Hindi poets such as Suryakant Tripathi Nirala, Sumitra Nandan Pant, and their contemporaries.
Varma received the Jnanpith Award on this day in 1982
Mahadevi Varma (1907- 1987) grew up near Allahabad in Uttar Pradesh. She received the Jnanpith Award, which recognises outstanding contribution to Indian literature, on this day in 1982. Varma was a transformative poet, essayist and advocate for women's rights in India. Read more about her here.
What is the Chhayavad movement?
Mahadevi Varma was one of the prominent poets of the Chhayavaad period of Hindi poetry. It was a period of romanticism in Indian literature ranging from 1914 to 1938.
Read Mahadevi Varma's Visarjan
विसर्जन
निशा की, धो देता राकेश
चाँदनी में जब अलकें खोल,
कली से कहता था मधुमास
बता दो मधुमदिरा का मोल;
बिछाती थी सपनों के जाल
तुम्हारी वह करुणा की कोर,
गई वह अधरों की मुस्कान
मुझे मधुमय पीडा़ में बोर;
झटक जाता था पागल वात
धूलि में तुहिन कणों के हार;
सिखाने जीवन का संगीत
तभी तुम आये थे इस पार!
गये तब से कितने युग बीत
हुए कितने दीपक निर्वाण!
नहीं पर मैंने पाया सीख
तुम्हारा सा मनमोहन गान।
भूलती थी मैं सीखे राग
बिछलते थे कर बारम्बार,
तुम्हें तब आता था करुणेश!
उन्हीं मेरी भूलों पर प्यार!
नहीं अब गाया जाता देव!
थकी अँगुली हैं ढी़ले तार
विश्ववीणा में अपनी आज
मिला लो यह अस्फुट झंकार!
Here is a rare recording of Mahadevi Varma
Foray into writing poetry
Mahadevi Verma wrote her first verses secretly, around the same time she was pursuing her master's degree in Sanskrit.
Welcome to the Mahadevi Varma LIVE Blog. Google, on Friday, honoured celebrated Hindi writer and poet with a doodle on the anniversary of her winning the Jnanpith Award in 1982.