Is there an ultimate computing device? Well, that's a tough one and the best you can say that the most expensive ones must be the greatest. But then there are some brands that have pretty much had the go-to devices for most users, especially those with really taxing requirements from their computers. Apple's MacBook Pro has been up there as this go-to device for many high-end users. Now, the MacBook Pro has been upgraded, and Apple has added much more than sheer power and muscle.
This week, we will try and live with the new MacBook Pro and take a deep dive into its features to see if it still manages to stay at the top when it comes to laptops.
Day 1: Design and Display
The 2016 MacBook Pro is no regular upgrade. It ushers in some radical design changes. To start with the MacBook Pro 13, which I'm reviewing, is thinner and smaller than my 2015 MacBook Air. That is quite an achievement given that the MacBook Air itself is such a thin and sleek device.
The other radical change is the charging port. Now, the MacBook Pro has four Thunderbolt 3 ports, all of which can help charge the device and transfer data. But there is no dedicated charging port like earlier Macs. So there is no time spent on figuring out where to plug the charger. The USB Type-C cable will plug into any of these ports to charge the Mac, transfer data or power a 4K monitor with video output. While this new feature is a convenience, households with multiple MacBooks will no longer be able to share chargers like before.
However, the one thing that sets the new MacBook Pro apart from any other computing device in the market is the Touch Bar with TouchID. This is a strip of multi-touch sensitive display, that replaces the functions keys above the keyboard.
I initially thought this works only with specific apps, but the truth is that as you can use the strip to access additional functions on anything you are doing on the Mac; right from frame by frame search on Final Cut Pro to just multi-tab browsing on Safari. We will delve more on this topic in the coming days.
Sending out my first tweet from the new Mac, I was startled by a whoosh sound that swept across from the right to left across the device. That was much before I set up iTunes and started to stream radio from Apple Music. Yes, Apple has brought in the kind of audio quality that makes the iPad Pro sound stunning, to the Mac as well. So this one is louder than any other Mac, and the sound is richer and deeper too. The speaker strips are now on both sides of the keyboard with grooves at the bottom, ostensibly to let the drivers breathe. However, these grooves are a bit awkward when your fingers reach under the laptop. But you can live with that.
There is a reason why video and photo professionals the world over prefer to use Macs for their work. Macs have traditionally had great, vibrant displays that have tried to make images look as natural as possible. Now, the new MacBook Pro takes it a notch up by making it brighter, richer and sharper. At 500 nits it is really bright, and you might not need to keep the brightness up unless you are working under the sunlight. For those working on images and video, it couldn't have gotten better.
There are changes to the keyboard beyond the Touch Bar. The keys now coming with a new butterfly mechanism. It does feel different compared to my MacBook Air. The response is different, and I'm not sure it's so in a good way. The keys seem to hit a flat at the end of its travel, and send a small kick up the fingers, which will take some getting used to. Meanwhile, the trackpad has become really big and easy to work with. This large trackpad has been incorporated to let users easily drag stuff from one end of the screen to the other. See, Microsoft, you don't always need a touchscreen.
Day 2: Touching base with the TouchBar
The one feature that is new and unique in the MacBook Pro is the TouchBar. Before I got hold of the review device, I had a different perception of this feature. I thought someone like me who does not use video or photo editing software like Final Cut Pro or Adobe Photoshop will not have a lot of use for this new strip above the keyboard. I was wrong.
The TouchBar replaces the function key and those set of functions is the basic use case for the bar. But that is just the beginning. It integrates with whatever you are doing and offers a set of options on any app or software you are using.
Even on the desktop, you will turn to this smooth little strip to adjust brightness or volume or even turn on Siri. Writing this piece on Notes, I can see the option to start a new note, change font and even predictive text on the bar. It gets the context every time and hence is unlike anything we have seen before.
For my use case, I loved how the bar worked on Safari. I usually have dozens of tabs open on the browsers and with the bar I can swipe through the open tabs by just moving my finger on it. When I am on the new tab option, it shows the icon from the Safari speed dial. Also, it offers an easy way to escape from the full-screen browser and shift to something else that's in the background.
On professional software like FCP, editors will get the option of shifting frame by frame using the TouchBar, and their dependence on the mouse or trackpad could reduce. Also, while picking a specific colour, the bar will offer the options for you to sift through. It will be a new way to work. However, we will need to wait a while to see if it will be the smarter and more efficient way to work. Also, as with a lot of these technologies and features, people will need to get the better of muscle memory in order to adapt to what's new.
Also read: Apple iPhone 7 Plus review: Buy it just for the camera, but that's not the only great feature
The right edge of the TouchBar has the TouchID built into it. So when you are logging into the Mac the strip lights up asking you to use your finger to unlock. This feature works really well, every time. Also, the Touch ID lets you buy apps of the store like on the iPhone and soon you will have apps that will authorise purchases the same way.
The TouchBar is also fully customisable. You can easily drag and drop elements you want to show in the bar. Also, to remove an element you just need to pull it out.
This is undoubtedly the best new feature in the MacBook Pro. However, it is a new feature and I am not sure there will be widespread adoption right away. What it does show is that a lot of stuff you hope to achieve on a laptop with a touchscreen can actually be executed well, and maybe better, with a feature like the TouchBar.
Someone asked the relevance of a TouchBar at a time when laptops have touch screens. The question is very relevant. I would just say that we need to see if it becomes more relevant than the touchscreen itself. The touchscreen has gradually gone out of favour with laptop manufacturers who have realised that not a lot of people actually end up using it despite paying a premium to own the same. It has been one of the struggles for Windows 8 and Windows 10, both of which were designed with the touch interface in mind.
My feeling is that similar input methods could soon find its way into other laptops. But such devices will remain niche for a long time.
Day 3: Split between the ports
The MacBook of last year had not traditional USB ports. It had just one USB-C port. The new MacBook Pro, on the other hand, gives users four Thunderbolt 3 ports again based on the USB-C standard. So there is no dedicated charging port and you can just push the cable in any of the four ports to charge the laptop. This also means the power adapter comes with a USB-C port where another cable you have can also go, not just the one that comes in the box. In fact, you can easily charge some of the new Android phones with the new MacBook Pro, though you will struggle to do the same with your iPhone.
Here in lies a problem. Yes, you will need some adapters to make life easy for you. For instance, you will need one to use an external hard drive or even pen drive. While our dependence of these has come down considerably, you still need them once in a while. At office someone handed me a video file in a pen drive and the MacBook was certainly not an option I could turn to, not without the adapters.
It will take some time for the rest of the world to catch up to the USB-C ports though the path has been headed that side for some time. Till then, this is going to be one struggle.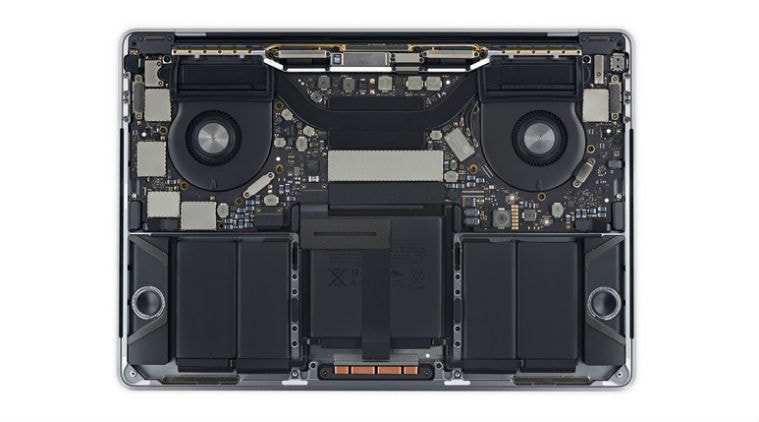 Day 4: What about the performance
Apple can add whatever features it wants to the MacBook Pro, but in the end if someone puts their hard earned moolah behind this computer it is because of its performance. No TouchBar. Not stunning screen. Not superb audio.
Anyone who buys a MacBook Pro is expecting it to perform, better than any other device that could have opted. They need the assurance that it will not crash or heat up inordinately while they are editing a heavy video file. And that is that promise the new MacBook Pro offers you.
In fact, the TouchBar is a good place to try this processing power out. Tabbed browsing is a very basic requirement for most of us, but still it is very resource intensive. But using the TouchBar you can cycle through dozens of open tabs without the MacBoook so much as offering a whimper of protest. Then in photos it does the same with hundreds of images of varying quality. Open one of these and you will be able to change its colour mode from normal to sepia with a swipe and not a second of lag.
Apple claims the 13-inch MacBook Pro, the one I'm reviewing, can power two 4K screens at the same time using the Thunderbolt 3 ports. The 15-inch version that repeat the performance, but with 5K screens. I could easily crop and trim 4K video I had shot on the iPhone over a period of time. With a more powerful software like Final Cut Pro you can exploit the full power of this device.
My take at the end of the day is that there is no device that is more powerful and can slip into you messenger bag.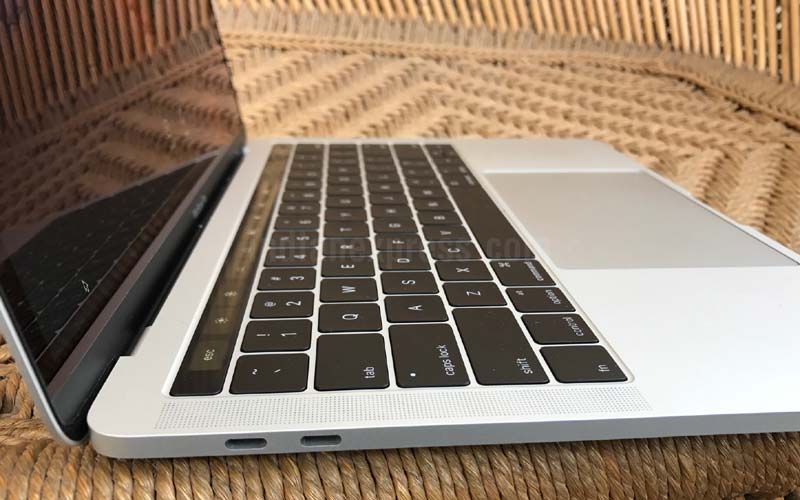 Day 5: So, how is the battery?
Quite a few people have asked me over the past week about the battery of the new MacBook Pro. Over the week in regular use it has appeared to be stable and normal most of the times. With a full charge, you will be able to get through a normal day. However, there has been one occasion when I have seen the battery fall off the cliff from around 35 per cent. A full screen-on test with 100 per cent brightness, music streaming and playing at full volume and me working on Safari, Notes and Chrome gave me 4 hours and 20 minutes of juice which is not bad in my books. With screen at a lower brightness and volume at medium levels you should be able to stretch this to six hours of continuous work. If you are editing video, it might not last as long.
It will take me longer to figure out if the MacBook Pro has other battery issues which some reviewers have noticed. So expect and update here later on.
Verdict
As is clear from the week we spend with the device, the new Apple MacBook Pro is undoubtedly the most powerful computing device you can rest on your laps. However, that does not make this a perfect device. My feeling is that those who buy this will struggle a bit with three things.
Price: Yes, the MacBook Pro has become much more expensive than before. So if you were planning to buy it this year, you would need to up your budget.
Ports: The Thunderbolt 3 ports are efficient and more practical, but they are also ahead of time. If you commit to the device it becomes your responsibility to bridge it with the rest of the world using adapters.
Presence of Mind: I love the TouchBar and think it is really innovative. My trouble has been in having the presence of mind to using it for things I have been doing a different, less efficient, way before. Until that comes I will be a struggle to really exploit the best of this device.
Also, I am not really sure about the power stability of the device, but I think Apple will fix that with an update soon since it doesn't seem to be a hardware issue.
Still, the MacBook Pro is an amazing device which I might buy just for the speakers, or the TouchBar or the splendid screen, if the thin design is not good enough. There arean't many other laptops that excel at so many different aspects. For this, I will recommend the MacBook Pro to power users and those who work on creative projects mostly. For others it might be more an expensive arm candy than a practical laptop. Go head buy it.
The Indian Express website has been rated GREEN for its credibility and trustworthiness by Newsguard, a global service that rates news sources for their journalistic standards.