By:
Tech Desk
| New Delhi |
Updated: September 26, 2018 4:32:45 pm
The Supreme Court on Wednesday has struck down compulsory linking of mobile phone numbers to Aadhaar. In India, customers who had not got an Aadhaar number till now, and were required to submit one in order to get a new mobile connection or continue using their current mobile connections, will see this verdict as a relief.
With the Supreme Court verdict, telecom service providers like Airtel, Reliance Jio, Vodafone and others can no longer force users to link their Aadhaar card to their current mobile number. It also means that not linking Aadhaar to mobile phone numbers will no longer result in telecom services being stopped for the customer.
Additionally, the Supreme Court also declared Section 57 of the Aadhaar Act as 'unconstitutional' and struck it down. Section 57 of Aadhaar Act talked about how private companies could also access Aadhaar data.
This also means that digital wallets like Paytm or Amazon Pay Balance cannot demand Aadhaar data from customers in order to to do a verification and allow them to continue using the services.
Section 57 of the Aadhaar Act reads, "Nothing contained in this Act shall prevent the use of Aadhaar number for establishing the identity of an individual for any purpose, whether by the State or any body corporate or person, pursuant to any law, for the time being in force, or any contract to this effect: Provided that the use of Aadhaar number under this section shall be subject to the procedure and obligations under section 8 and Chapter V."
Read more: Supreme Court verdict on Aadhaar LIVE UPDATES
According to UIDAI website, when it comes to Aadhaar fingerprint authentication, Reliance Jio has performed the most with 62 million this month, followed by Airtel which has 44 million. Vodafone and Idea follow the two other in terms of Aadhaar fingerprint authentication. Coming to Paytm, it has done a total of 98 million authentications on Aadhaar, according to the website.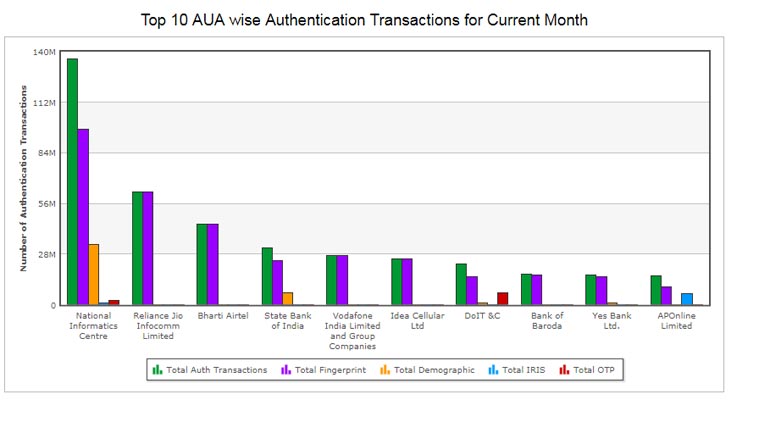 With the Aadhaar verdict from the Supreme Court, what it means is that the card number is no longer compulsory for everything, like linking it to private bank accounts, digital wallets like Paytm, or even Amazon which has been asking for Aadhaar in order to verify users for Amazon Pay Balance.
The Supreme Court verdict however, does not make it clear whether the companies which have accessed all the Aadhaar data till date, will now be required to delete this data. It is also not clear whether users can go to these companies are demand that they delete Aadhaar related data.
In his judgement, Justice Chandrachud had also said that seeding mobile phones with Aadhaar data poses grave danger to individual liberty. He has instructed in his judgment that telecom operators should delete all data they have collected from users.
The Indian Express website has been rated GREEN for its credibility and trustworthiness by Newsguard, a global service that rates news sources for their journalistic standards.