Written by
Pranav Mukul
| New Delhi |
Updated: February 23, 2018 10:42:44 am
It is no surprise that a number of internet companies are focusing on tailor-made solutions for rural markets in India, particularly tier-II and tier-III, given that these segments are driving the next phase of growth for internet usage. A report released by the Internet and Mobile Association of India (IAMAI) recently shows that most people accessing internet in rural areas for entertainment, followed by online communication and social networking. This is in trend with the broader trend across the country, where, according to the Nokia India Mobile Broadband Index 2018, video streaming is a key driver of a data traffic driven by rapid adoption of 4G internet, contributing 65-75 per cent to mobile data consumption.
Recognising the need to tap rural markets, various internet companies are bringing out solutions relevant for these segments. While some companies are focusing on adding regional language capabilities to their services, others are adding locally-relevant content. Earlier this week, Microsoft announced support for email addresses in 15 Indian languages across its e-mail apps and services. Web-hosting and cloud platform GoDaddy, in late 2016, started support services four regional languages leading to an increase in the number of call volumes by 40 per cent from non-tier-I areas.
Notably, online video services have been one of the biggest beneficiaries of a deeper regional language penetration. Nokia, in its report released on Thursday, said "…availability of Hindi and regional language content as well as proliferation of original OTT (over-the-top) only series have led to a higher demand for OTT video services." Also, as per a survey by Kantar iMRB ICUBE 2017, about 58 per cent of the respondents in rural areas accessed the internet to stream videos.
Another report published by online video streaming service provider Hotstar on Thursday pointed out that cities with populations between 1 lakh and 10 lakh clocked the highest growth in watch time during 2017 over the previous year on its platform. While watch time on Hotstar in metro cities grew 3.5 times during 2017 over 2016, in cities with population greater than 10 lakh the growth was 4.1 times and for cities with populations between 1 lakh and 10 lakh the growth was 4.3 times. "Many cities like Moradabad (22x), Allahabad (13x), Hubli (12x) and Sonipat (12x) are making big leaps, even above the overall national index growth," Hotstar said. However, it did not disclose the absolute figures of watch time for these markets and it is possible that the high growth figures for Tier-II towns are on a smaller base than metro cities.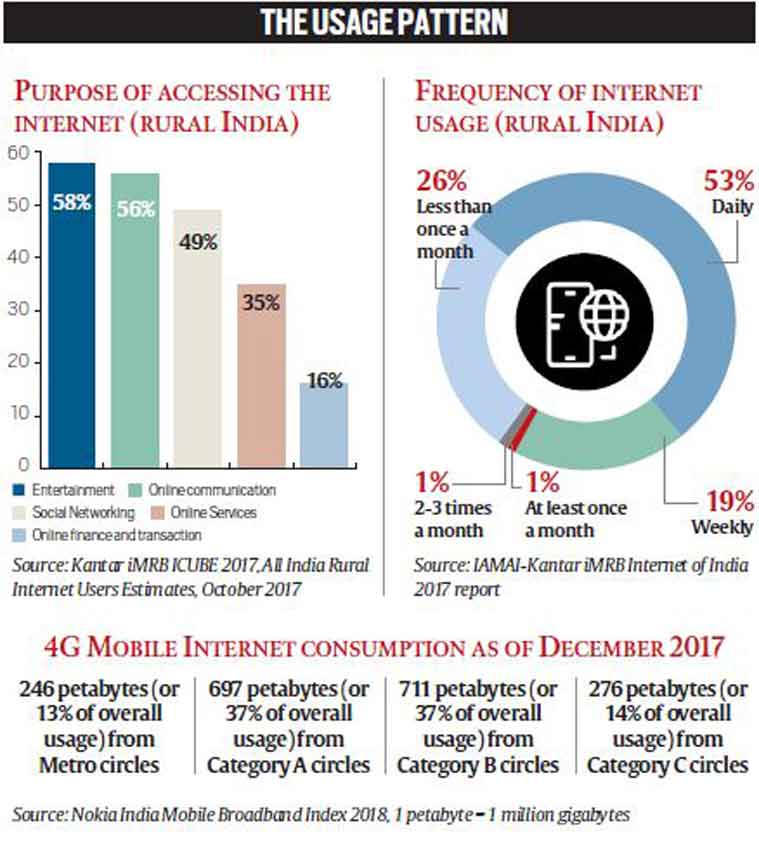 One of the primary reason attributed to the growth of online consumption in rural areas is the sudden expansion in 4G offerings by telecom operators. IAMAI, in its report, mentioned that in rural areas, much like in the urban markets, 87 per cent of the users consumed internet on their mobile phones. "The proportion of mobile in rural India was always high given the lack of decent broadband facilities and the affordability of desktops/laptops vis-a-vis budget smartphones," the body said. "The affordability and multifunctionality of smartphones make mobile as the device of choice for users in both rural and urban India. This, in turn, means that the bulk of internet traffic is routed via mobile data packages. The advent of services like Reliance Jio have revolutionised mobile internet and going forward, introduction of better quality of service via spread of 4G technology and adoption of 5G will be critical for internet penetration in India," it added.
Of the overall 4G mobile internet consumption in India, category A circles — Maharashtra, Gujarat, Andhra Pradesh, Karnataka and Tamil Nadu; and category B circles — such as Kerala, Punjab, Tamil Nadu, Uttar Pradesh West, Uttar Pradesh East, Rajasthan, Madhya Pradesh, West Bengal and Andaman & Nicobar — contributed nearly 74 per cent, as per Nokia's findings. Compared with this, metros contributed only 13 per cent of overall 4G payload in India as of December 2017. The growth in 4G usage is also driven by the decline in prices of mobile handsets. The average selling price of an entry level 4G-capable device was at Rs 1,500 in July 2017, compared with nearly Rs 3,000 in 2016.
A report released by Google and KPMG last year estimated that 536 million Indian consumers are expected to use regional languages for online services by 2021, compared with about 199 million users who are expected to access the
web in English.
"Indian language internet users are expected to account for nearly 75 per cent of India's internet user base by 2021. Growth in user base will be complemented by the increasing penetration of internet enabled devices, availability of affordable high speed internet, India's rising digital literacy and Indian language enablement of the ecosystem bringing and engaging more Indian language users online," the Google-KPMG report said.
The report further highlighted that apart from Hindi, users of languages such as Marathi and Bengali are expected to drive volume growth, while Tamil, Kannada and Telugu users are expected to be among the most digitally engaged through 2016 to 2021. The report also noted that the higher propensity of Indian language users to respond to a digital advertisement in their local language is also expected to increase the share of local language advertisements in the digital medium.
📣 The Indian Express is now on Telegram. Click here to join our channel (@indianexpress) and stay updated with the latest headlines
For all the latest Technology News, download Indian Express App.